Getting active in Thuringia
Your bucket list for memorable moments
See below for some tips for ultimate outdoor activities in Thuringia, regardless of whether you want to work up a sweat or "just" want to enjoy some memorable moments in the Thuringian countryside. Dive right in – into your Thuringian adventure.
Tip 1 – Work up a sweat
Along Thuringia's "mere" on the Saaleradweg cycling trail up to the Bockfelsen viewpoint.
The whole bike route is 403 kilometres long, and leads from the source in the Fichtelgebirge mountain range to where the Saale river flows into the Elbe river in Barby, near Magdeburg. For 180 kilometres, the Saaleradweg trail runs through Thuringia. The attractions along the route include Burgk Castle, for example, the Saalfeld Fairy Grottoes, the "Porcelain Worlds" at Castle Leuchtenburg, the Zeiss Planetarium in Jena and the Dornburg Palaces.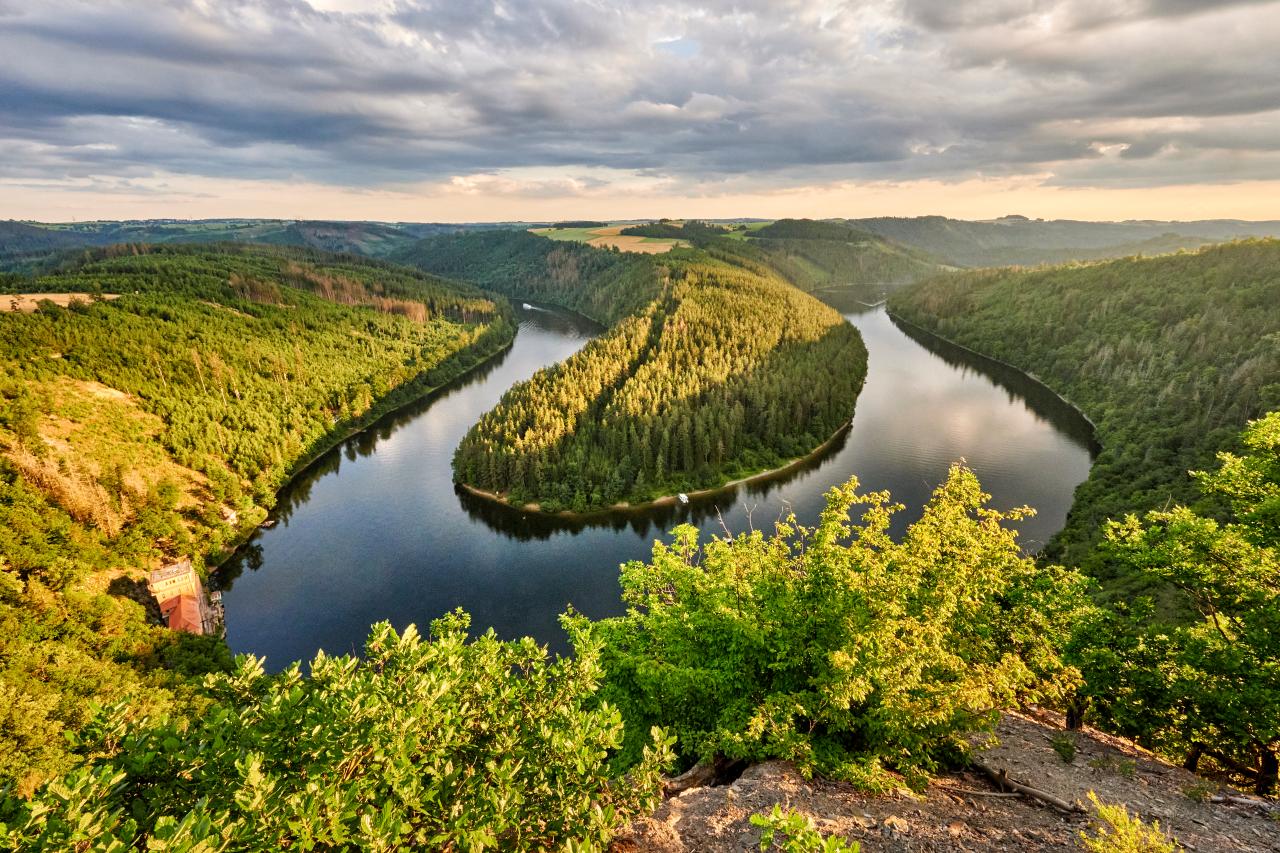 Tip 2 – Test your limits
Climbing the "Twelve Apostles"
Thirteen southwards facing climbing rocks, called the Twelve Apostles and Judas, with difficulty grades ranging from 2 to 10. The rocks offer 150 routes with a wide range of different characteristics. They cater for all climbing skill levels. However, caution should be exercised when attempting the challenging routes. The porphyry rocks are a little fragile in some places, promising the odd additional rush of adrenaline.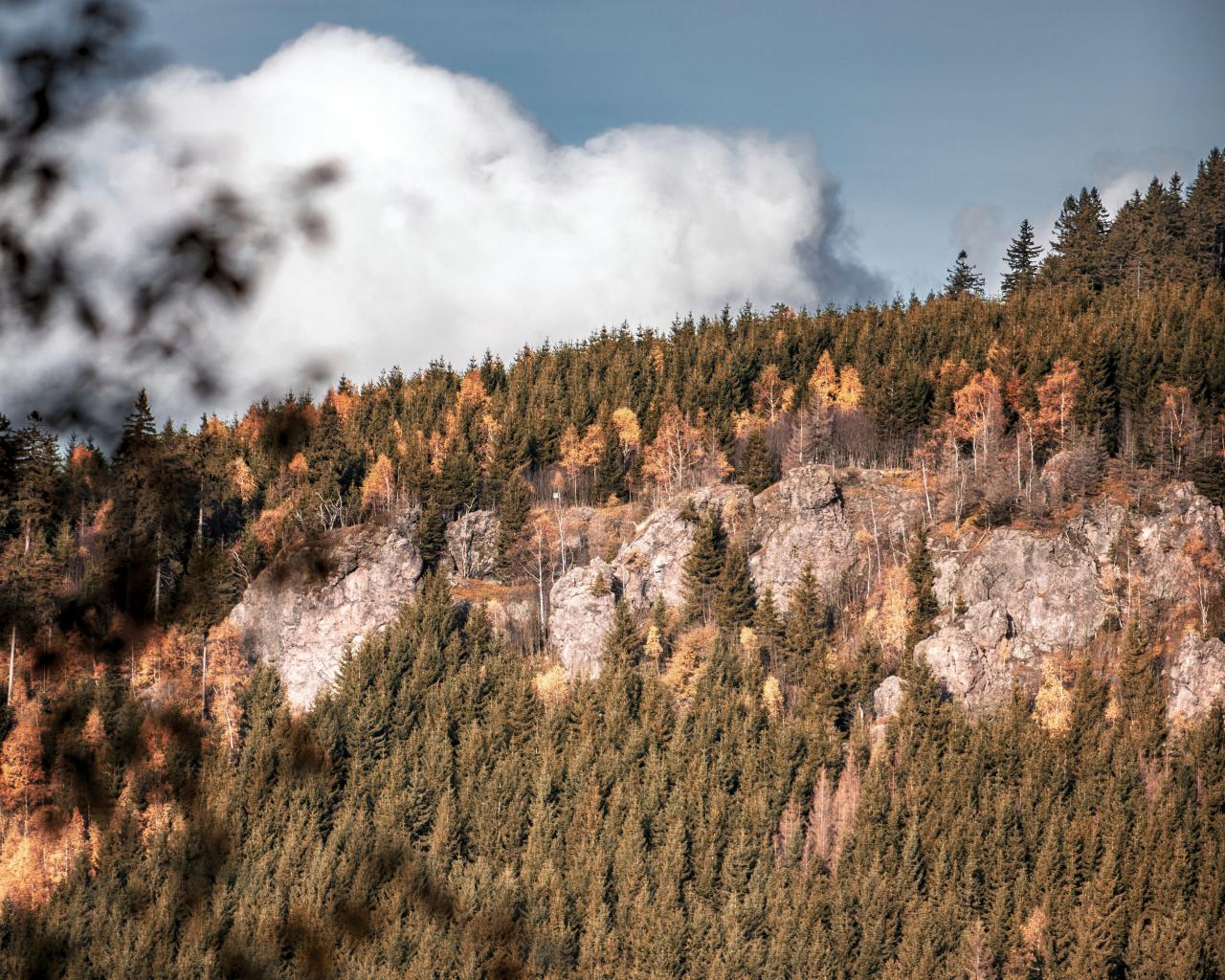 ©Paul Hentschel, Regionalverbund Thüringer Wald e.V., 2021
Tip 3 – Legendary paths
Hiking through the sunken lanes of the Rennsteig trail near Masserberg to reconnect with yourself.
Sunken lanes are fascinating hiking paths with a long history that were used by horse-drawn vehicles in the past, which made them sink much lower than the terrain surface. Many of these lanes go back to Roman times. Today, they are characterised by a unique vegetation and impressive biodiversity. During the night, for example, bats use them as their hunting grounds. 🦇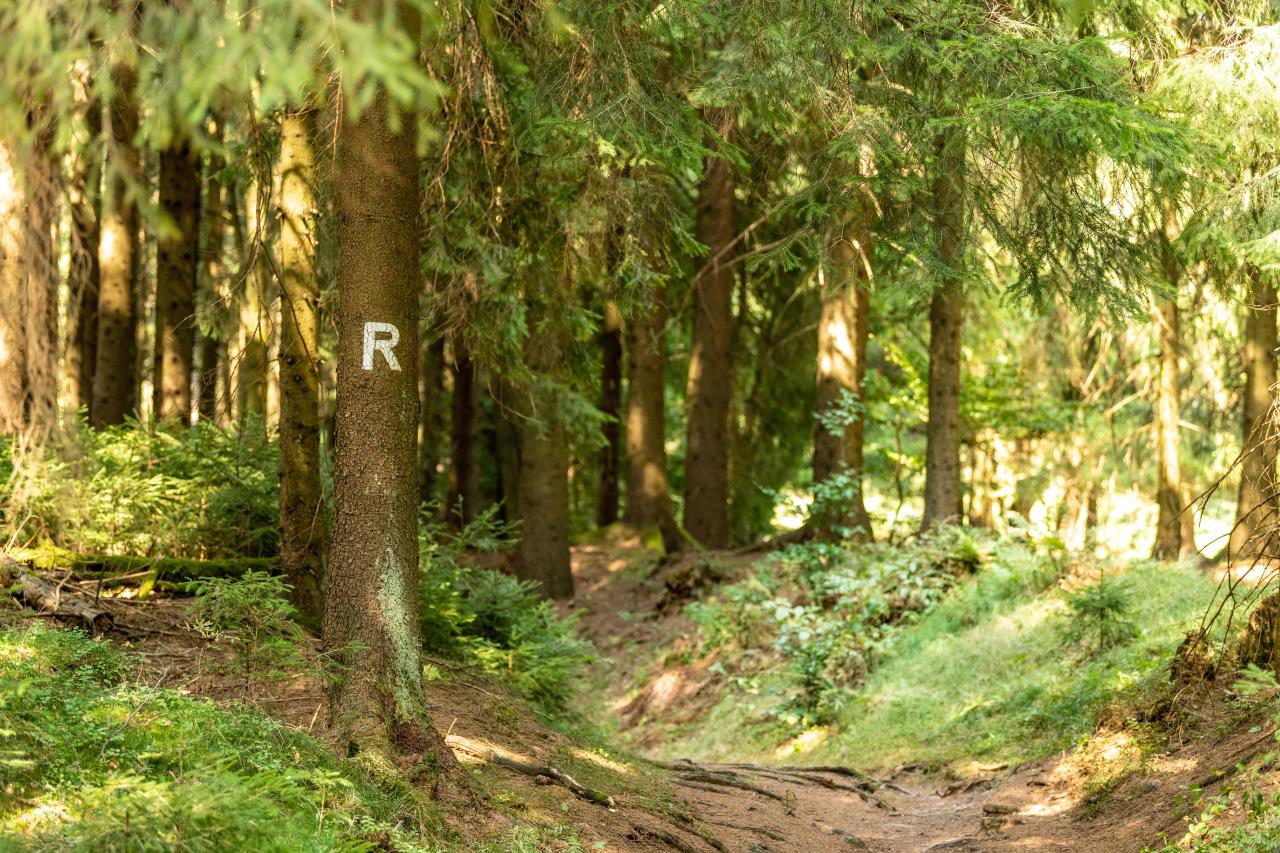 ©Dominik Ketz, Regionalverbund Thüringer Wald e.V., 2021
Tip 4 – Going underground
Mountain bike tours to get your pulse racing: Subterranean trails at the Kamsdorf or the Erlebnisbergwerk Merkers mine.
No miner could have imagined this. People are now whizzing around on mountain bikes in Thuringia's former mines. Narrow shaft passages are followed by faster, more trail-like sections, and vice versa. With their berms and pump track undulations, the hand-shaped mountain bike trails call for outstanding MTB skills. Challenge those calves and explore Thuringia's subterranean attractions.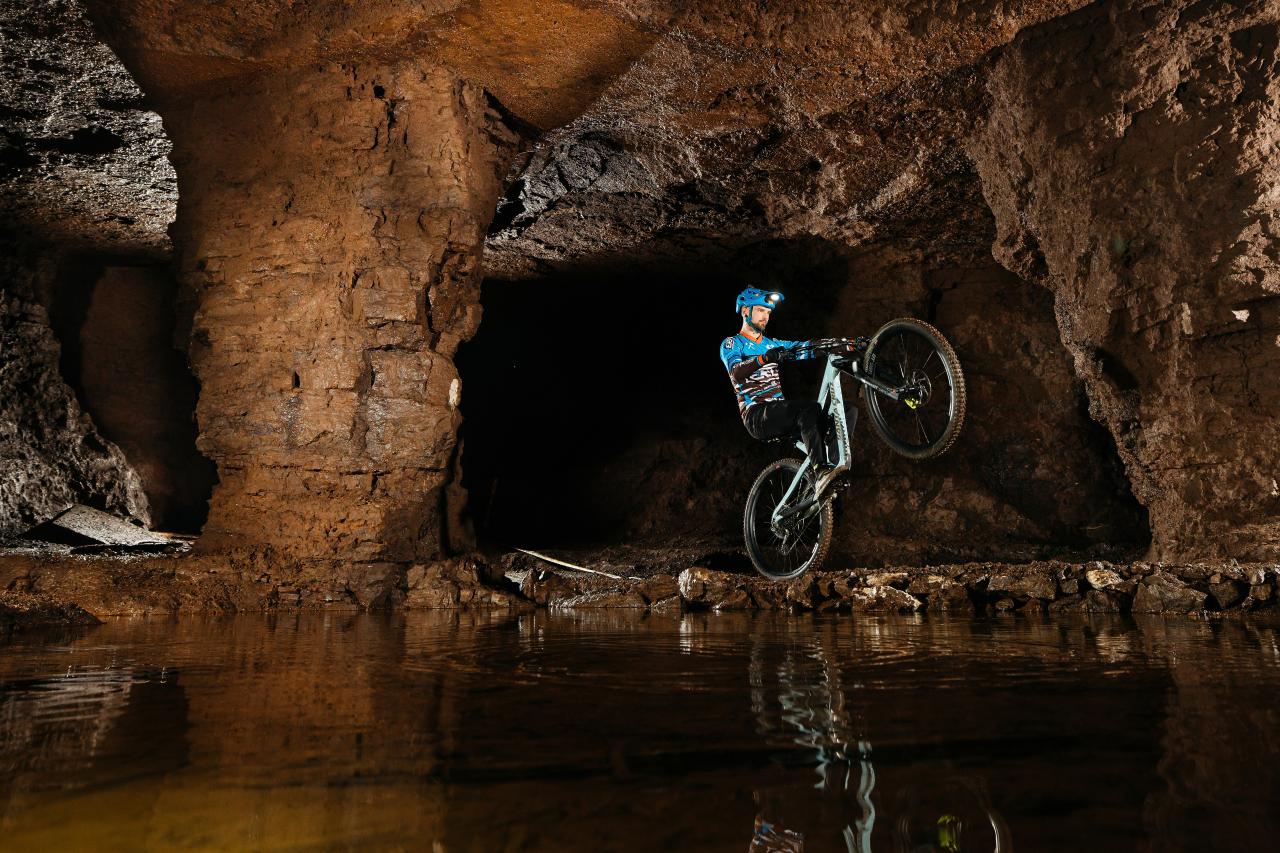 ©ariFoto Michael Reichel, Regionalverbund Thüringer Wald e.V., 2020
Tip 5 – Pure adrenaline
All year round winter sports at the LOTTO Thüringen Skisport-HALLE.
Freeze your socks off? Not at all! Work up a sweat where world champions are made. Oberhof has always been a unique winter sports location, and continues to produce world champions to this day. Whether biathlon or luge – the best come from Thuringia.
©Lars Schneider, Oberhof-Sportstätten GmbH 2011
Tip 6 – Adventures for the whole family
Getting on top of the primeval forest at tree tops trail in the Hainich National Park.
A very special kind of climbing experience: At heights if up to 44 metres, you're as close as you can get to the tree tops, and can explore the fauna of this unique beech forest. The National Park Centre, the "Discover the Hainich's secrets" adventure world and the "Root Cave" invite adult and small explorers to join in, and tell them all about the Hainich National Park habitat in an entertaining way.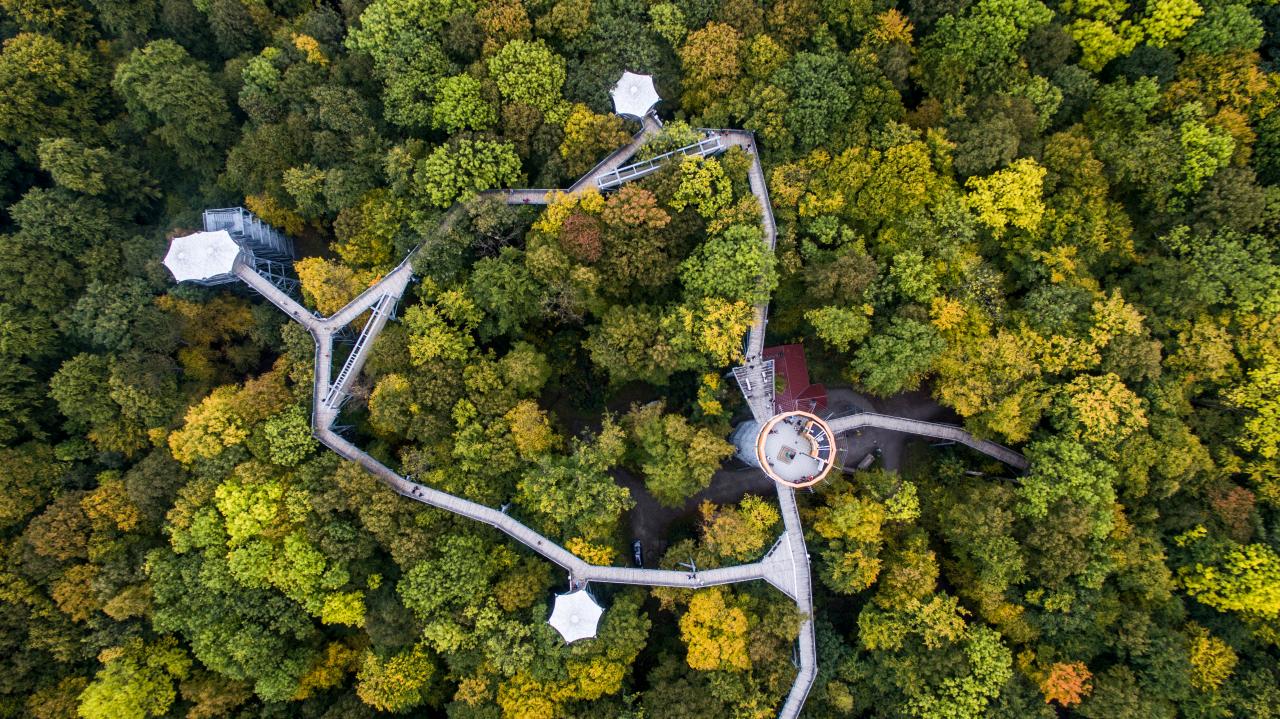 ©Joachim Köhler, Thüringer Tourismus GmbH, 2016
Tip 7 – A handful of tastiness
The foodie treat most people associate with Thuringia – "Original Thüringer Rostbratwurst", a special charcoal grilled kind of sausage.
It's 15cm long, weighs 150g and 600 years old. Not exactly an impressive size, is it? However, it's what's inside that matters, and what's inside is a unique taste experience. A real must-have for all visitors, so you'll find them all over the place. Sometimes called "Rostbratwurst", sometimes "Roster" or "Brodwurschd" – but just hearing the skin crack as someone takes their first bite is enough to make your mouth water. Just one thing: Don't offend the locals by putting ketchup on it! "Don't ketchup a Bratwurst" is an unwritten Thuringian law!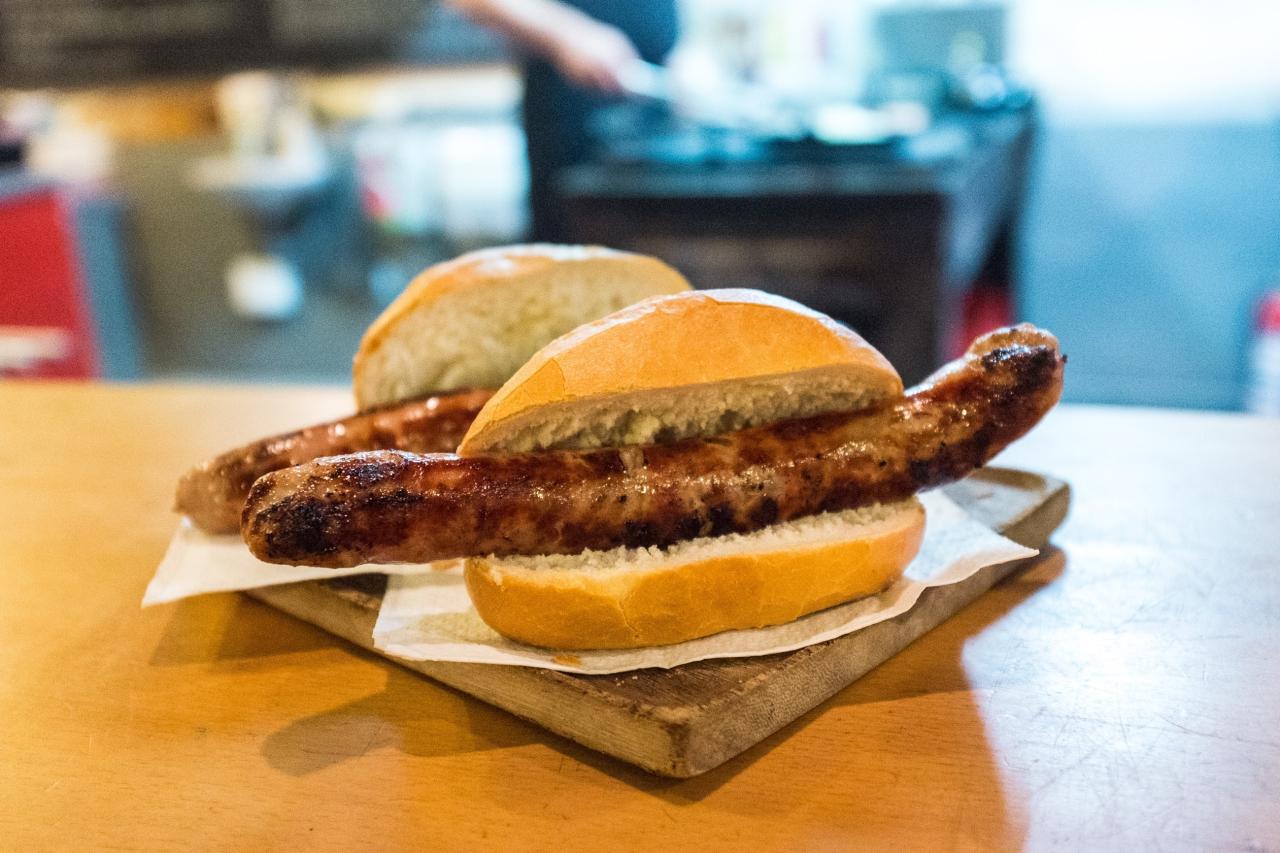 ©Anja Krause, Thüringer Tourismus GmbH, 2018
Bucketlist to go
Didn't you notice everything? No problem.
Our tips for "Outpower" are easy to take, send, print... We wish you unforgettable moments and always the necessary portion of goosebumps while discovering.
Headerbild: ©Udo Bernhart, Thüringer Tourismus GmbH, 2016
Maybe, you'll like this too ...