We do bratwurst!
And holidays too, of course.
The first thing that springs to many people's minds when they hear 'Thuringia' is Thuringian bratwurst. It is a must-try for many visitors and one of the top answers in surveys on what is 'typically Thuringian'. The locals are very proud of their favourite sausage, which is famed across Germany and well beyond. We certainly do bratwurst, but do you know what we also do well in Thuringia? That's right, holidays! From Altenburg to Eisenach and Sonneberg to Nordhausen, countless authentic and memorable experiences await. In Thuringia you can explore the great outdoors, immerse yourself in culture, discover hidden gems and enjoy local food. So, when will you visit?
Get some inspiration and find out for yourself what Thuringia has to offer.
We look forward to your visit.
Let's have a Bratwurst with ...
Hey, the new livestream date is fixed. We have our grills running on
April, 29th, 2022 from 07:30 p.m.
See you!
⠇
Neueröffnung Bratwurstmuseum
Bei Thüringen und Kulinarik denken viele Gäste sofort an die beliebte Thüringer Rostbratwurst. Dem Klassiker zu Ehren eröffnet ab dem 16. August 2023 in Mühlhausen das 1. Deutsche Bratwurstmuseum: Mit einer umfangreichen Dauerausstellung, bunter Themenwelt auf weitläufigem Gelände sowie rustikalem "Wursthaus" und einer Außengastronomie hat alles rund um die Bratwurst seinen Platz.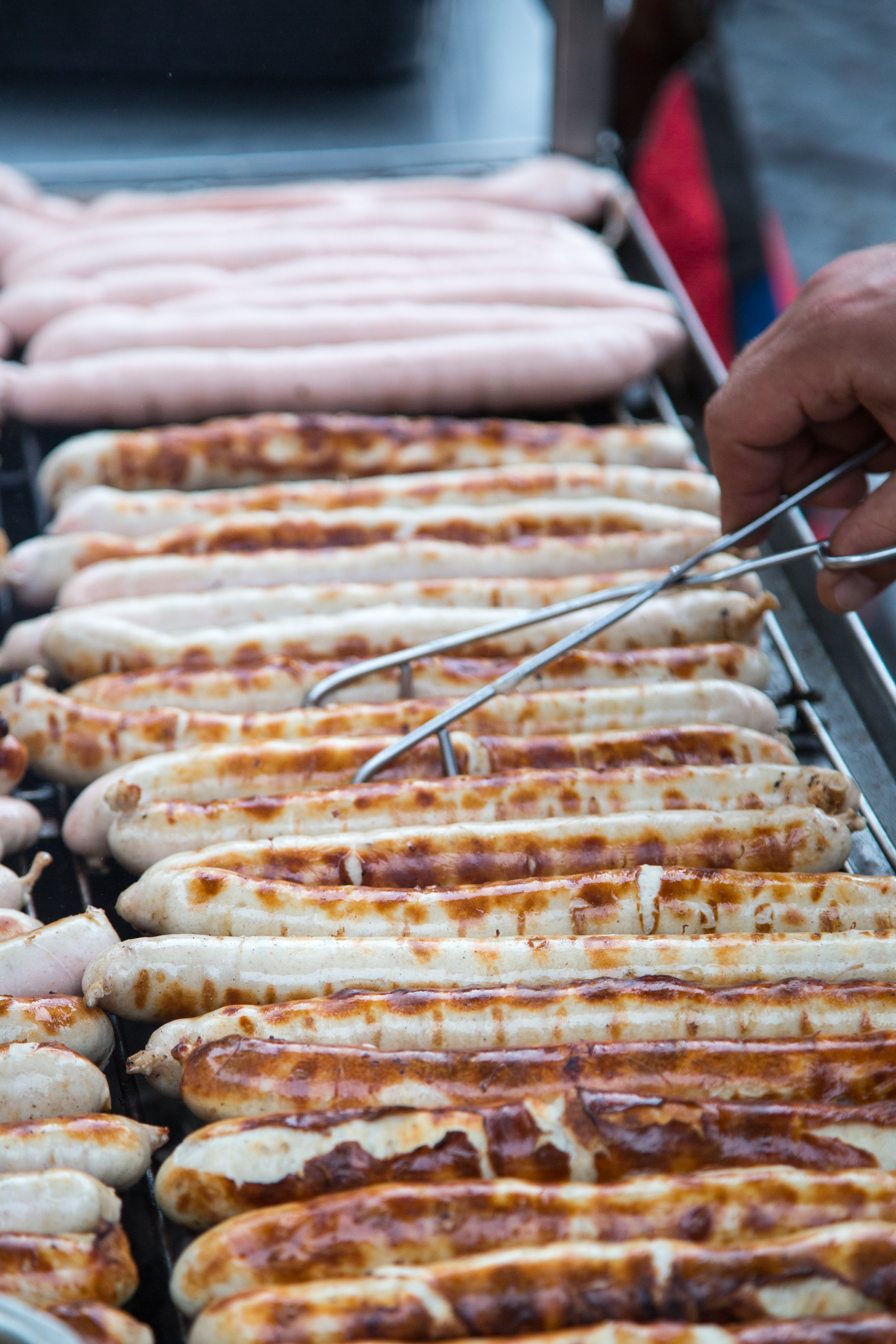 Five facts about Thuringian bratwurst
Don't put ketchup on a Bratwurst
A general rule that Thuringians grow up with is that you shouldn't put ketchup on a bratwurst. A proper Thuringian eats it with mustard. Sure, every bratwurst stall will have a bottle of ketchup too, but locals will rarely reach for it.

It's all a matter of taste
While opinions on flavourings (herbs, caraway seeds, garlic) may vary from region to region, the whole of Thuringia can agree on one thing: a bratwurst is grilled over hot coals. An electric grill or – heaven forbid – a frying pan are a no-no, at least when it comes to the real thing.

The Rennsteig Trail is the dividing line in bratwurst country
To the south of the Rennsteig Trail, recipes do without whole caraway seeds, while to the north of this legendary route through the Thuringian Forest whole and ground caraway seeds are common.

Broadwirschdle, Brodwurschd, Brahdwuaschd or Roster
Just as Thuringian dumplings are called something different from region to region, the same is true of the Thuringian bratwurst. Depending on where you are, it's called broadwirschdle, brodwurschd, brahdwuaschd or roster.

15 - 100 - 600
Those might not sound like the most promising vital statistics, but they are essential to identifying a genuine Thuringian bratwurst. For a start, it should be between 15 and 20 centimetres long and weigh 100 to 150 grams. Historical records show that these sausages have been enjoyed in Thuringia for centuries. In fact, all the way back to 1404, making the recipe over 600 years old.
The real Thuringia
Nature. Culture. Insider Tips.
A mediterranean lifestyle and a lively microcosm on a stroll around Erfurt
Erfurt can easily match Europe's major cities in terms of culture, architecture and food and drink. Yet everything here feels more relaxed and sociable. The medieval city centre with its cafés, squares and narrow lanes has a pleasant mediterranean feel to it. One of the most beautiful sights is the Merchants' Bridge, the longest bridge in Europe with houses along its entire length. Generations of merchants and artisans have lived and worked on this bridge, and continue to do so, making this a truly special place. Each house has its own tale to tell, of craftsmanship and creativity, and together they form a lively and innovative microcosm. But we're getting carried away – you simply have to visit and find your own favourite place in this beautiful city. Erfurt offers plenty of soul in the heart of Germany.
Wonderful Weimar is a pocket-sized cultural hub
In Weimar, you can feel the weight of cultural and musical history and the avant-garde influence of the Bauhaus on every corner. You can also explore the legacy of geniuses and follow in the footsteps of Goethe and Schiller. Or stroll around regal parks and watch the sheep in Ilm Park 'mow' the lawn. It wouldn't be the first time that visitors to Erfurt develop a deep passion for gardens. It was no different for Goethe, and anyone walking past his summer house on a sunny afternoon will be singing its praises. There's just so much to take in on a visit to Weimar – from theatre and the arts to comedy and concerts – that it's best to start planning many more visits to come…
The many facets of the Thuringian Forest
Back in the time when the Thuringian Forest still lay beneath the sea, a hike along the Rennsteig Trail would have been more of a diving session. Today, some 250 million years later, a hike along Germany's oldest and most popular long-distance walking route will captivate all the senses. Indeed you can still look out over a sea – of spruce, fir and beech trees – on the trail's high vantage points. Far from the summertime heat of the big city, the forest promises tranquillity and relaxation. And while people flock to the forest during the summer months in search of cool shade, the region is transformed into a Christmas wonderland in winter. The small towns along the Rennsteig Trail have always been closely associated with the art of glassblowing. In fact, glass Christmas tree ornaments were first produced commercially in the town of Lauscha, and this tradition continues to this day.
Your must sees in the Thuringian Forest
The perfect combination to the bratwurst
This is simply part of Thuringia
Well? Work up on appetite?
Your favourite bratwurst stands in Thuringia