Discover Thuringia - Your journey
Arrival and travel in Thuringia
Thuringia offers a unique combination of formative German cultural history and multifaceted natural landscapes. In addition, the destination impresses with its central location in the middle of Germany. The travel routes are short and also the routes within Thuringia are close together.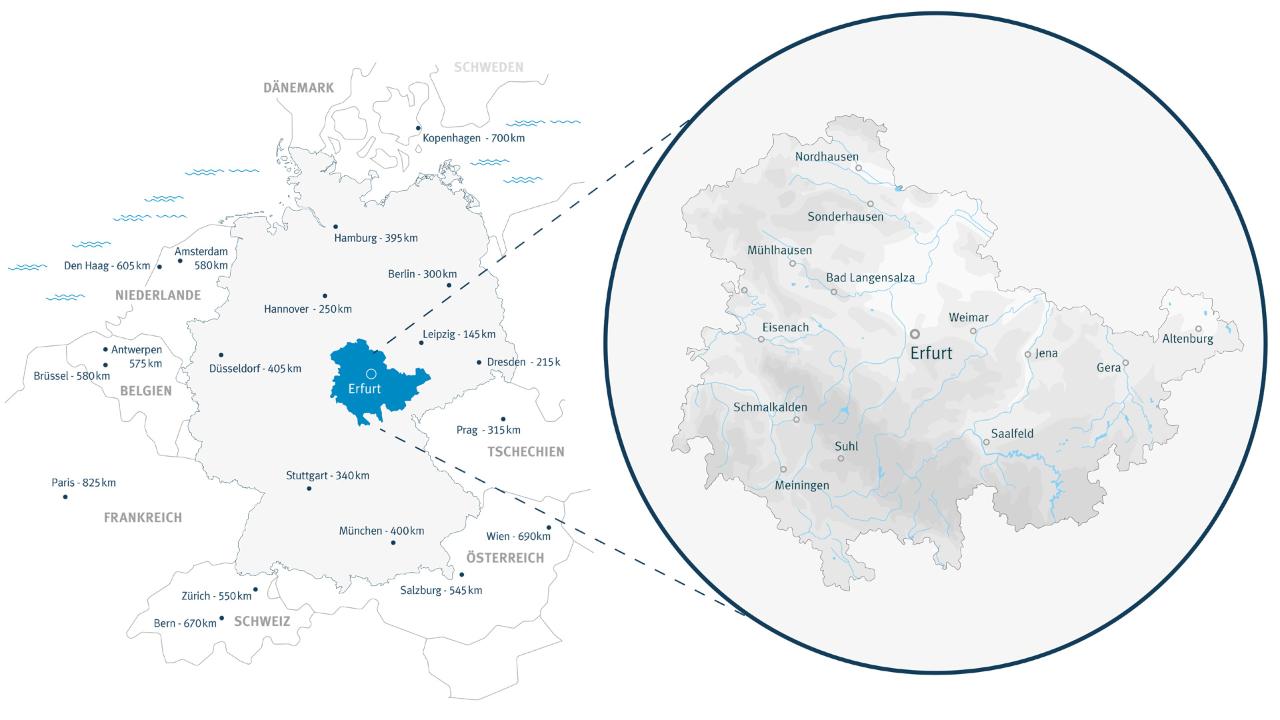 There are many good reasons to spend your vacation in Thuringia. Each region in the Free State has its own charm and this is also reflected in the local offers. In summer, for example, you have the opportunity to party at the Rudolstadt Festival or enjoy the sun while paddling on the Thuringian Sea. In autumn, you can listen to the colorful leaves while hiking on the SaaleHorizontale or linger among the vineyards in Bad Sulza. In the Thuringian Forest, you can face winter in a sporty and active way or in a classically romantic way, or you can let yourself be enchanted by the Christmas glow in historical places. During a spring walk through the parks and gardens in Bad Langensalza you will get the chance to sniff the first flower scents or feel the urban flair while sightseeing in Erfurt.
As you can see, it's time again for a vacation in Thuringia and the creation of unique experiences!
On this page you will find first information for your travel planning. Whether you are looking for tips on how to get to Thuringia or information on travel options within the Free State - you are on the right track here.
How will you travel to and in Thuringia?
⠇
Discover Thuringia
Comfortable. Accessible. For all.
Here you will find detailed information on the topic of "accessible travel".
Header pictures: Erfurter Hauptbahnhof, ©Christian Bedeschinski, Deutsche Bahn AG; Wegweiser Buchfart, ©Gregor Lengler, Thüringer Tourismus GmbH; Schillerstraße Weimar, ©Florian Trykowski, Thüringer Tourismus GmbH; Luftaufnahme Gehlberg, ©Paul Hentschel, Paul Hentschel Photography; Mountainbiker vor Wartburg, ©Adrian Greiter, Thüringer Tourismus GmbH