Erfurter Superkraut - Urlaub - Reisen - Thüringen entdecken
Erfurt's wonder plant
Where watercress is revered
Surrounded by a sea of green, a man fights to maintain his balance. As calming as the colour might be, harvesting watercress from narrow wooden planks is hard work. For Ralf Fischer, harvest time is a balancing act and, depending on the season, part of his everyday business. When he enters his old watercress beds, he is like an acrobat on the slippery and wobbly planks. And it gets no better once he reaches his destination. Harvesting the plants peeking out of the water requires a sharp knife and plenty of practice as he inches along the planks on his knees. He leans over this green superfood for minutes on end filling up his small basket.
Watercress is full of vitamins and has been harvested by the Fischer family for generations. Ralf Fischer's grandparents and parents used to work these artificial watercourses, which run slightly downhill to ensure that the water can flow through the system while maintaining its temperature. The water is full of thousands of plants, which radiate a lush green when looked at from afar. Fischer has been involved in the harvest since he was a child, and he often fell into the shallow water. Here in Erfurt, the city of flowers, he is the only person still growing watercress regularly.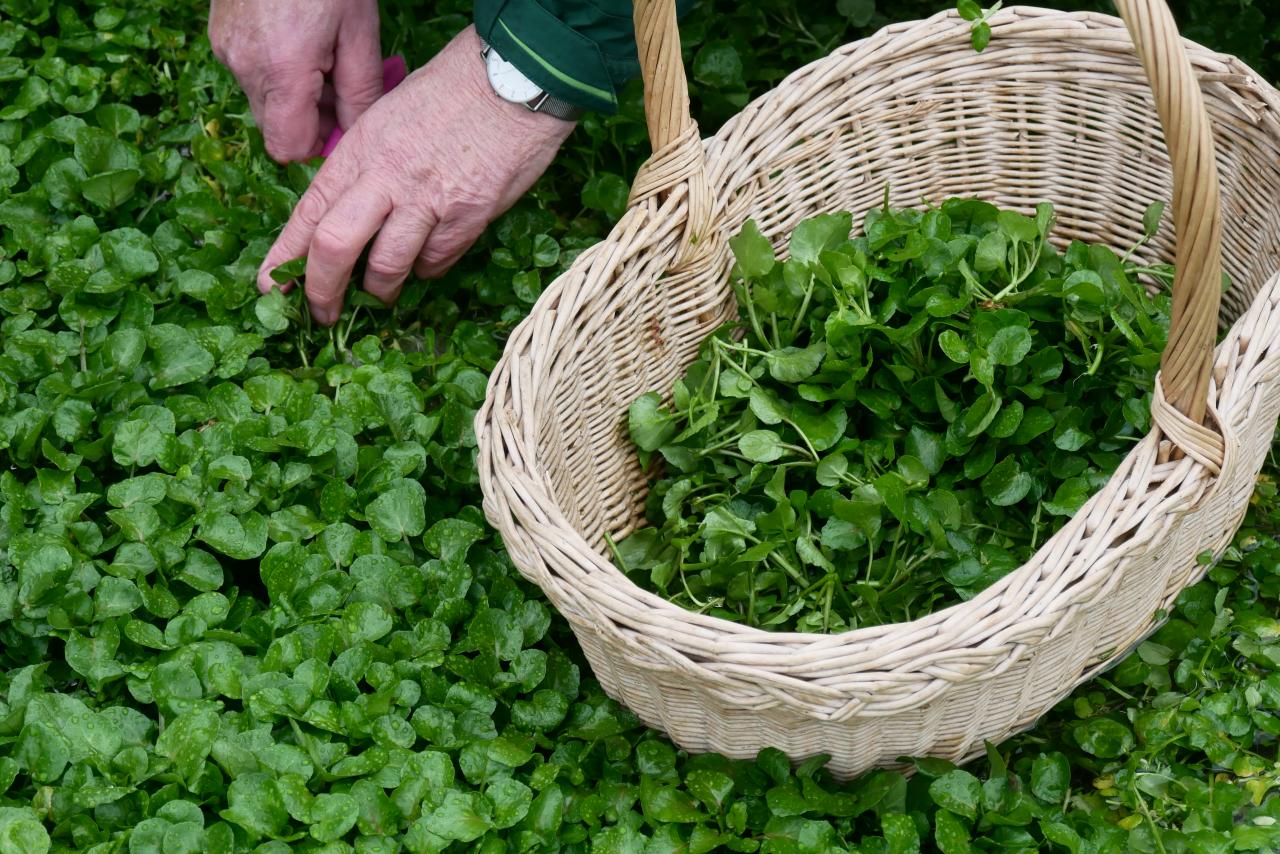 Ralf Fischer during the laborious harvest of watercress in Erfurt ©Jens Haenztschel, Thüringer Tourismus GmbH
But he has a few comrades-in-arms when it comes to growing the crop that made Thuringia's state capital famous. Juliane Riehm has leased part of the land next to Ralf Fischer's and has recently been busily working on reviving another bed. The roof has been repaired on a small hut for tools (and a little peace and quiet!), and the bed has been uncovered and cleared out after years of neglect. Kingfishers have already been spotted here. At the moment, there's only some wild watercress growing around the edges, but it's heartening to see all the hard work starting to pay off. While the first young plants are already taking root on Fischer's plots, Riehm is busy planning, tidying up and investing. "Growing watercress is the type of challenge that I'm happy to embrace. I absolutely love watercress, and I think this nutritious plant should feature more regularly in the local diet."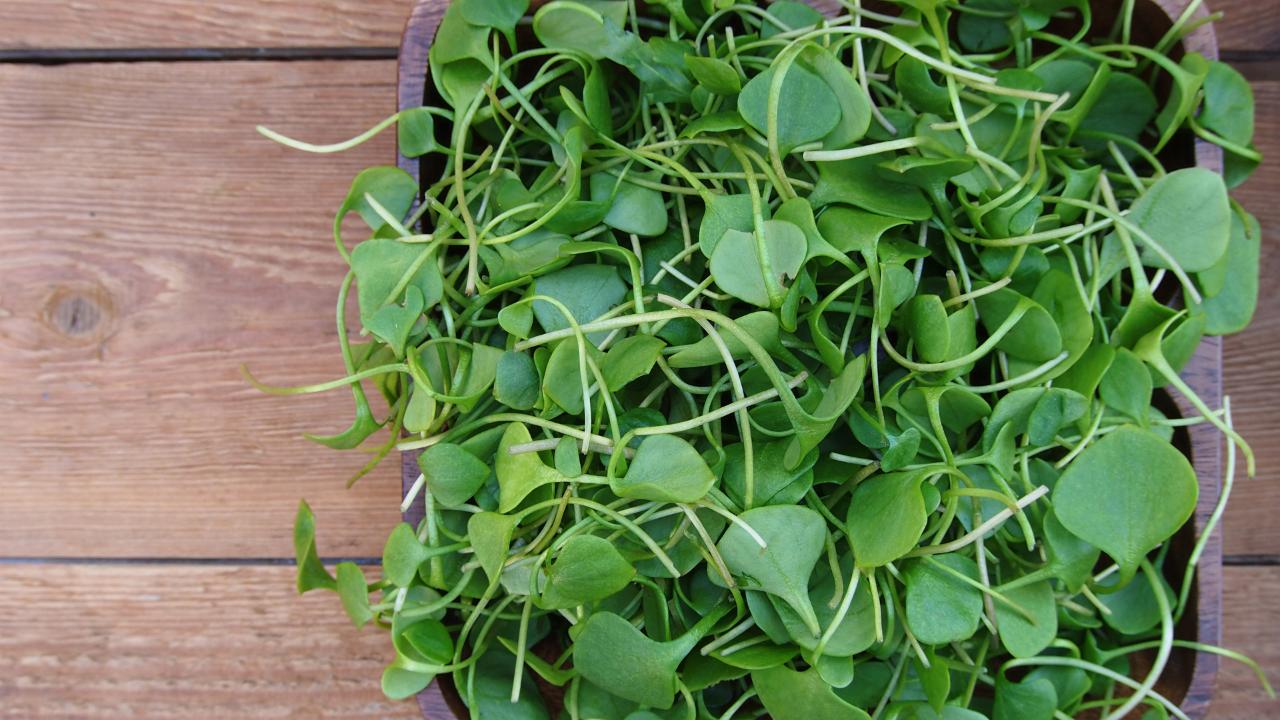 Watercress ©Nadalina/Shutterstock.com
Watercress has been grown in Erfurt since 1630. Christian Reichart, a local polymath and the father of German horticulture, perfected its method of cultivation. By combining the watercourses needed for watercress with dams for other types of vegetables, he ensured better yields on the land and fields outside the city. Many years later, peppery watercress had another great advocate. During his stay in Erfurt in 1808, Emperor Napoleon Bonaparte was so taken with watercress that he promptly took two gardeners to Versailles to cultivate it according to the Erfurt method he so admired. In the 1960s, around 20,000 square metres were under cultivation in Erfurt and more than 40 tonnes of watercress were harvested annually. The plant was lucrative long before it was deemed a superfood, and it was even used for medicinal purposes. Traditional watercress cultivation came to an end once many farms were nationalised and Ralf Fischer's father left in 1974. Many beds were filled in, others still lay fallow to this day.
The fact that this local speciality is available in Erfurt again is thanks to Ralf Fischer's efforts. Once the land had been returned to his care, he painstakingly reinstated a bed and, along with his family, started planting nasturtium officinale, to give watercress its botanical name. An electrician by trade, he fulfilled a dream that his father and grandmother had held for some time. Ever since, Fischer has been out on the boards in winter harvesting this vitamin-rich plant. "500 square metres of beds don't add up to huge earnings, but in a good year we harvest three to four kilos of watercress per square metre," he says. "As it's a fairly exclusive vegetable, the price is just under €30 per kilo, depending on the season." Fischer harvests between six and eight kilos a week, which is enough for regular customers and restaurants in the area.
The benefits of watercress are well-known, and it really is a superfood. It contains a lot of vitamin C, and is also rich in iron, phosphorus, iodine and even calcium, while its gluconasturtiin content can help fight bacteria and viruses. The peppery flavour is reminiscent of radishes, to which the plant – part of the mustard family – is related. Watercress is known in Erfurt as braunkärsch; names in other regions include bachbitterkraut, bornkersch and wassersenf. For Ralf Fischer, watercress is a true passion.
Watercress museum
Fischer has recently updated his exhibition on the history of watercress and its cultivation in Erfurt. It has become a small museum dedicated to watercress and the family history on the farm. "Watercress has a past, of course, but I also want it to have a future."
Watercress ©photo-oasis/Shutterstock.com
Hat euch der Artikel gefallen?
querbeet_parks_und_gaerten
Das könnte euch auch interessieren: