Happy moments - hidden treasures of all sizes - Urlaub - Reisen - Thüringen entdecken
Happy moments
Hidden treasures of all sizes
Every year, we go on a short trip together. We've never been to Erfurt before - I'm curious to find out what we'll discover on a weekend. Our way leads us to the city's landmarks, such as the Krämerbrücke and the Erfurt Cathedral. But also to the Old Synagogue. And so we immerse ourselves in the 900-year-old Jewish culture in this city.
This time we treat ourselves to a short vacation over the weekend. Just my husband and me - all alone. This is how we celebrate our anniversary, and this year it will be our 25th – our silver anniversary! My, what we have experienced during this time. I'm proud of us and what we have achieved together. And that we still stick to this tradition and get away from it all for two days.
We've never been to Erfurt before. At just under two hours, the journey by train passes quickly, and it's only a ten-minute walk from the train station to the hotel. Once we're checked in, we ask the friendly receptionist what there is to do here. I want to forget all my cares, enjoy a leisurely stroll, explore the city and have a nice meal. Perhaps even squeeze in a spot of shopping, as I usually never have time to. She recommends a route taking us from the Merchants' Bridge to Erfurt Cathedral. And off we go! I've heard of the Merchants' Bridge, it's the longest with buildings along its entire length and is one of the city's most famous landmarks. As is Erfurt Cathedral, an imposing building towering over a large square, and which together with the Church of St Severus forms a grand medieval ensemble. So, what else will we discover along the way? I can't wait to find out.
I soon realise that we don't really need a map. I feel like I've been transported back to the Middle Ages, and I fall under the spell of the lively squares and the magnificent town houses. By chance, we happen upon a park-like river meadow not far from the Merchants' Bridge with its pretty half-timbered buildings and independent shops. As we walk a little further, things get quieter. Here we find narrow lanes with rustic curbs, historical warehouses stretching over three storeys, and old cobblestones on which our footsteps echo. I look through the windows into the pretty houses and explore a courtyard here and there.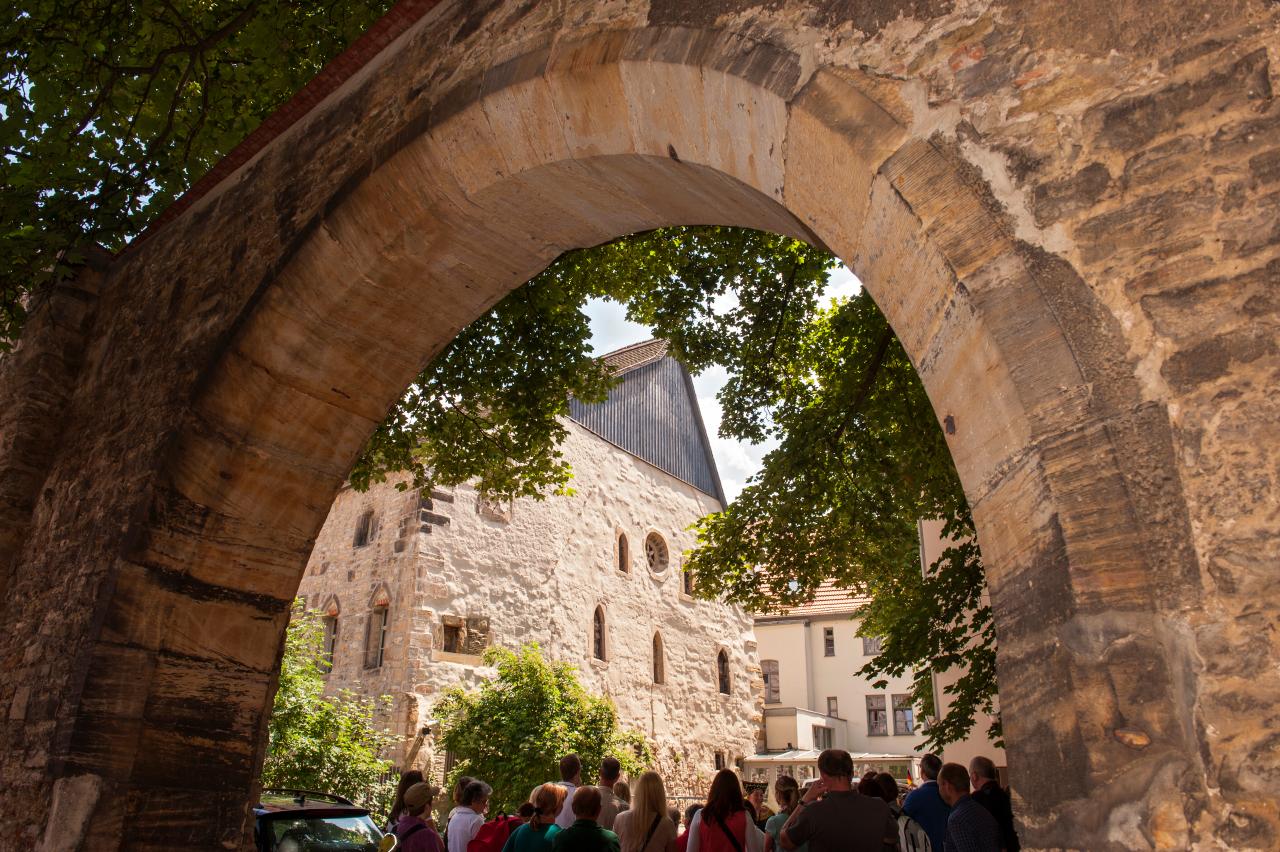 View of the western facade of the Old Synagogue in Erfurt ©Martin Kirchner, Thüringer Tourismus GmbH
---
Old Synagogue
Museum and museum piece in one
A stone archway in Waagegasse catches my eye. Actually, it's not so much the archway as the plain stone rosette on the gable of the house that appears behind it. My curiosity piqued, I walk a few metres on and discover that this is a museum. The poster on the modern glass door shows a large picture of a magnificent gold ring. We decide to go in and find out what the story is behind this medieval building and the ring.
We are greeted warmly at the small glass entrance, cross the bright courtyard and enter – audio guide in hand – into a small dark room: the Old Synagogue. The door closes behinds us and it takes my eyes a second or two to get used to the dark. I notice huge old beams in the low ceiling, and there's a small group of schoolchildren in the middle of the room. The audio guide begins to speak and we are slowly immersed in medieval Erfurt and 900 years of Jewish history. We hear about a vibrant, wealthy trading centre on the Via Regia, and one of the largest medieval settlements in the Holy Roman Empire. In the far corner I discover an interactive map of the city. The screen shows the names of some of the former residents, where they lived and what worries they might have had during this period. People hid their belongings for fear of pogroms or the plague, we learn, including a Jewish banker called Kalman von Wiehe.

We delve a little deeper and are spellbound by what the audio guide tells us. There's been a Jewish community, a Kehila, in Erfurt since the 11th century. A Kehila is the name given to a community with a cemetery, a synagogue and a ritual bath, or mikveh. The medieval Old Synagogue in which we stand today was rediscovered not that long ago when, purely by chance, traces of this 12th century building were uncovered in the 1990s. The best-preserved synagogue in central Germany is more than just a museum, it is a museum piece itself. I particularly like the simple light projection of the blurred Torah shrine on the rough wall. It provides an insight into what this Jewish place of worship might have looked like a thousand or so years ago…
The audio guide leads me further into the upper floor where I find my husband again. He loves books, and is absorbed in the Hebrew Bible. Not a real one, of course, but a digital version. Several copies of medieval Hebrew manuscripts, including an impressive Torah scroll, are on shown on this floor. What catches my eye is the unexpectedly 'different' design and atmosphere of this room. There are old paintings of women on the walls, and I discover balconies from a later period that are more reminiscent of a (slightly ramshackle) ceremonial hall. My digital companion enlightens me: the old building has had an eventful history. After the Jewish community was expelled, the synagogue was forgotten for a long time and remained unrecognised for what it had been. The building was a warehouse for many years, later it was connected to an inn, and it was even used as a dance hall during the Third Reich. The irony is not lost on me...
---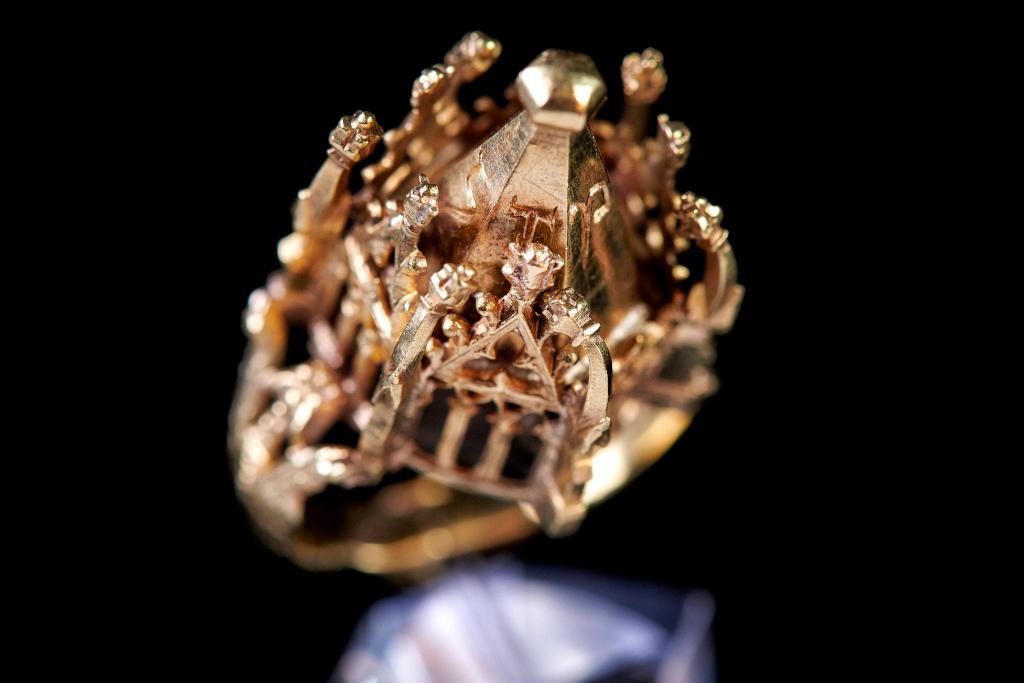 Jewish Wedding Ring, on display in the Old Synagogue in Erfurt ©Florian Trykowski, Thüringer Tourismus GmbH. Objekt im Bestand des Thüringischen Landesamtes für Denkmalschutz und Archäologie
Mazal tov
Fate, treasure and a wedding ring
Together, we head down into the small vaulted cellar which, as it turns out, is a real treasure trove. With a fascinating history too: around 20 years ago, a labourer discovered an old piece of metal during construction work on a property in Michaelisstrasse. What was first thought to be pewter turned out to be a silver plate, and that was just the beginning of an incredible find. Here, beneath the masonry of a cellar door, more than 3,000 silver coins and 700 pieces of jewellery from the Middle Ages were found, among them some exceptional examples of Gothic goldsmithery. The treasure weighed no less than 29.5kg in total, and a particularly impressive piece was a Jewish wedding ring from the 14th century. This is the key exhibit of the Erfurt Treasure. I reverently step closer to the display case in the centre of the room. I take one of the large magnifying glasses off the wall by the entrance to take a closer look and hand another to my husband standing next to me. The ring is almost 5cm high, with an ornate miniature tower – the Temple of Jerusalem – at the top which is carried by two mythical creatures. The tower's roof is inscribed with 'mazal tov', or good luck, in Hebrew letters, while the bottom of the ring is formed by two hands placed inside one another, symbolising marriage and fidelity.
How infinitely beautiful, I think to myself and look over at my husband. I feel the wedding ring on my finger and lean over to him. His hair may have turned a little grey after all these years and there are funny little wrinkles in the corners of his eyes, but I reach for his hand and he returns the gesture with a gentle squeeze. Sometimes, there is no need to speak to feel close to someone.
Moved and profoundly touched, we step back into the street after our visit to the Old Synagogue. For us, this has been the ideal introduction to the history of a city that only reveals its secrets bit by bit. And sometimes lady luck has had to lend a helping hand. We're eager to discover more, and our next stop is the mikveh, a Jewish bath used for ritual purification. It's only a few minutes' walk from the Old Synagogue, and the route takes us back to the Merchants' Bridge. The first thing we see is the structure that has been built around the bath to protect it. You can see the bath through a window at any time, but we choose to take a guided tour to find out even more about the mikveh's history. And so we delve even deeper into the 900 years of Jewish culture in Erfurt.
zielgruppe_kennerschaft, zielgruppe_faszination, kampagne_kulturerbe, landingpage_kultur, barrierefrei, mobilitaet
You might also be interested in ...