Schlosspark Altenstein - Urlaub - Reisen - Thüringen entdecken
Where gardening becomes detective work
Altenstein Castle and Park
Margret Most moves with precision. Her experienced hands reach for the plants in the pots and place them in the circular bed, a real eye-catcher that sits slightly elevated next to Altenstein Castle. Over the course of a few days, it will begin to resemble a colourful, almost mosaic-like carpet of plants.
Rather than relying on showy flowers and large-leaved plants, her focus is on structure, as the carpet beds are supposed to form a low mat. They are regularly cut into shape, so the leaves mustn't be too big, and flowers are certainly unwelcome. The designs are based on historical photographs from the castle archives, and Most sometimes has to interpret the weathered pictures using a magnifying glass. This is where gardening becomes detective work. "At the time of the dukes, it was more about the shape and structure of the beds. Carpet beds were all the rage," she says. "The plants are now grown especially for us at a neighbouring nursery. They are anything but off-the-shelf, as carpet beds need a lot of specimens of a few plants to create the desired effect."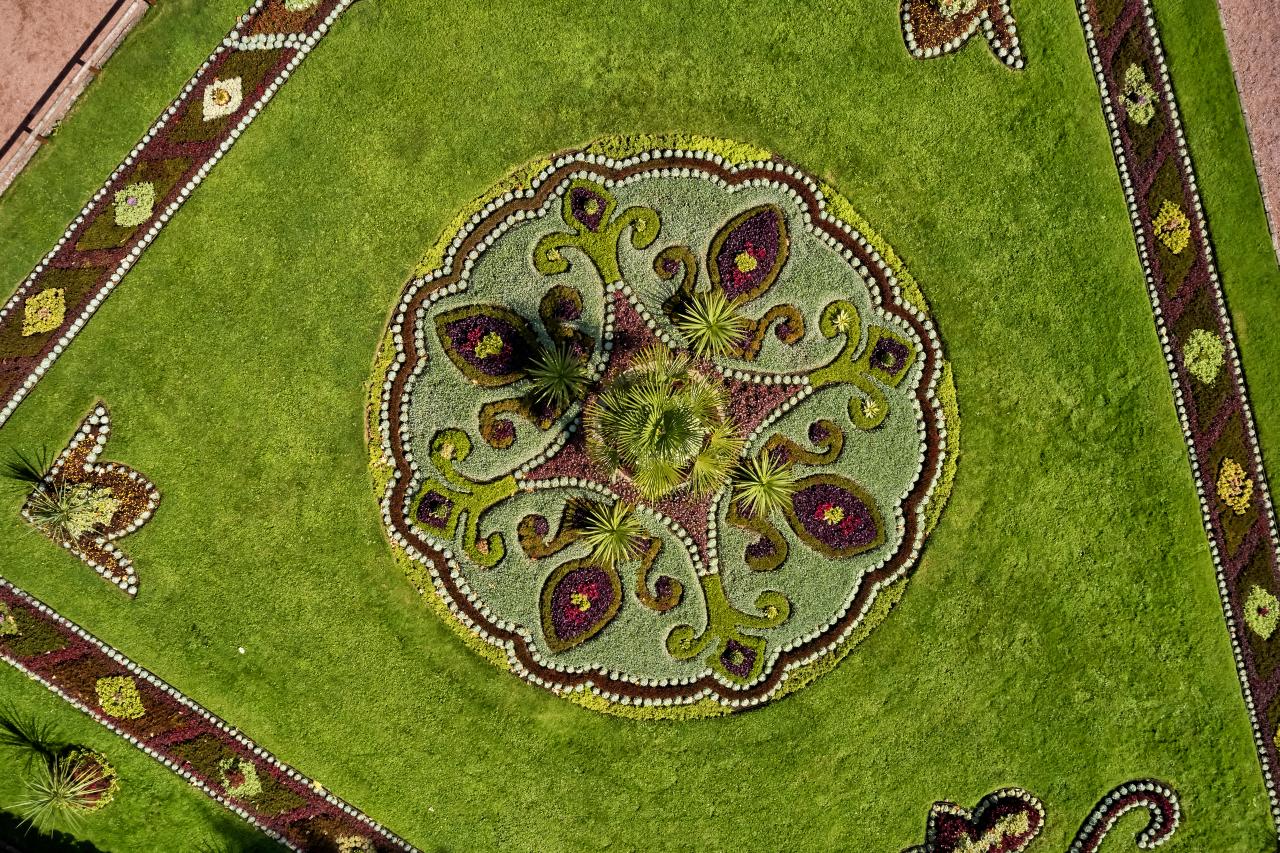 Carpet bed in Altenstein Castle Park ©Florian Trykowski, Thüringer Tourismus GmbH
Altenstein Castle and its huge park are a beautiful example of how garden tourism can provide a winning formula. The building itself was built between 1888 and 1890 and has been returned to its former glory following restoration work. At 160 hectares, the gardens around it form one of Thuringia's largest historical parks. The house and park combine to create an exceptional jewel that looks majestic from afar but feels more tranquil the closer you get. It is all very reminiscent of palaces and parks in Britain, but nowhere is the love of plants and design more perfectly executed than in Altenstein Park.
Famous names and favourite places
Altenstein Castle and Park has plenty to offer thanks to its close connections to famous names associated with garden design over the centuries. Prince Hermann von Pückler-Muskau, one of the leading lights in 19th century landscape gardening, had a decisive influence on the park's design and was a sought-after advisor in Thuringia during that period. Landscape architect Peter Joseph Lenné was also asked to contribute to Altenstein Park. Karl Foerster, one of the 20th century's leading growers of perennial plants, spent his apprenticeship here and got to know the park extremely well. The Foerster bench now sits in the favourite spot of the nurseryman, poet and writer.
Altenstein Castle and Park covers 160 hectares near Thuringia's oldest spa town, Bad Liebenstein. The house was built between 1888 and 1890, and all around it the park and the landscape merge into one. Individual trees, groups of trees and dense woods divide wide meadows into individual areas through which the visitor is guided. There are also sweeping vistas of the Werra valley and the Rhön hills.
Park administrator Toni Kepper finds this combination both impressive and extraordinary. "This isn't simply a stately home plonked on a lawn; this is a work of art, a place where the longing for beauty is satisfied. It's somewhere you simply want to visit and while away the time in." Due to the size of the area, Kepper and Rakowski can offer visitors far more than many other parks and gardens. There are landscapes with rock formations, the Altenstein Cave and the legendary Bonifatius Rock, a waterfall, decorative borders and beds, endless meadows, woods with a wide variety of species, and the terraces at the house. Altenstein Castle and Park is quite simply the pride of the region.
View of the Knight's Chapel in Altenstein Castle Park ©Florian Trykowski, Stiftung Thüringer Schlösser und Gärten /Thüringer Tourismus GmbH
And there is another famous person who was a guest here. None other than Johannes Brahms visited Altenstein Castle on several occasions. In 1894, he wrote to Clara Schumann: "I wish (and so does everyone here) that you could sit here at my window, go out onto my balcony and on into the magnificent park and forest. The most handsome pheasants, stags and roe deer by the dozen, and with it the wonderful mild weather and the friendly company. You would be very content here." Altenstein Castle and Park is a true treat for anyone with a love of gardens.
From the baroque to Japan
Thuringia's parks and gardens could not be more varied, with everything from Far Eastern bonsai culture and the scent of over 450 types of rose to a royal landscaped park covering 160 hectares. On a voyage of discovery we look at ornamental flower beds, marvel at landscape architecture and enjoy a balmy summer breeze amid flowering vines.
Altenstein Castle and Park ©Florian Trykowski, Thüringer Tourismus GmbH
Maybe you're going ot like those as well ...