A stroll around Erfurt
Views from the Merchants' Bridge
Thuringia's capital is famous for the Merchants' Bridge, the cathedral and other historical sights. But there is much more to be discovered on a stroll around the city: quiet corners, green spaces and quaint shops run by charming people.
As you step through the archway of St Giles Church on Wenigemarkt square, the noise levels instantly drop and the hubbub of daily life fades away. The thick walls of the building, which also forms the eastern entrance to the Merchants' Bridge, block out the babble of voices in Erfurt's city centre. You ascend the church tower in silence, and only your breath gets louder as the steps become steeper. Narrow windows provide some light as you huff and puff your way past the big Friedensglocke bell. The wooden staircase creaks. Anyone who doesn't have a head for heights is advised to look straight ahead to the next step. The rest of the 128 steps are soon behind you, and then the hatch to the top of the tower opens, 33 metres above the ground.

Below lies Erfurt in all its glory. Narrow streets and alleys meander through a sea of houses in Thuringia's capital, which is home to 210,000 people. One minute the city presents itself as a confident metropolis, the next it has the compact feel of a village. Directly at your feet is the Merchant's Bridge, or Krämerbrücke, the oldest secular building in Erfurt. It spans the river Gera between Benediktsplatz and Wenigemarkt squares, with houses all along both sides, much like the Ponte Vecchio in Florence. A total of 32 half-timbered buildings line the bridge, most of which now contain charming shops full of antiques and artisan goods, all carefully looked after by a charitable foundation.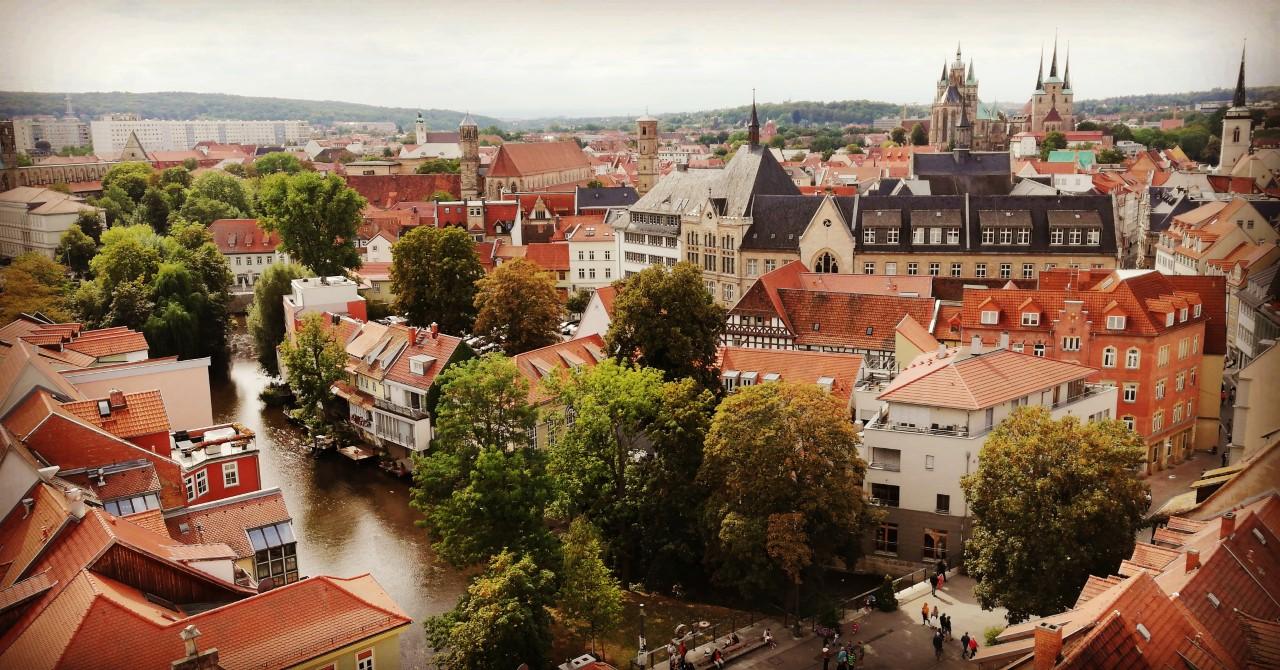 ©Lisa Kramer, Thüringer Tourismus GmbH
Small cafés invite you to take a break and sit outside on the ancient cobblestones as you watch tourists from around the world make their way along Erfurt's most famous mile. There are countless other lanes and alleyways all around for holidaymakers to explore, of course, and at every turn there are stories and history to discover. This is one of Europe's most beautiful old quarters, home to historical merchant's houses, the neo-Gothic town hall on Fischmarkt square that dates from the 1870s and the Church of St Severus with its tall spires. The cascading, seemingly endless steps of the mighty cathedral, which was first mentioned in records in 1117, are a popular place to chill out in the evening sun.

©Gregor Lengler, Thüringer Tourismus GmbH
The city is compact and easy to explore on foot, and there are trams everywhere, with some lines running until late at night. Away from the cathedral, the Merchant's Bridge and other famous sights, there are numerous quiet spots, often only known to locals, where you can sit back and enjoy the atmosphere.
For example, the city's many green spaces, which come in all shapes and sizes – Erfurt is full of trees and flowers. To the south of the main train station lies leafy Stadtpark, from where you can walk for many kilometres through lush greenery along Flutgraben canal, the park by Löberwallgraben, the Espach promenade and Luisenpark. The grassy area behind the Merchants' Bridge is a popular spot to take a break from strolling around the city centre, while the locals adore small oases such as Predigerhof, right by Prediger Church, a secret little hideaway with a few benches just a stone's throw from the town hall.

©Christian Fischer, Thüringer Tourismus GmbH
What immediately strikes you is that everyone seems to know everyone else, even though the city isn't that small. If you spend some time in one of Erfurt's cosy cafés, you will soon notice how often and how warmly people greet each other here. And by your second or third day, you're almost treated like a local yourself. The friendly look is accompanied by a hello, and soon even a longer chat. The same is true in the city's many pubs and bars that cater to a hip, young clientele, such as Oma Lilo in Gorkistrasse, Café Hilgenfeld right next to Domplatz square, and Wein-Destille near Petersberg Citadel, or in casual cafés like Mundlandung, where delicious pastries are served with a warm welcome.
You might chat about Erfurt's amazing arts and gallery scene, or the new programme at the small but excellent Theater im Palais, and have you heard about the cool events at the Franz Mehlhose club and café? What you can also see from the tower of St Giles Church is that the city is surrounded by green countryside. It doesn't take long to get to Steigerwald forest to the south, where the Waldhaus and its large beer garden provide the perfect excuse for a break. Not far from that is Bachstelzencafé on the river Gera near Bischleben, and further to the north-west of the city is the Grundmühle pub in the Weissbach valley.
Then you carefully descend the tower (the narrowest part of the spiral staircase is best done backwards), stroll over to the cathedral square and enjoy the evening in this great little city. Even in the centre it can be very quiet, especially late at night, almost like a village where everyone knows virtually everyone else.
DOREÉN REIFENBERGER, LOOPKERAMIK
As the pottery wheel hums, Doreén Reifenberger uses her slender yet strong fingers to create a tall drinking vessel. It's warm in her small studio in Wächterhaus no. 2 near the main train station, and the archaeology graduate is happy here: "These old buildings used to stand empty, but now they are rented out to artists, which helps to preserve them for future generations," she says. Since 2013, she has been using traditional craftsmanship to create exceptional dinnerware with a modern design, "for an enhanced dining experience that will brighten up everyday life." The ceramic cups, plates, bowls and more can be purchased online and in selected stores. The hallmark of her largest collection is the swallow. As Doreén says: "The loopSchwalben swallows evoke memories of a lovely summer picnic."
HARTMUT PRIEMER, BACKSTUBE AN DER KRÄMERBRÜCKE
There's a heavenly smell in this small bakery in Kreuzgasse near Benediktsplatz square, at the western end of the Merchants' Bridge. Hartmut Priemer and Iñaki Arroyo, both dressed in the traditional white linen and red baker's hats, are about to take freshly-baked loaves from the oven. "We only bake small quantities, by hand, using old recipes and local ingredients," says Priemer, who manages the bakery. Originally from Berlin, he has been happily living in Erfurt for many years now. Traditional baking is the perfect fit for the 'living artisan crafts' concept of Stiftung Krämerbrücke, the foundation that looks after the Merchants' Bridge. The small café and shop adjoining the bakery is often full to bursting, but the mood is always cheerful. Not for nothing are Priemer and his friendly team known as 'the laughing bakers'.
EMÖKE EBNER, BUCHHANDLUNG KLEINGEDRUCKTES
This small bookshop, which opened on Mainzerhofplatz square in spring 2017, is a welcoming Aladdin's cave. "I wanted to have a bookshop with a living room atmosphere," says Emöke Ebner. And it's safe to say that the journalist from Hungary, whose husband is an opera singer in the nearby theatre, has succeeded on every level. Tea and coffee are served while you browse through the books, and an old display case is piled high with Hungarian wines and the finest chocolates. "Suitable gifts to go with a good book," says Emöke. Artistic images by a photographer friend from Budapest hang above the bookshelves. A living room doesn't have much space for a huge range of books, of course, so the online shop takes care of that. And there's also a Hungarian corner: "There has to be room for my favourite authors, such as Imre Kertész and Péter Esterházy."
KARINA BOTH-PECKHAM, PECKHAM'S COFFEE HOUSE
When the boss laughs, and she laughs a lot, it's like a ray of sunshine. There is always a warm welcome at Peckham's in Pergamentergasse, which is run by Karina Both-Peckham, a communication studies graduate with Hungarian and British roots. The idea for this café-bistro was originally conceived in the student flat she shared with her now husband and business partner. The venue opened ten years ago and has a charming shabby-chic vibe to its design. "At first, we only served coffee and cake, but now we also do lunch, just like mother used to make it," Karina says. That means only one dish a day, showcased on the Facebook page, but served in a variety of ways: with or without meat, gluten or lactose-free, low carb or paleo. Those in the know order ahead, as the dishes – available in small, medium and XL – quickly sell out. Your only option then is to cook it yourself. Karina runs courses, writes a blog, appears on TV and has already published three cookbooks. Oh, and you can also buy the ingredients right here in Peckham's. Any questions?
MARIA SOK, MR. & MRS. PRESIDENT
New arrivals are greeted with a glass of sparkling sekt wine by Maria Sok, assistant to the owners, the Isecke family, and a key member of the team. 'Hotels were yesterday' is the slogan of these small, elegant boutique apartments on the top floor of a beautiful period house on Domplatz square. It's only a few steps from here to the cathedral and the Church of St Severus, and it's not much further to Fischmarkt square and the Merchants' Bridge. The four apartments, decorated with works by local artists, feature box-spring beds, kitchenette and Nespresso machine, raindance shower, bathrobe, safe and much more. Then there's the 'secret service', as Maria Sok explains: "On request, we can arrange anything for you, from breakfast at Café Nüsslein or a table in a restaurant to a fine wine or a limo to the airport." No wonder that another of the venue's slogans is 'Be unique. Be president'.
zielgruppe_neugierde, landingpage_geheimtipp
Maybe, you'll like this too ...