Young explorers in the Rhoen
From discovery trails to the mysteries of space
Saving animals, looking for stars, or simply going for a stroll – the Rhoen hills in Thuringian have lots of new attractions for families. Here are our top five travel tips:
There is no stopping the kids – having found the storks' nest they are climbing up the small ladder straight away. So what is there to see from up there?

For tiny tots
"Black-and-white cows," the kids exclaim. The family walking trail between Unterweid and Birx is 18 kilometres long. With younger children it's probably best to walk for a little bit and then drive to one or more of the other 21 stops. There is plenty to explore along the trail. For example, kids can pump water from a stream using a large Archimedean screw. Or they can learn how to skip like a squirrel. And at the Thüringer Rhönhaus restaurant they can feed as much bread to the flock of small black sheep as their little hearts desire.
For animal lovers
A ship has run aground at one of the most beautiful viewing points in the Rhön hills. It is grey, with large portholes. At the front, standing at the ship's bow, visitors can enjoy spectacular panoramic views. The very young crew is scurrying around the deck trying to determine which of the animals is in need of help. It's a great idea: at the Arche Rhön visitor centre in Kaltenwestheim, the people of the Rhön region are telling their own story by means of a modern version of the tale of Noah's Ark. The children have to solve puzzles, rescue mice and identify bird calls – while learning lots about the Rhön at the same time. Outdoors this is supplemented by the Rhönwald discovery centre, featuring a woodland school, a bat cave and a barefoot path.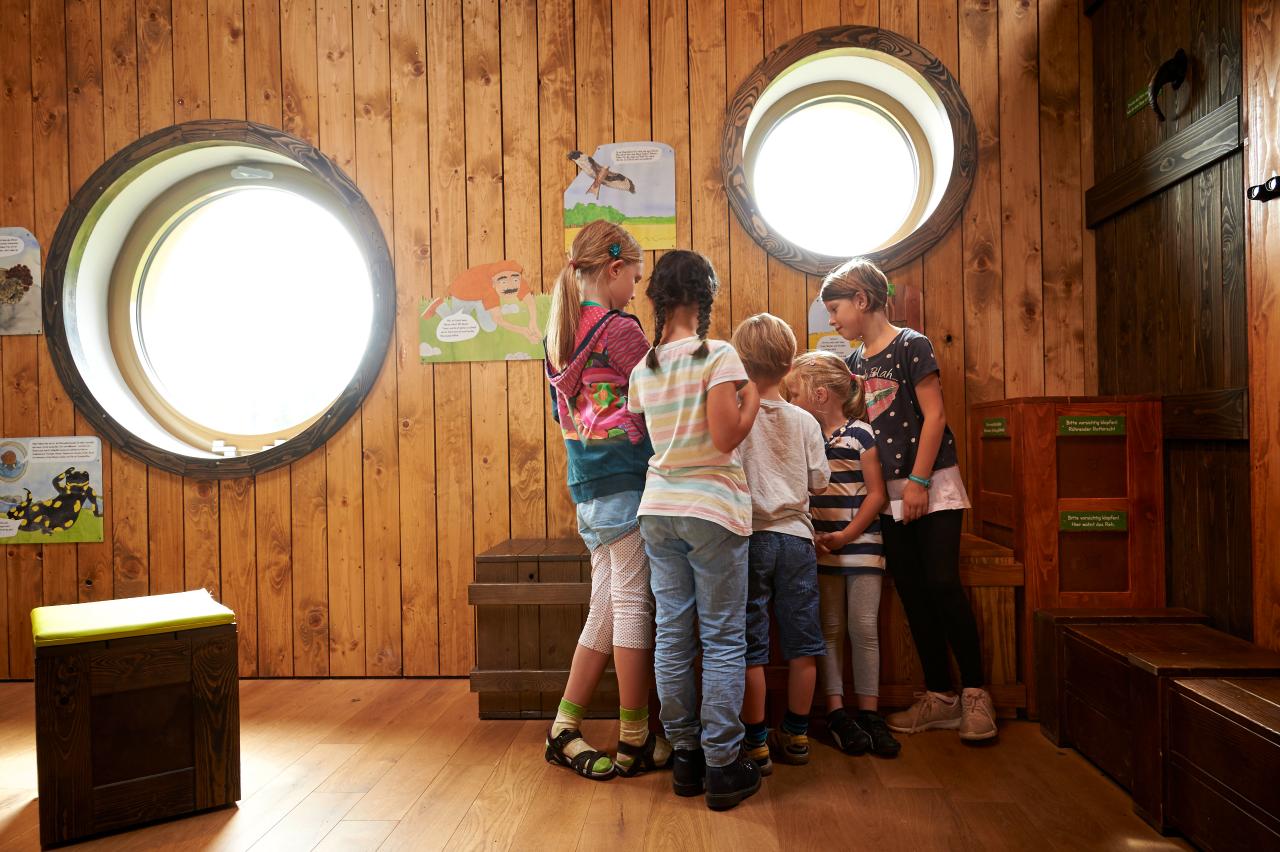 For stargazers
"What fascinates me most," says Sabine Frank, "is that the universe is so transparent." Come again? "I mean the fact that we are able to see all of it so easily!" That does makes sense. The cultural scientist offers public and private 'star walks', and she had a hand in getting the Rhön Biosphere Reserve designated as an international dark sky reserve, of which there are only two in Germany. Sabine is getting into her stride now. An impromptu role play is staged in which the children become planets and astronauts. This involves a hula hoop and an electric torch – the sun. One highlight is when Sabine, as the moon, circles around us and demands to know why we only ever see one side of it. Then she shows us the Milky Way, which stretches across the entire horizon here. It is pretty amazing. She tells us to hold up our hand against the sky. "Behind every single hand lie half a billion galaxies." Just as well for us that there's only one – comparatively small – Rhön region.
For cowgirls and cowboys
We are so fascinated by the whole subject of stars now that we decide to spend a night in the 'star trailer' in Bernshausen. The Heidinger family has converted a large wooden trailer into an apartment with a glass roof. So it's time to snuggle up under the blanket and start counting sheep, or rather stars. In the end we actually dream of horses though. The Heidingers also run Stockborn Ranch – an equestrian centre for adults and children aged 14 and above. "Our USP is that even beginners get to go on proper rides through the beautiful countryside," Mandy Heidinger tells us the next morning.
For the far-sighted
Night draws in on mount Hohe Geba. The Gebaweg premium walking trail runs all the way around the 750m peak for a total of around 15 kilometres – easily manageable with older children. You can enjoy spectacular panoramic views, walk through cornfields and across sparse grassland. Almost like a satellite, the impressive trail circles the 'planet' of Hohe Geba. A fitting image. Because they've recently opened a star platform up here. And it's a clear night, with a full moon. So why do we only ever get to see one side of it? You'll have to get Sabine to explain that one to you …
zielgruppe_neugierde, zielgruppe_sehnsucht, nicht_veroeffentlichen
Maybe, you'll like this too ...