A German Classic? - World Heritage in Weimar - Urlaub - Reisen - Thüringen entdecken
A German Classic?
World Heritage in Weimar
Weimar boasts a wealth of UNESCO World Heritage, with a total of 19 individual sites. The Classical Weimar ensemble comprises 16 locations, while 'Bauhaus and its sites in Weimar, Dessau and Bernau' includes three sites in Weimar. Weimar is steeped in culture; it offers encounters with literary history and celebrated intellectuals around every corner. The leading thinkers of the classical era were Johann Wolfgang Goethe, Friedrich Schiller, Martin Wieland and Gottfried Herder, but women such as the Duchess Anna Amalia and Grand Duchess Maria Pavlovna also had influential roles. We have brought some aspects of classical Weimar to life – featuring the people and stories associated with the individual locations.
Episode 1: Much too young to be a widow
Fate really was cruel to this particular Prussian girl: Anna Amalia married at 16, became a mother at 18 and was a widow at only 19 years old. When the princess gave birth to her second son at the Town Palace in Weimar, her husband, Duke Ernst August II Constantin of Saxe-Weimar-Eisenach, had already died of tuberculosis.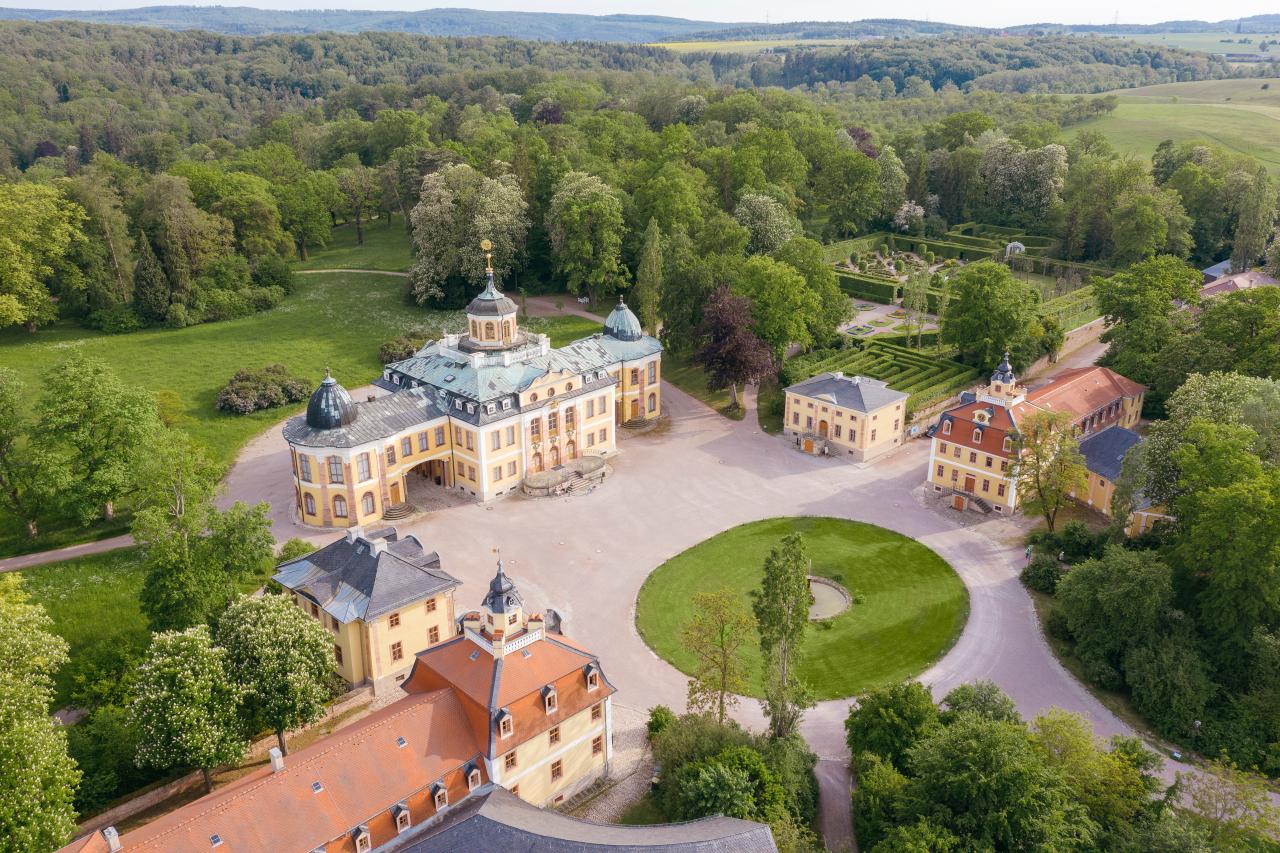 Belvedere Castle in Weimar ©Marcus Glahn, Stiftung Schloss Friedenstein Gotha
Anna Amalia, a niece of Frederick the Great, shared a love of art with her husband. The two set up a royal theatre and attended performances three times a week, sometimes also in the outdoor theatre at Belvedere Palace. The extensive park with its Russian Garden and maze is still worth exploring today. Johann Wolfgang von Goethe and Anna Amalia's oldest son engaged in botanical studies here.
Episode 2: Worn-out dancing shoes
The young woman persuaded the emperor in Vienna to recognise her as duchess until Carl August, the heir to the throne, came of age. To have a woman in charge of the duchy of Weimar-Saxony was quite revolutionary. Anna Amalia was still only 36 when she abdicated and moved into Wittums Palace, where today's visitors can take a stroll through the corner room in which the dowager duchess held banquets for her guests.
During the summer, Anna Amalia also lived at Tiefurt House and Ettersburg Palace. And she certainly knew how to enjoy herself. Anna Amalia used snuff tobacco, wore a new pair of shoes every day and danced until morning at the many balls she attended.
Episode 3: Goethe enters the scene
In 1775, Johann Wolfgang Goethe travelled to Thuringia to take up a position with the young duke, Carl August, who needed an advisor and confidant. The two greatly enjoyed hiking and drinking together. At 26, the writer was made a privy councillor, and Johann Gottfried Herder was appointed superintendent at Goethe's suggestion. Goethe's former residence and the Church of St Peter and St Paul (Herderkirche) are also part of the Classical Weimar UNESCO ensemble.
Goethe took charge of matters of war, road building and finances. As chief librarian, he expanded the Duchess Anna Amalia Library with its famous rococo hall. He also designed the Park an der Ilm (Park by the River Ilm), including a summer house and the Roman House. The Goethe National Museum offers the opportunity to visit the rooms where the writer used to live, and also contains the permanent multimedia exhibition Flood of Life – Storm of Deeds.
Discover the life of Goethe, Germany's most famous thinker, in Thuringia.
Culture Tip: History on a grand stage
The German National Theatre in Weimar has a rich and eventful history. Goethe made the Weimar Theatre famous, and it later became the birthplace of the Weimar Republic. In 1804 it saw the premiere of Friedrich Schiller's drama Wilhelm Tell. His words resound here to this day.
Episode 4: Where is Schiller?
The coffins of two friends, Friedrich Schiller and Johann Wolfgang von Goethe, lie side by side in the ducal tomb in Weimar, surrounded by a historical cemetery with ancient trees and gravestones submerged by the lush greenery. The last resting place of Weimar's dukes lies to the north of Goethe's House. A visitor has put a rose next to the writers' coffins. Did they realise that Schiller's coffin is empty? In 2008, a team of international scientists discovered that the bones inside the coffin were not the writer's.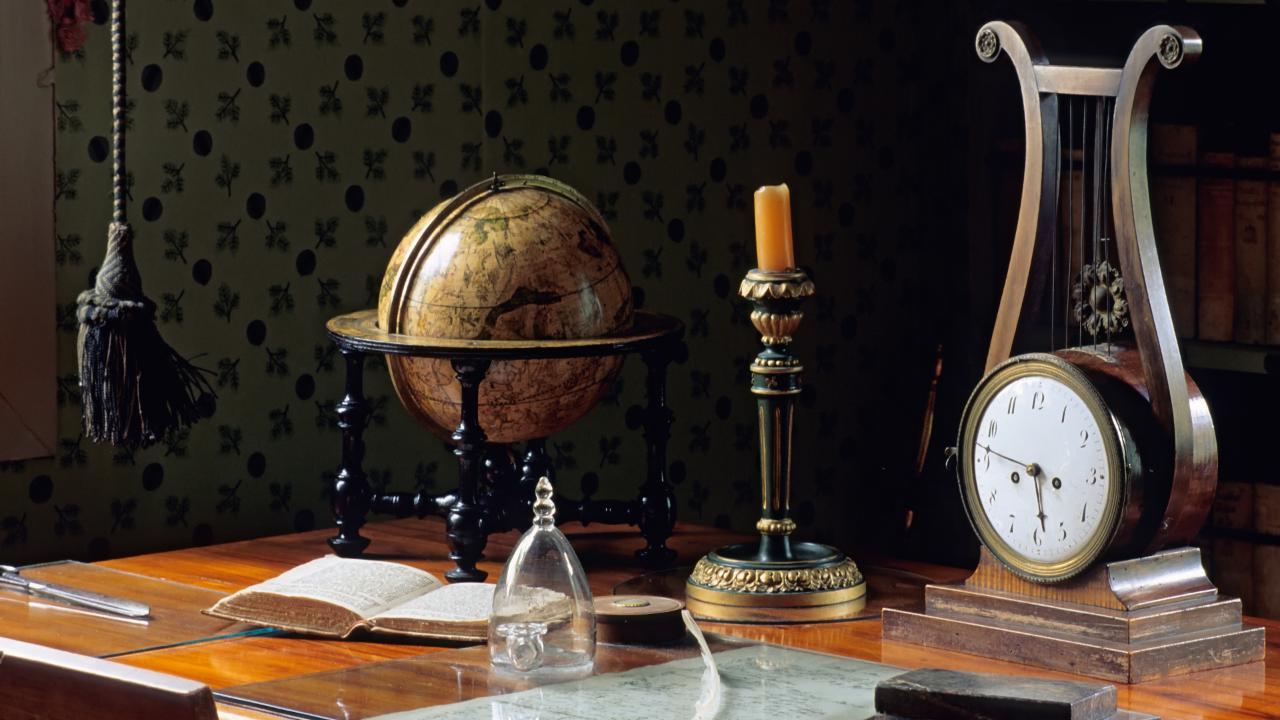 Schiller residence in Weimar, workspace ©Paul Smit, Thüringer Tourismus GmbH
Episode 5: Was it poison?
Neither of the skulls nor any of the other remains in the coffin could have been Schiller's. So the scientists were not able to find out what he actually died of. Was it tuberculosis? Or did he also suffer from heavy metal poisoning, which he might have acquired in his own home? An analysis of some old wallpaper scraps supports this suspicion.
Today, a visit to Schiller's House no longer poses any threat to health. The old wooden floorboards creak as you climb up the stairs to Schiller's private rooms on the second floor. On his desk are a candle holder, a clock and a globe, along with a quill and a sheet of paper with writing.
Follow in Schiller's footsteps in Thuringia.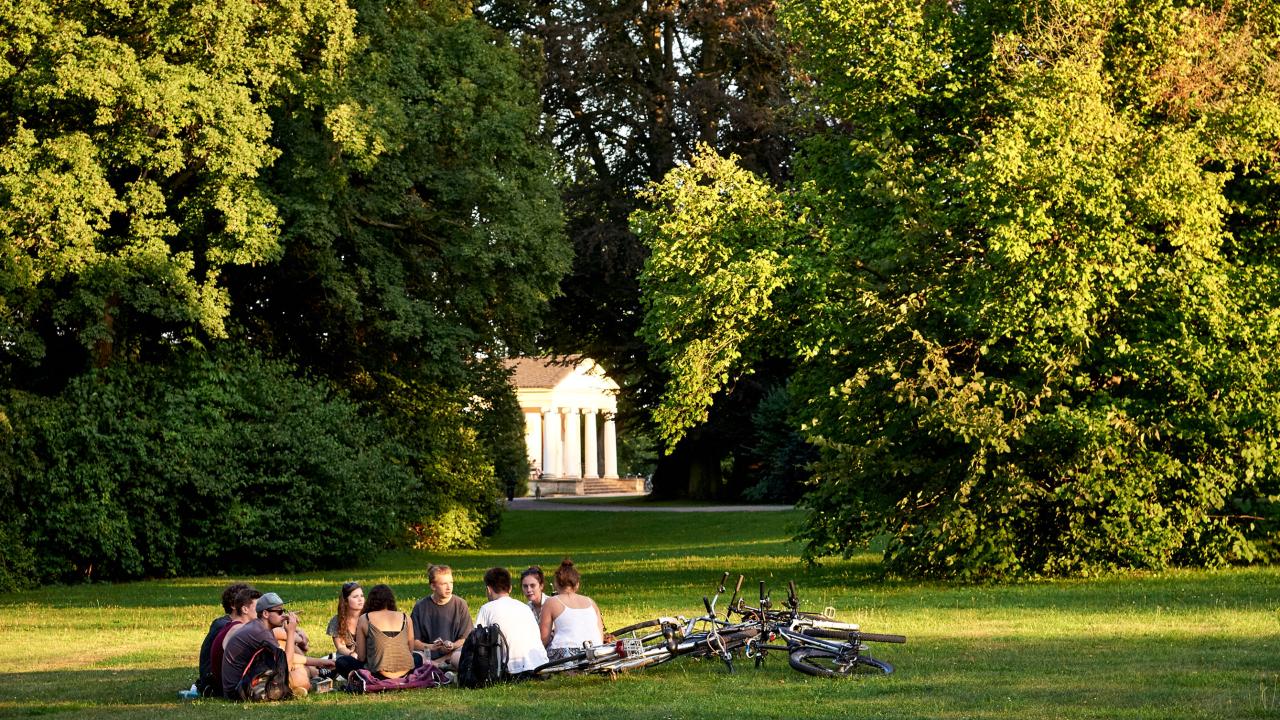 Park on the Ilm, Roman House ©Samuel Zuder, Cross Media Redaktion
Episode 6: Life in the park
It's still true to say that Weimar is not so much a town with a park as a town within a park. You quickly get used to the sheep who are 'mowing' the grass as you're strolling through the Park an der Ilm (Park by the River Ilm). This is a beautiful place to go for a wander, taking inspiration from the same view that Goethe used to enjoy from his summer house (Goethe Garden House).
In 1919, young people arrived in Weimar with new ideas about art and design. At night they had lavish parties in the park. Many locals were outraged by the Bauhaus students. But that is another chapter in the cultural history of Weimar.
The birthplace of Bauhaus
So Weimar is all about classicism? Not quite! While Weimar does have quite a number of museums and memorials dedicated to classicism, its cultural history also includes modernism and the Bauhaus. An intriguing combination. When Walter Gropius founded the Bauhaus Weimar in 1919, he created something completely new. The art school brought arts and crafts together for the first time. Gropius had a dream of establishing a new 'art of building'. Every artist was to learn a craft. Artists, designers and architects around the world are influenced by his teaching to this day.
©Jens Hauspurg, Thüringer Tourismus GmbH
zielgruppe_kennerschaft, zielgruppe_faszination, kampagne_unesco, landingpage_geschichte, kampagne_unesco_2023
Maybe, you'll like this too ...