Trompetenbau Weimann, Kapellendorf (Weimar) - Urlaub - Reisen - Thüringen entdecken
Handmade products are testimonials of the soul
A visit of the trumpet maker Alexander Weimann in Kapellendorf
The life of a Weimann trumpet begins in a small room with a glass door to the courtyard: Alexander Weimann heats a piece of lead with a gas flame and pours the liquid metal into a primed, straight bell. The sheet must then cool down, to be able to bend it by hand over a round piece of wood in trumpet shape and hammer it smoothly.
"We are doing everything according to old tradition," says the 51-year-old, who produces instruments in the small village Kapellendorf near Weimar. His products are well received all over the world. Each trumpet takes about a week's work - most of them are ordered and made according to the wishes of their future owner. Musical tailor-made suits, one might call them, with a very special trademark: a small red screw between all the gold-plated sheet metal.
©Gregor Lengler, Thüringer Tourismus GmbH
A matter of the heart
"Making trumpets, developing sounds together with musicians is a fascinating, beautiful interaction - and always a sensual affair," says Alexander Weimann. Meanwhile, his trumpets and flugelhorns made in Thuringia are not only heard at the Metropolitan Opera in New York, but also with members of the Staatskapelle in Weimar or with the Seoul Philharmonic Orchestra. The orchestra list is long.
In the small village near Weimar, the Weimanns have bought an old farmhouse and renovated it for years. This manufactory is housed in this listed jewel. The workshop is situated on the ground floor, upstairs there are offices and a showroom with red velvet and shelves full of shiny trumpets, which of course for amateurs all look alike.
The trumpet soloist Steffen Naumann has arrived from Jena. He wants to test a few instruments that Alexander Weimann has newly developed. So today Lutherchoräle sound down the main street of Kapellendorf. The two talk shop about mouthpieces, feel, sound and techniques. "A sound always arises in the head," says Alexander Weimann. "And every trumpeter wants to hear that sound when he plays his instrument. Being able to put that into the instrument is the real quality of an instrument maker. "
©Gregor Lengler, Thüringer Tourismus GmbH
Testimonials of the soul
To perfect this mastery, it has been a long way: As a young boy Weimann plays the French horn at his local musical school. Fascinated by those brass instruments he later decides to train as an instrument maker. He then attends master school and continues with the studies of restoration of historical instruments. He wants to repair instruments and this what he is still doing today.
At some point however, a musician asks him whether he wants to custom-make a trumpet for him. Weimann first refuses, but eventually gives in. "My first trumpet", he says with a laugh, "was anything but perfect – even though it is hard to admit." So, the perfectionist works until he becomes what he is today: a master of his craft, who - with the support of a small team – builts trumpets that are valued and loved all around the world.
"Something that you create with your own hands, is something similar to you", says Alexander Weimann modestly. The work with musicians and trumpets is a vocation – a matter of the heart. Even though he is happy about the brisk demand, he is believable when he says that he does not built trumpets for the money.
His credo: "Hand-made products are testimonies of the soul."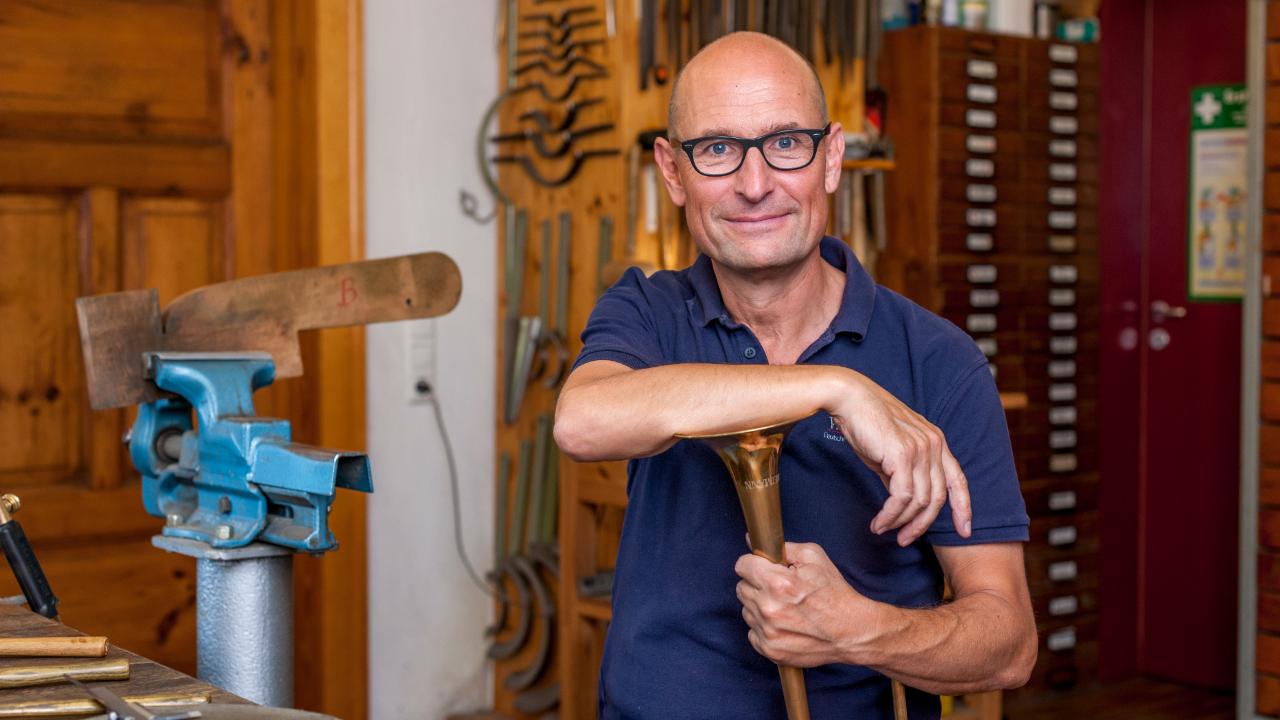 ©Gregor Lengler, Thüringer Tourismus GmbH
zielgruppe_neugierde, zielgruppe_kennerschaft, nicht_veroeffentlichen, kampagne_musikland
You might also be interested in ...