Inspirational setting for the Weimar court
Tiefurt House and Park
Our plan had been to spend a day in the park of Tiefurt House – picnicking, chatting and enjoying the fresh country air. According to the weather forecast, we were due to have cloudless blue skies and a pleasant temperature. But that's not quite how things turned out, and within half an hour of our arrival at the park the rain came bucketing down.
I'd loaded up my bicycle in the morning, packing home-made iced tea, some snacks and a large blanket. My friends and I enjoyed a leisurely ride on the Ilm Valley Cycle Route to Tiefurt House and its park, where we found a nice spot for our picnic. Then the heavens opened. As the rain poured down, we sought shelter at Tiefurt House. We knew it was open to visitors, so rather than letting the weather force us to take the train home, we decided to buy some tickets.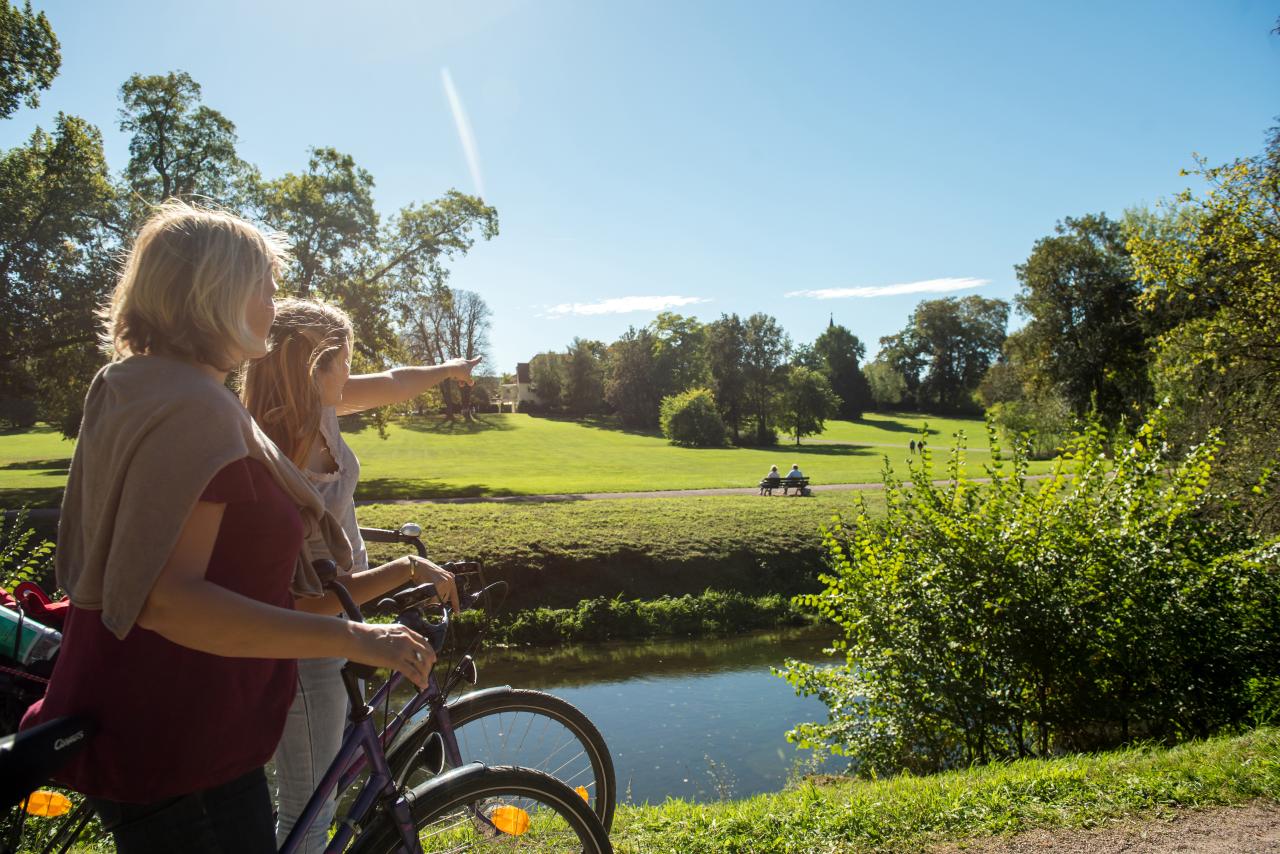 ©Thomas Müller, weimar GmbH
Poets, philosophers and a duchess
Tiefurt House has a rustic appearance, nothing like your normal grandiose palace. In fact, it has a cosy, almost mediterranean feel to it. I picture myself sipping my morning coffee on the terrace with its pergola. That would certainly make a great start to the day.
The former summer residence of Duchess Anna Amalia reflects the tastes of the period around 1800. As we walk through the rooms, we admire beautifully decorated floors and ceilings, as well as ornamental wall paintings. Everything is kept as authentic as possible, with plenty of original furniture. I wouldn't be at all surprised if Goethe, Schiller or Herder suddenly came walking around a corner with the duchess, discussing the latest edition of the Tiefurt Journal. This handwritten magazine was published exclusively for the entertainment of Anna Amalia's inner circle. The duchess herself contributed articles, as did Goethe and other personalities of the Weimar court.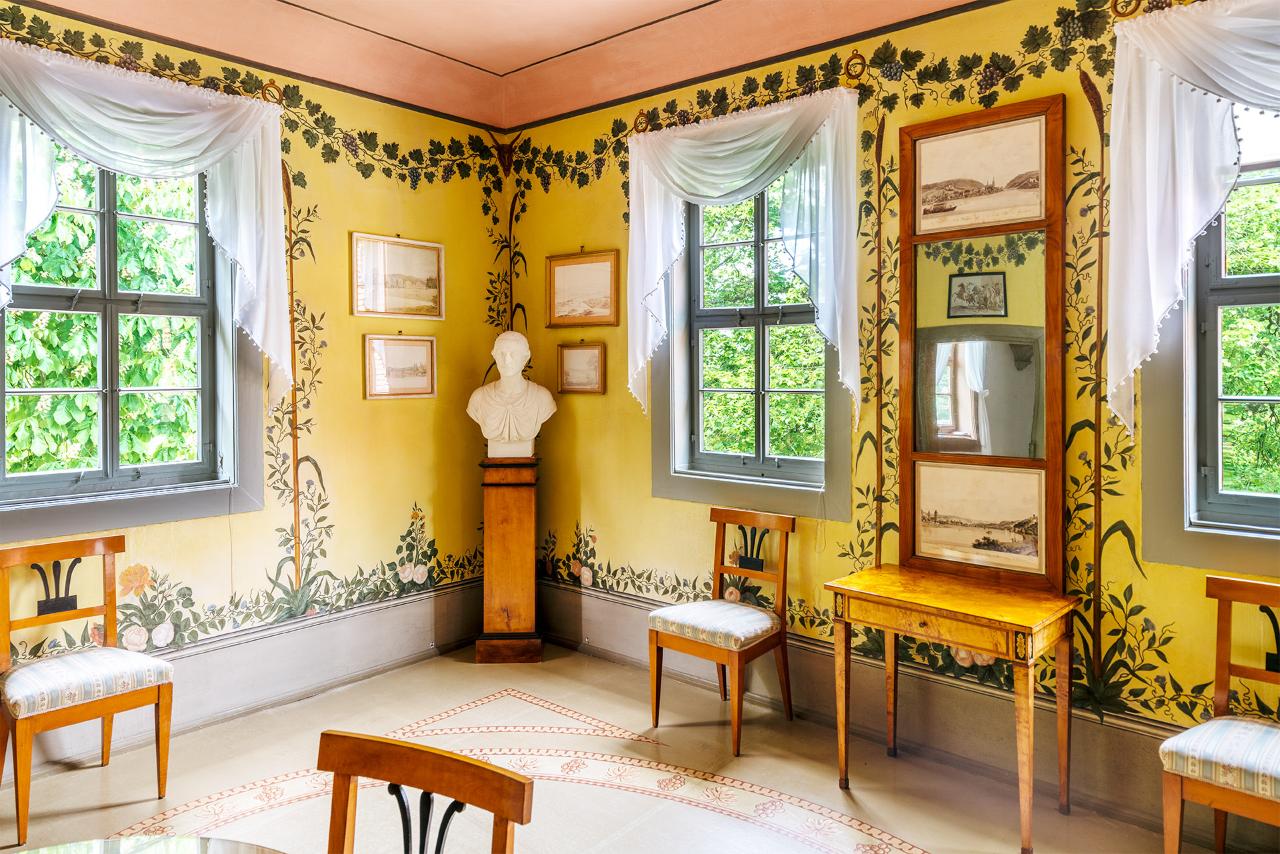 ©Marcus Glahn, Schatzkammer Thüringen
From the courtyard we take a peek into the historical kitchen, which features decorative banqueting dishes from the ducal collection, made of porcelain, wax or papier mâché. The food looks very realistic, so much so that my stomach begins to rumble. Glancing at my watch, I realise that we have been immersed in 18th century life for more than an hour, so we take our leave of Tiefurt House and venture back outside.
21 hectares of green space
We're in luck. The rain clouds have moved on and the grounds are bathed in sunshine. Set within a loop of the river Ilm, Tiefurt Park has gently sloping lawns that stretch down to the riverbanks, interspersed with small clutches of trees. It doesn't take us long to find a suitable spot, not on the damp grass, which glistens in the sunshine, but on a bench.
Feeling pleasantly full after our picnic we proceed to walk through the park, where we discover a number of architectural features. Our path leads us past statues and busts, all with a personal link to the duchess. Anna Amalia dedicated these memorials to some of the exceptional people who frequented Tiefurt, such as Herder and Wieland, or who inspired her, like Mozart, whom the music-loving duchess adored.
My favourite place has to be the Temple of the Muses, surrounded by beautifully arranged plants. It's hardly surprising that the Weimar court chose this delightful setting for their artistic and musical events. I would have loved to have been able to eavesdrop on some of those gatherings, with their discussions of contemporary music and literature. It really is an enchanting place, and I would like nothing more than to settle down with a good book, with the sun on my face and the soft rustling of the leaves as background. In my head I'm already making plans for my next trip here.
Titelbild: ©Marcus Glahn, Schatzkammer Thüringen
TOP-Gastgeber in der Nähe
landingpage_kultur, landingpage_geschichte, querbeet_schloesser, websiteteaser_parks_gaerten, nebenan
You might also be interested in ...