Luther-Orte in Thüringen - Urlaub - Reisen - Thüringen entdecken
Words and places
Martin Luther's Thuringian towns and cities
Martin Luther's longest trip took him all the way to Rome, but he was generally more likely to be found travelling around the towns and cities of Thuringia, where he filled the churches with his sermons, met friends, debated with religious opponents and visited monasteries. Here are some of our tips for days out in the heart of Reformation country at five important locations associated with Martin Luther in Thuringia.
Erfurt: From student to monk
Martin Luther began to study in Erfurt in 1501 and entered the city's Augustinian monastery in 1505. Important aspects of his theology and of the Reformation itself have their roots right here. In later years, Luther would recall an encounter in Erfurt when he was told: "A change has got to come, and it must be a great one; things cannot go on as they are." When quoting this exchange in one of his 'table talks', Luther confidently stated: "And I do believe it did come to pass!" Indeed, the transformation from student to monk that Luther underwent in Erfurt did mark the beginning of one of the most profound and momentous upheavals in the history of the church.
Places associated with Luther in Erfurt include:
Eisenach and Wartburg Castle: "No other town knows me better"
Martin Luther's relationship with Eisenach began when he went to school in the town in 1497, and it lasted for the rest of his life. Initially he was lodging with relatives and had to earn his own keep, which he did by joining a choir that sang door-to-door. Luther's school stood south of St George's Church until 1507. In 1501, Martin Luther left Eisenach to study in Erfurt. From 4 May 1521, he lived at Wartburg Castle for around 300 days. "Most of my relatives are in Eisenach, and I'm well known and respected there; no other town knows me better," as he would put it later. But he also considered Eisenach to be "infested with priests", which was not an unreasonable statement, given that one in ten of the population was a member of the clergy.
Places associated with Luther in Eisenach include:
Schmalkalden: Luther and the Schmalkaldic League
During the Reformation, the town of Schmalkalden found itself right at the heart of European politics, when the Schmalkaldic League was founded there in 1530. Philip I, Landgrave of Hesse, was convinced that only an alliance of all Protestants could protect them against the Holy Roman Emperor. History recalls the assembly in the winter of 1537 as the 'most glorious day of princes'. It was attended by 16 princes, six counts, envoys of the Emperor, of the Pope and of the kings of France and Denmark, representatives of 28 Imperial and Hanseatic cities, and 42 Protestant theologians, including Martin Luther, one of the pre-eminent and most popular scholars of the time. He carried with him the "articles by which I must stand, and will stand, until I die, as is God's will, nor am I able to alter or concede anything therein", as he wrote in a letter. From 1580 onwards, these articles of faith were incorporated into the Book of Concord of the Protestant church as the Schmalkaldic Articles.
Places associated with Luther in Schmalkalden include:
Weimar: "I am doing very well here!"
For Martin Luther, Weimar was a favourite stopover during his travels. But the town on the river Ilm was also a frequent destination in itself, as it was fertile ground for the ideas of the Reformation as well a place to discuss these ideas. Weimar had become part of the Ernestine dynasty's territory in 1485. Under Duke John the Steadfast, the Reformation quickly took hold here, and the Ernestines made Weimar their new capital.
In 1540, five years before he died, the 57-year-old Luther wrote a letter from Weimar to his "beloved Kate, wife of Doctor Luther etc. … most humbly letting her know that I am doing very well here. I'm eating like a Bohemian and drinking like a German, thanks be to God, Amen." Luther had been called to Weimar because Philipp Melanchthon (1497–1560), his closest friend and ally in the cause of the Reformation, was said to be on his deathbed. But then a 'miracle' happened, and the gravely ill patient made a full recovery.
Places associated with Luther in Weimar include:
Jena: Taking Karlstadt to task
Martin Luther visited Jena at least eleven times between 1522 and 1537. The first occasion was a stopover on 3 March 1522, while he was staying at Wartburg Castle in the guise of 'Squire George', but needed to go to Wittenberg for a few days. His secret mission remained undiscovered. Also risky, and equally impossible to put off was Luther's presence in Jena and other places in the Saale valley in August 1524, in matters relating to his former ally Andreas Bodenstein (1486–1541). Bodenstein, who also called himself Karlstadt, had abandoned Luther's non-violent path of theological realignment and was prepared to support more drastic measures, as became evident through certain incidents at monasteries. In the packed Church of St Michael in Jena, Luther confronted 'Karlstadt', who was present, taking him to task in a 90-minute sermon, but this did not prevent the situation from escalating. Jena University was founded in 1558, as a – somewhat belated – offspring of the Reformation.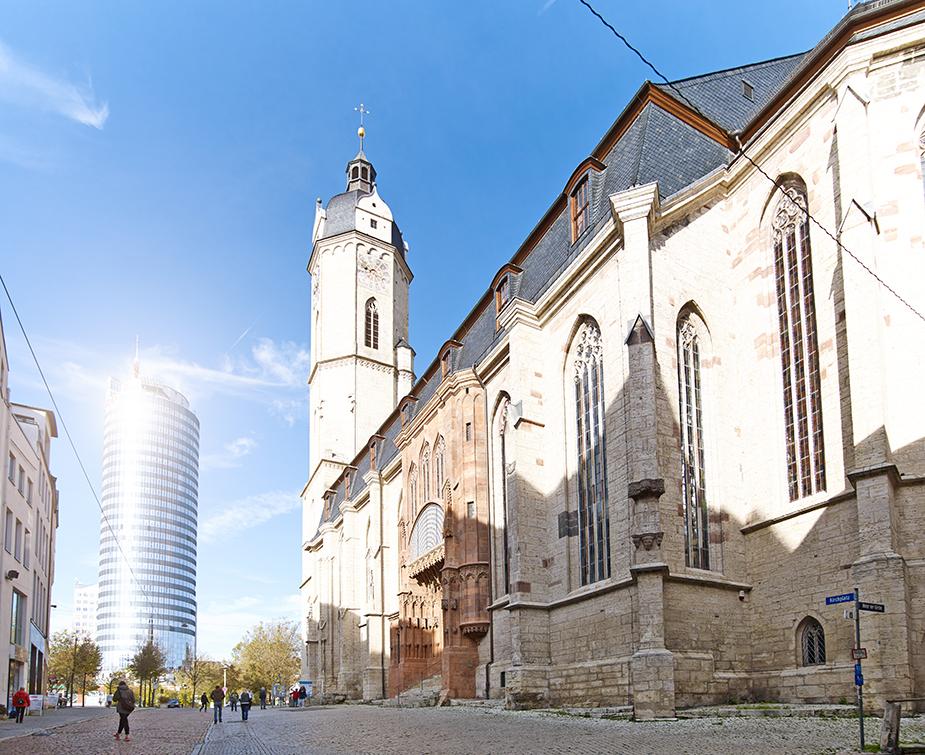 Martin Luther preached sermons at St Michael's Church in Jena. ©Jens Hauspurg, Thüringer Tourismus GmbH
Places associated with Luther in Jena include:
Thuringia also has a number of other sites that are directly linked to the Reformation and Martin Luther's life and legacy in Thuringia through words, music or pictures.
These include the Ducal Museum in Gotha (Cranach galery), the Augustinan monastery in Gotha (where Luther also stayed and preached), die Church of St John in Neustadt/Orla (Cranach-altar), die Castle Church in Altenburg (where Luther preached), the Church St. Blaise in Nordhausen (where Luther preached), St Margaret's Church in Kahla (where Luther preached) and the Church of St John (where Luther preached) in Saalfeld.
The Luther Trail links the many Luther sites in Thuringia and also takes walkers past the state borders to Coburg in Bavaria and Torgau in Saxony. A new Luther Cycle Route features important Luther sites in Saxony-Anhalt, among them the towns of Eisleben and Wittenberg.
Header photo: Dawn breaks at Wartburg Castle. ©Christiane Würtenberger/cmr
zielgruppe_faszination, landingpage_geschichte
Maybe, you'll like this too ...