Culture of commemoration
Memorial sites in Thuringia
The bell tower of the Buchenwald Memorial is visible from afar. It is a memorial to the crimes of the Nazi era and the Buchenwald concentration camp, located just outside the city of Weimar. The Mittelbau-Dora Memorial in the north of Thuringia is reminiscent of the former concentration camp and the many forced laborers who lost their lives there. The place of remembrance Topf & Söhne in Erfurt documents and describes in an impressive way how closely the oven builder company was involved in the mass murders in Auschwitz.
The concentration camp memorials Buchenwald and Mittelbau-Dora
Sometimes, when there are only a handful of visitors, the silence becomes oppressive. It is moments like these that give you a faint idea how desperately the prisoners at Buchenwald concentration camp must have longed for quietness, for deliverance. On April 11, 1945, American troops reached Buchenwald. About 21,000 prisoners survived the camp. Following the Kristallnacht on November 9, 1938, almost 10,000 Jewish men were deported to Buchenwald. As the end of the war drew near and SS officers cleared the concentration camps in the east, they forced thousands of Jews on death marches to the Thuringian camps. In the concentration camp system Mittelbau alone there were more than 6,000 Jewish prisoners in 1945. At least 12,000 Jews died in Buchenwald and Mittelbau-Dora. It is remarkable that 900 Jewish children imprisoned at Buchenwald lived to witness the liberation of the camp, protected by their fellow inmates.
---
Memorial site Topf & Söhne
Erfurt-based J. A. Topf & Söhne is exemplary for the involvement of German enterprises with the Nazi regime. In the 1920s, Topf & Söhne was renowned for their tasteful cremation incinerators. In 1939, when the SS decided to cremate the corpses of their victims on site at the concentration camps, Topf & Söhne began designing special incinerators for the camps. Thus, the company was involved in the genocide of Jews, Sinti and Romani at Auschwitz-Birkenau.
Performance incinerators and gas chamber ventilation technology made in Erfurt turned the camp crematories into death factories. In 2011, the former plant was transformed into a memorial site with a permanent exhibition. It shows how German industry contributed to the Shoah and entrepreneurs and technicians became accessories and accomplices of mass murder.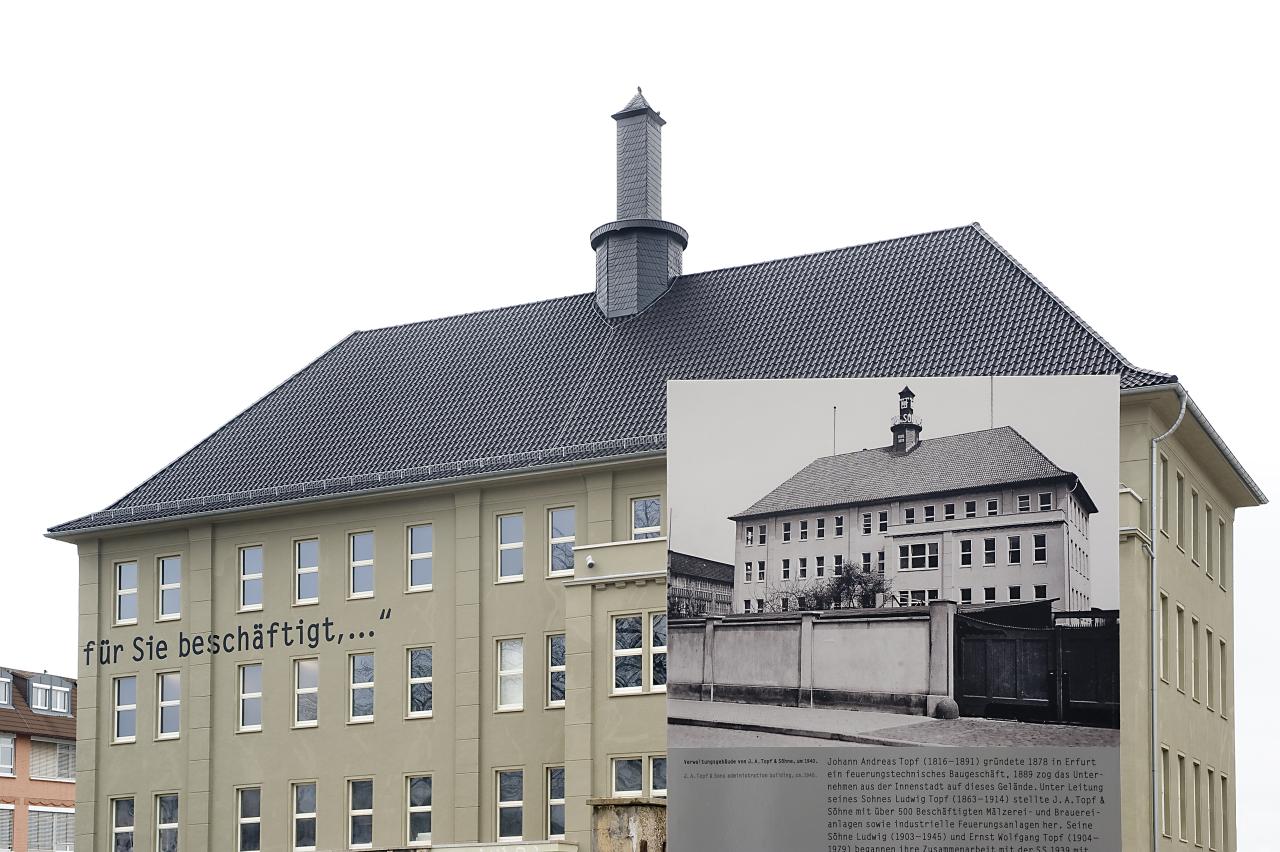 In the former administration building of the J.A. Topf & Söhne, emotional exhibitions today commemorate the "death factories" and their victims.
zielgruppe_kennerschaft, zielgruppe_faszination, nicht_veroeffentlichen
Maybe, you'll like this too ...