Welcome to paradise
Leisure and recreation in and around Jena
Lots of green spaces, easy to get around, a vibrant student scene. Plus culture and restaurants in abundance and a surrounding region that's perfect for cycling and walking. And all set within a mediterranean landscape, dotted with castles and palaces. Welcome to paradise – welcome to Jena.
It's not entirely clear where Jena's Paradies Park gets its name, but it seems likely that it's something to do with the verdant, idyllic nature of this open space on the banks of the Saale river. Do you need any more reasons?
Nature on your doorstep
The fabulous thing about Jena is that you're never more than 15 minutes away from the great outdoors. One popular destination is the SaaleHorizontale walking trail, which runs along the top of the limestone hills that surround Jena. It's the perfect quick fix when you're looking for relaxation, and in no time at all you're back in the bustling city centre to get on with the rest of your day. The SaaleHorizontale never gets boring either. From an hour's walk to a ten-hour hike – everyone can choose their own pace. Once up there, you keep discovering new paths and photo opportunities.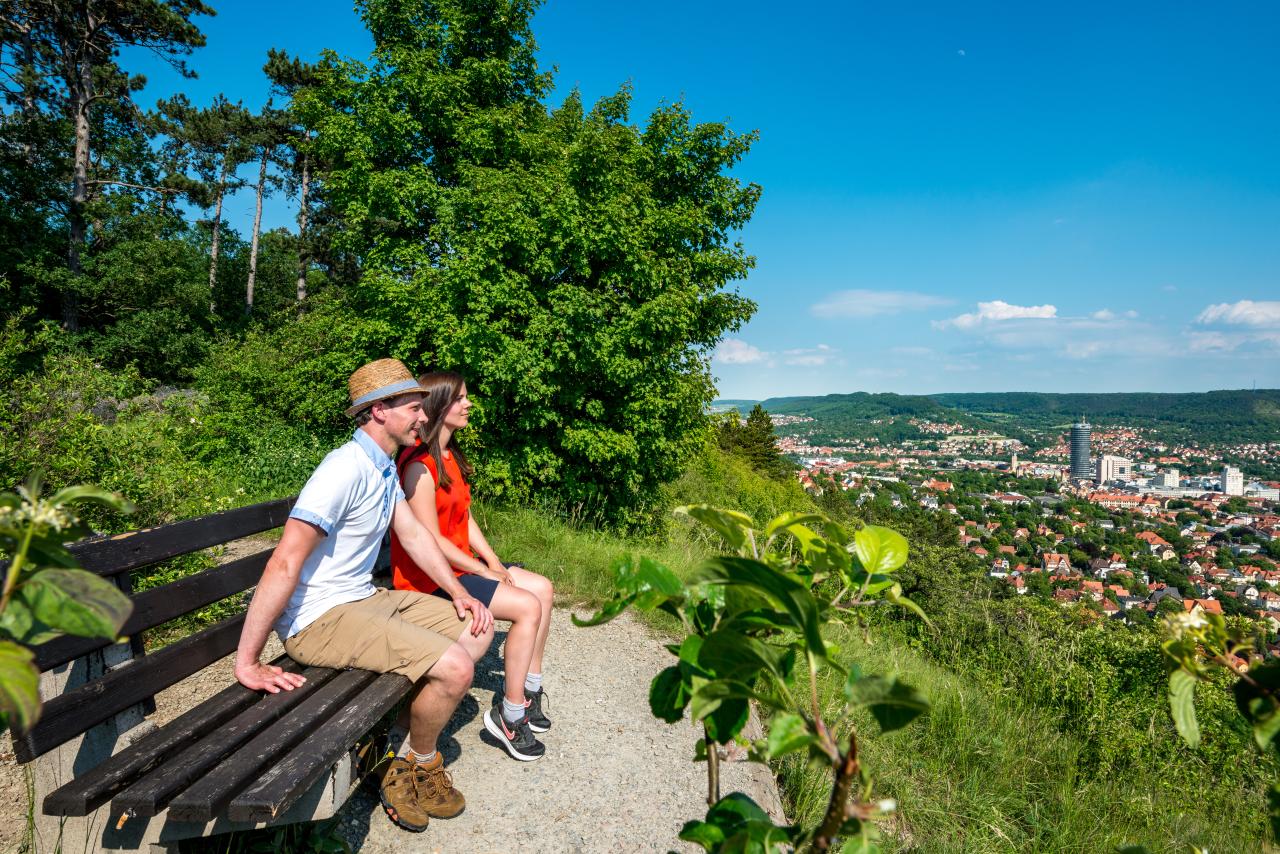 ©Christian Häcker, JenaKultur
The many fabulous panoramic views across the city and surrounding villages, of the Saale valley, Fuchsturm tower or Jenzig hill, never cease to inspire. The best vantage point for Jena is on Landgrafen hill, where you can enjoy good food at eye level with the top of the JenTower at the Landgrafen restaurant. So what are you waiting for? Time to get up and get out there!
An oasis in the city centre
Sticking with the 'green' theme, anyone interested in plants and nature should make sure to visit Jena's botanical garden. Where else can you find such an attractive oasis so close to the city centre? The Victoria House has free-flying tropical butterflies in the most amazing colours. This greenhouse takes its name from the giant water lily, Victoria cruziana, which can be admired inside. But watch out – there are piranhas lurking beneath the water lilies!
Moving on from the hothouse to colder climes, the outdoor site is home to an alpine garden. As the name suggests, this is a habitat for plants from hilly and mountainous regions. With a total of 10,000 plant species outdoors and in various greenhouses every visitor is sure to find their favourite flower, tree, shrub or cactus. Jena's botanical garden is the second-oldest in Germany, by the way. It was founded in 1586 as a medicinal herb garden.
Galaxies, stars and planets
Even more old stuff? Absolutely! Jena is home to the oldest working planetarium in the world, which welcomed its first visitors in 1926. Today, people are still reaching for the stars here. The Zeiss Planetarium in Jena doesn't just offer journeys to far-off worlds, it can even take you on a trip back in time to the beginning of the universe or the age of the dinosaurs.
Food, drink and panoramic views
Are you nice and relaxed now? Then it's time for a visit to Wagnergasse. This is Jena's popular 'pub mile', where locals meet up to chat over a beverage or two. The narrow lane has dense rows of colourful old houses, home to cafés and restaurants that spill out onto the cobblestones on balmy summer nights.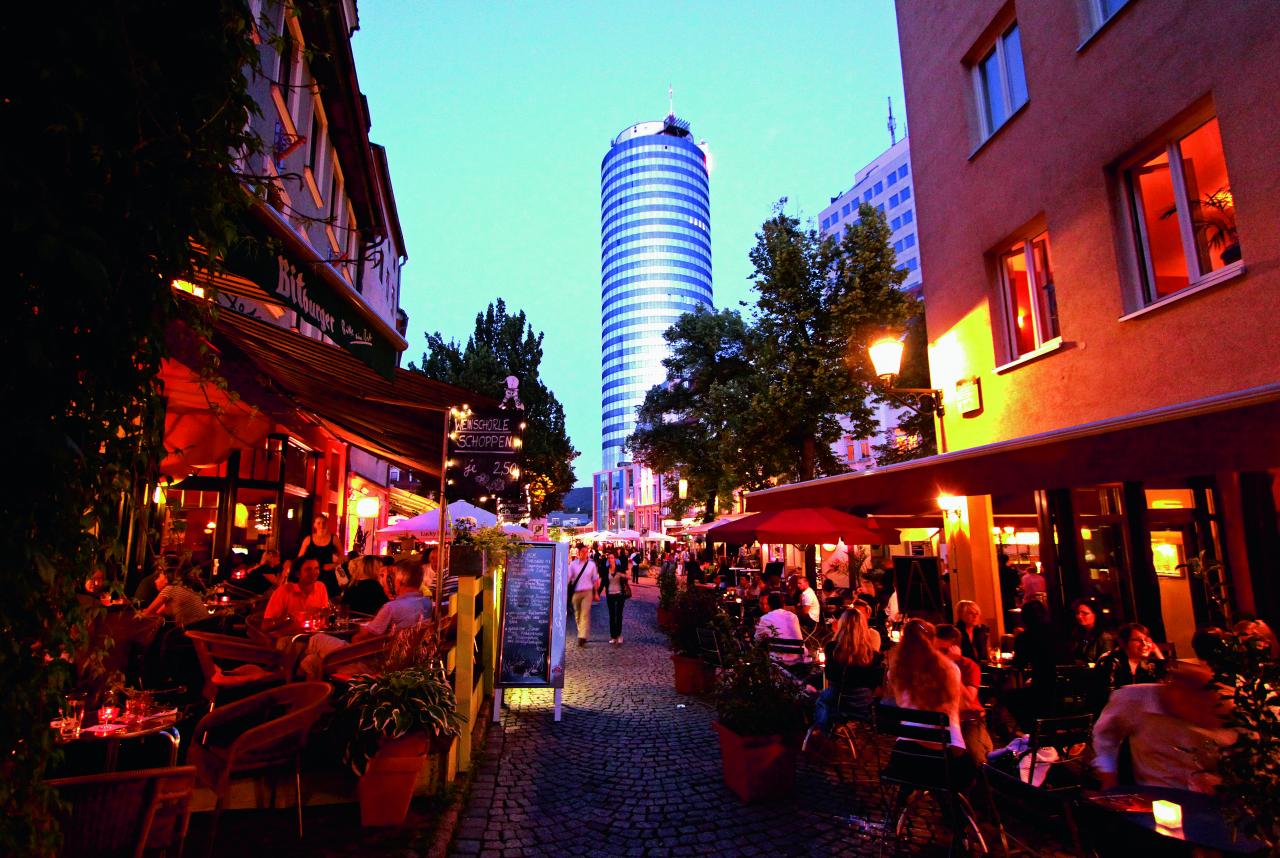 ©Andreas Weise, TTG
For a bit of an adrenaline rush try the JenTower, Jena's most prominent landmark. At a height of 128 metres, the observation platform provides fantastic vistas across the city, while the Scala restaurant doesn't just offer panoramic views but also a 'panorama' breakfast, along with other culinary treats.
Cover picture: ©A. Gräf, JenaKultur
TOP-Gastgeber in der Nähe
querbeet_parks_und_gaerten, erlebnisse, nebenan
You might also be interested in ...