Genuss mit historischer Note - Urlaub - Reisen - Thüringen entdecken
Fine food with a historical twist
Quality cuisine in and around Thuringia's castles and palaces
From new interpretations of medieval dishes or fine dining in a palace to top quality whisky and international cuisine with regional ingredients – here are some tips on where to enjoy good food in exclusive settings.
Hanstein Castle | Klausenhof
A taste of the Middle Ages
Hanstein Castle, one of the largest castle ruins in central Germany, has towered above the Werra valley since the 11th century. That period is also evoked at the Klausenhof restaurant, located at the foot of the castle hill. Here, attendants decant wine from stoneware jugs and serve dishes such as 'poultry from the oven with honey and lime tree blossoms' at candlelit medieval banquets. The standard daily menu is a bit more contemporary, with delicious regional cuisine featuring Müritz zander, Werra valley truffles and Thuringian venison. | klausenhof.de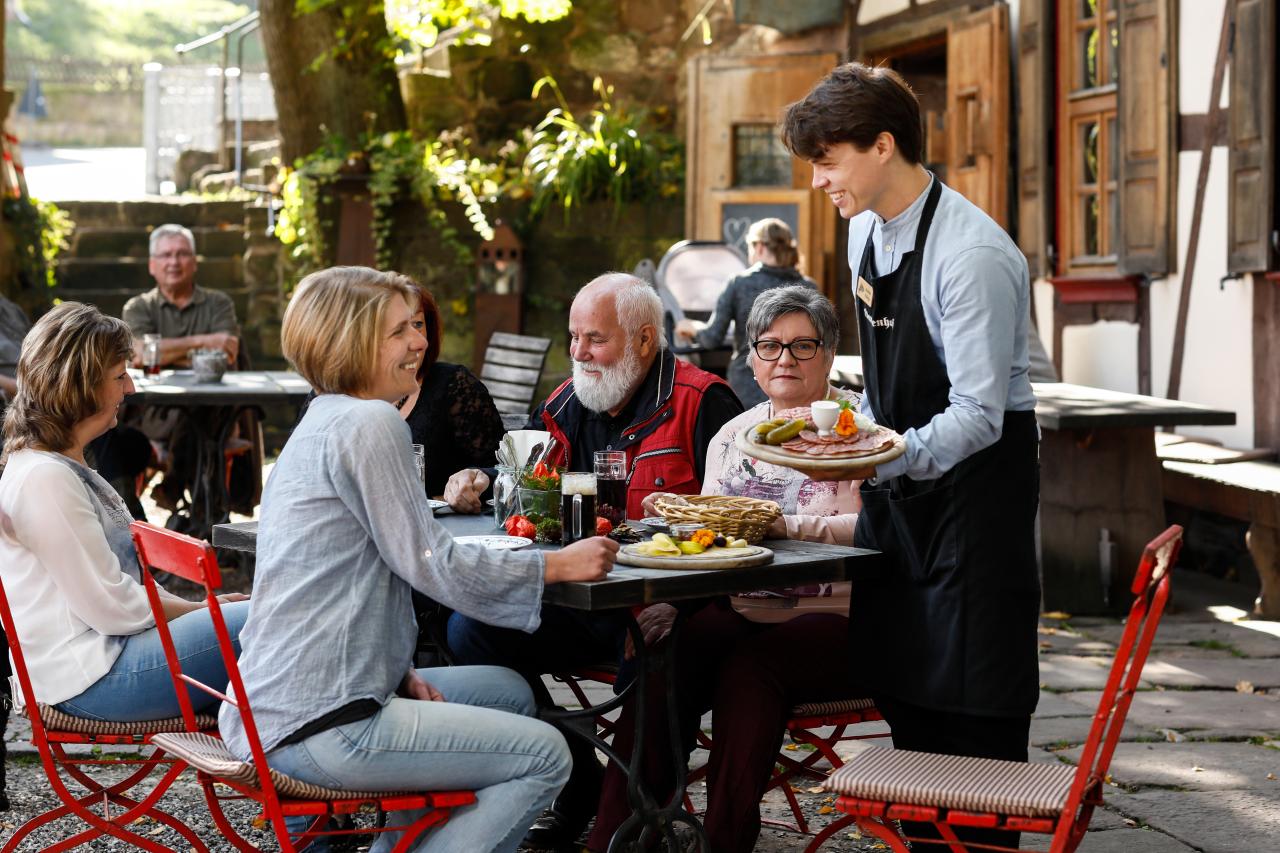 Martin Röhrig serves his guests regional specialities from the Eichsfeld region ©Carlo Bansini, Thüringer Tourismus GmbH
Scharfenstein Castle | 12HUNDERT9
Whisky, coffee and gourmet dining
Sitting on the spur of a hill, high above the Eichsfeld region, the castle was first mentioned in 1209 – a date that the gourmet restaurant in the newly opened boutique hotel decided would do nicely as a name. The restaurant has a stripped-down aesthetic featuring lots of wood, and serves contemporary cuisine based on regional produce. Diners who feel inclined to follow up their meal with some spirits or an espresso are spoilt for choice here. In addition to the restaurant, the historical walls of Scharfenstein Castle also house the Whisky World of Discovery (complete with a whisky cinema and tasting facilities) as well as an aromatic coffee roastery, where delicious cakes are served with freshly brewed speciality coffees. | burghotel-scharfenstein.de
Schloss Auerstedt | Reinhardt's
Fine dining in a time of peace
Back in the days when Prussia was at war with France, the Prussian high command based themselves at Schloss Auerstedt while they were preparing to defeat Napoleon's troops in the Battle of Jena and Auerstedt. In the event, they lost, but that doesn't make the location itself any less charming. The heart of the site is now the restaurant Reinhardt's im Schloss. Here, hosts Kati and Frank Reinhardt serve unpretentious gourmet cuisine that combines Thuringian tradition with the latest culinary trends. | reinhardts-im-schloss.de
Villa Altenburg
The style of the Roaring Twenties
A grand staircase, parquet flooring, a conservatory and a park – the neoclassical villa of Pössneck publisher Ludwig Vogel is still looking good a hundred years after it was built. Nowadays it is home to a boutique hotel and a restaurant. The restaurant's wood-panelled dining room with its muntin windows brings the era of the 1920s vividly to life, while the kitchen serves international specialities based on premium quality ingredients. | villa-altenburg.de
Ettersburg Palace
Culture on a plate
They've all been here – Bach and Schiller, Goethe and Liszt, Herder and all the other luminaries of Weimar Classicism used to be frequent visitors at the baroque palace. Duchess Anna Amalia chose Ettersburg as her summer residence. Later on, the prestigious garden designer Prince Hermann von Pückler-Muskau created its English landscape park. Today, Ettersburg Palace is part of the Classical Weimar UNESCO World Heritage and offers an excellent programme of cultural events, as well as fine dining with a local touch in its restaurant. | schlossettersburg.de


Ettersburg Palace near Weimar, a top tip for food (and culture) lovers ©Marcus Glahn, Schatzkammer Thüringen
Hat euch der Artikel gefallen?
Das könnte euch auch interessieren: