La Vie en rose
at the Bachstelze
Located on the outskirts of the state capital Erfurt, directly in the countryside, #Bachstelzenflavour impresses with delicious, regional and handmade cuisine that makes even die-hard gourmets' mouths water.
The large paper lanterns are swaying in the soft breeze, they seem to be dancing to the tune as 'La Vie en rose' adds a touch of French flair to this balmy spring evening. While the last golden rays of sun filter through the branches, another blossom from the mighty chestnut tree drifts down onto our table. It lands right next to a wooden bowl of salad, which contains even more flowers – in this case wild carrots, nasturtiums and borage. There's also a large burrata, whose creamy cheese centre begins to ooze out as soon as you cut into it.
When it's nice out, food at the Bachstelze is served in the leafy beer garden. ©Florian Held, TTG
Our evening in the courtyard of the Bachstelze is so lovely that it's almost unreal. And it's certainly true that the restaurant's beer garden has its fair share of romantic couples whispering sweet nothings into each others' ears, clinking glasses and look deeply into each others' eyes while sharing an exquisite meal. Tonight we're all looking at life through rose-tinted glasses.
I leave my seat and pay a visit to Maria Groß in her kitchen. The chef, who is also the restaurant's owner, is smiling broadly, as she always does, while she puts the finishing touches to a rainbow trout ceviche. She doesn't have much help in the kitchen, but every last move is executed with skill and precision. Dish after dish gets sent out to the guests in a slick and seasoned operation.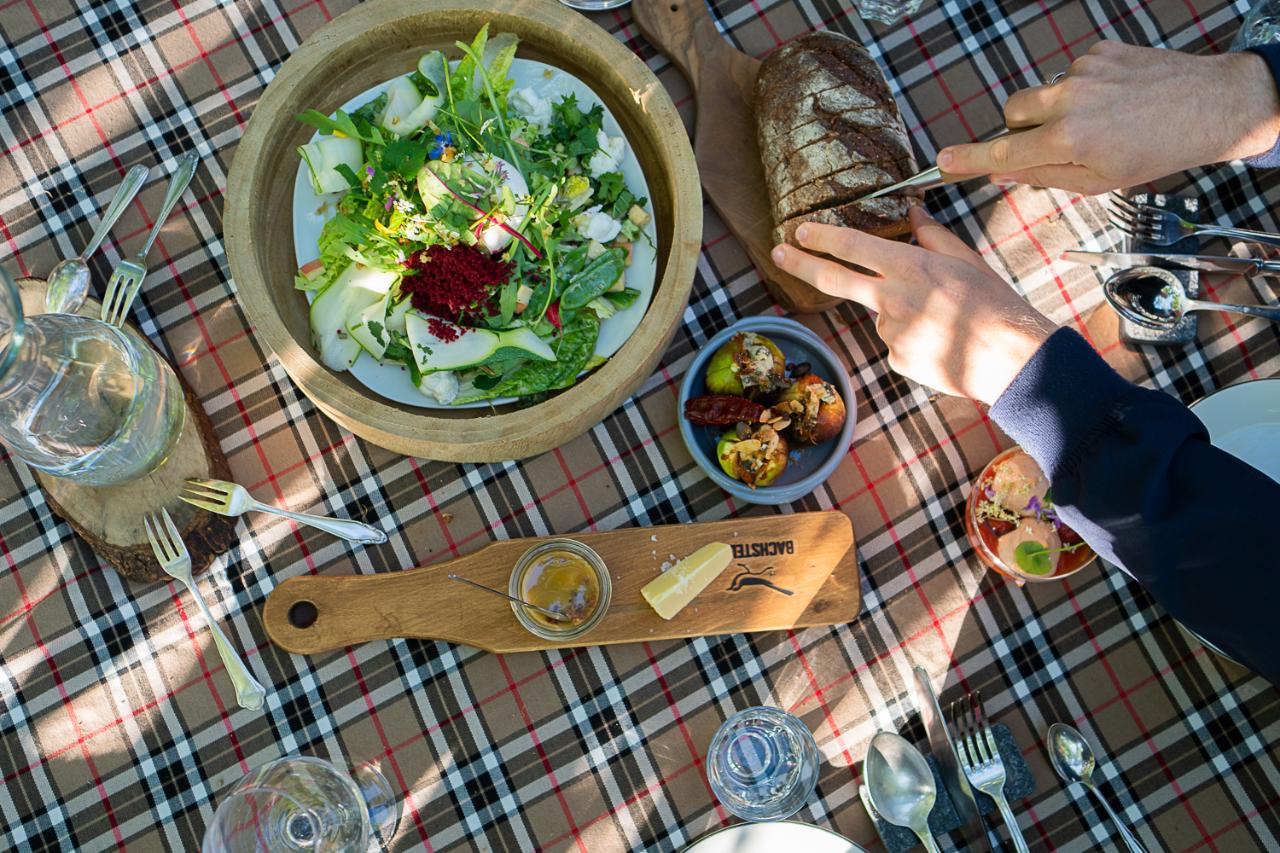 The salad is accompanied by gorgonzola-stuffed figs, fresh bread and quark with grilled tomatoes. ©Mira Held, TTG
The Bachstelzenmenu brings #bachstelzenflavour to the plate
The food is served 'family style', with all dishes arriving at the table on platters, in small bowls or even a crock pot. The Bachstelze's menu does not have formal courses. Instead, similar to tapas, guests are served a number of small portions which are then shared. Each guest keeps their plates and cutlery throughout the evening, as well as their glasses, to be cheerfully filled with one of a hundred available wines, or with a creation by Maria's partner Matthias, who is currently expanding their range of non-alcoholic drinks. His blend of grapes and beetroot, for example, is the perfect foil for the saddle of venison in a rich red wine sauce.
While Matthias looks after the guests, Maria is busy making some tempura nettle leaves that are going to add an earthy tang to the next dish. A few hours before, I had joined her on a tour of the garden to gather wild herbs. This is almost a ritual for Maria, who does her rounds every evening before the Bachstelze opens.
Herbs are not the only ingredients from the garden that find their way onto the plates here. The hillside plot in Erfurt-Bischleben contains several tiers of vegetable patches. One has salad growing in it, others contain chard or onions. Maria's cooking is always regional and seasonal, but she would like to become even more local, and also less dependent on suppliers and less affected by shortages. She absolutely insists on quality and freshness, and used the extra time in spring, while the restaurant was closed because of coronavirus, to extend the area she has under cultivation. Her own harvest doesn't yet cover the requirements of the restaurant, but the proportion of home-grown produce is increasing all the time, as is her experience with permaculture.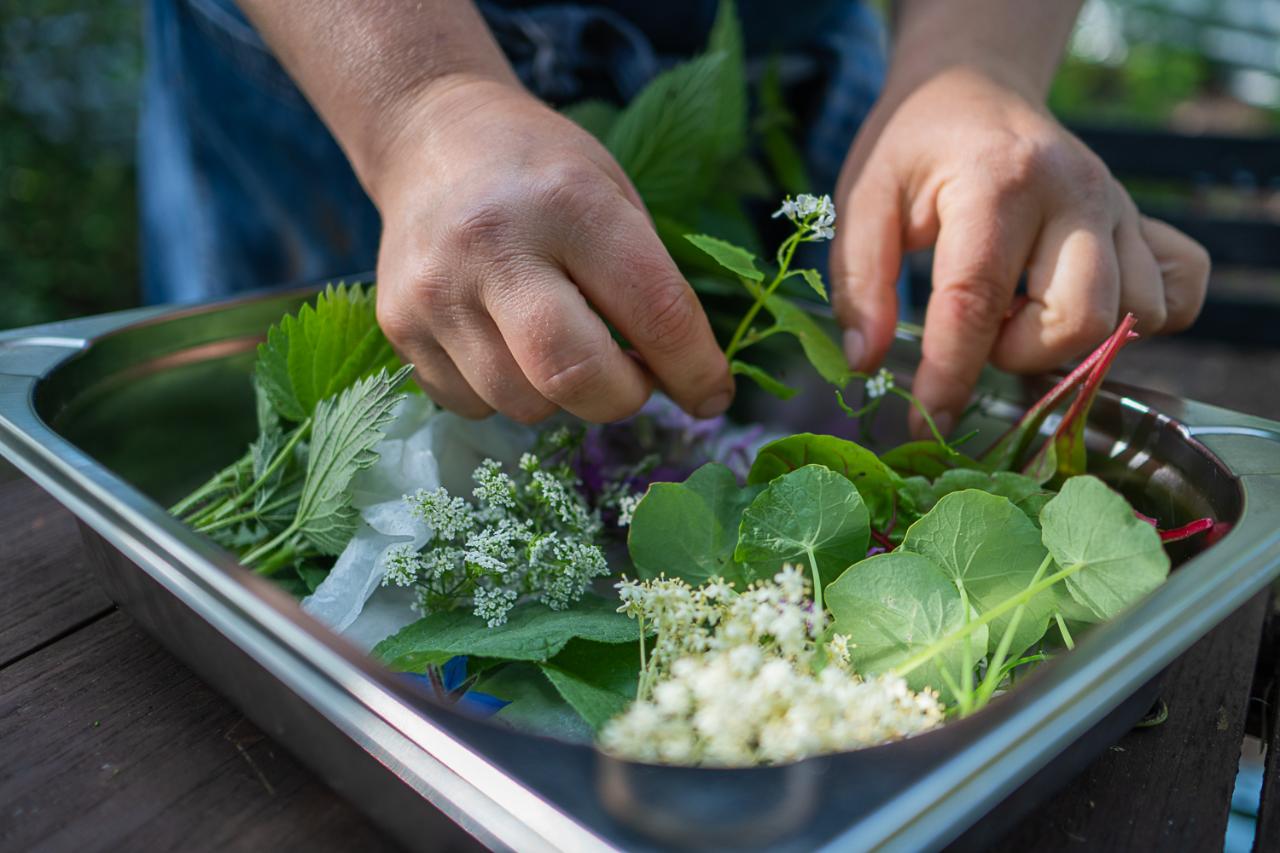 In the summer, wild herbs play a big part in Maria's dishes. ©Florian Held, TTG
To boost supplies she receives additional vegetables from her gran, as well as from a market garden in the village, while her potatoes are from an organic farm in Thuringia. The fruit and vegetables are combined with locally sourced meat. Today, for example, she's had a delivery of venison from the Willrode forestry.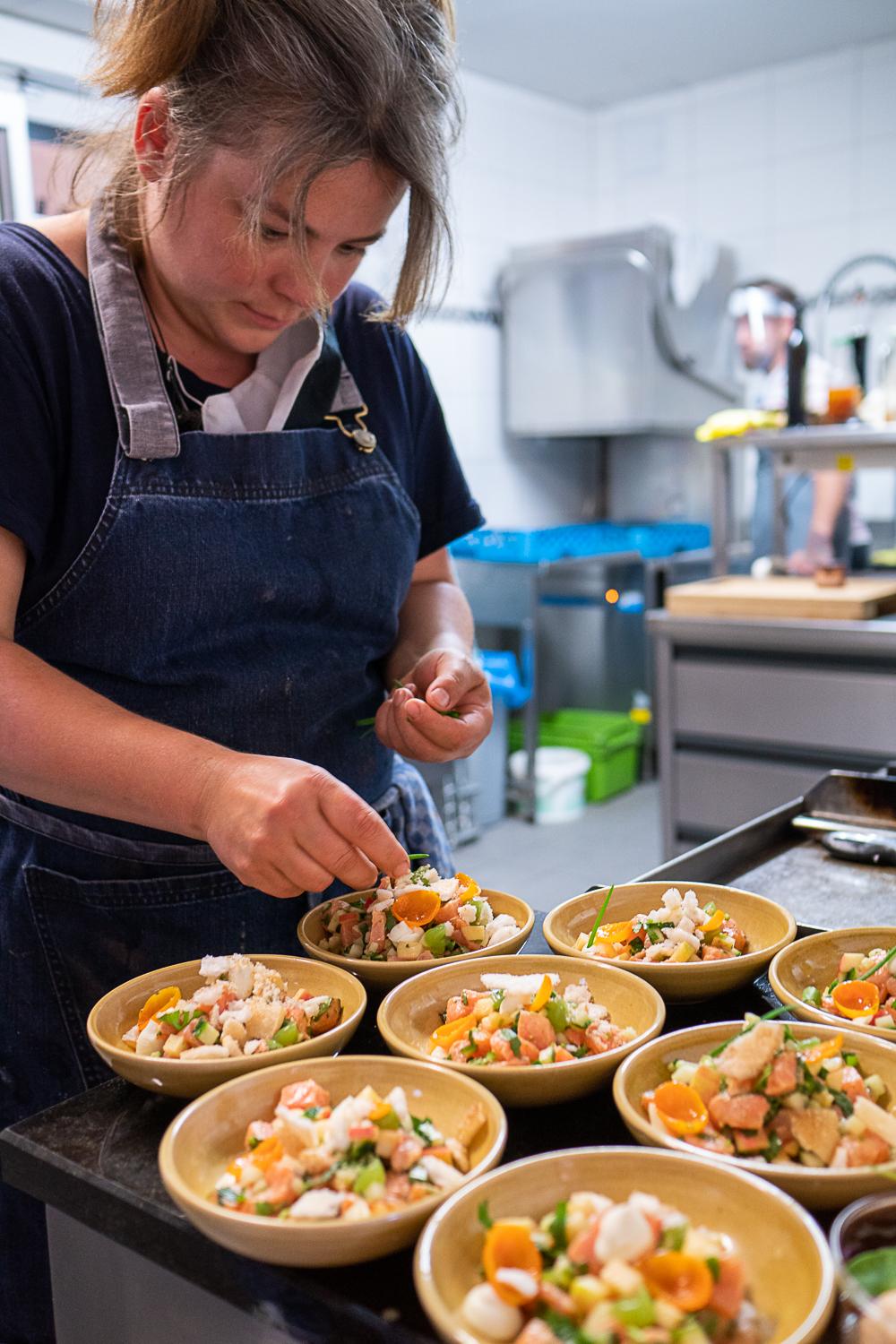 I am hugely impressed by the relaxed way in which Maria conjures Bachstelze's menu virtually single-handed. ©Mira Held, TTG
Although Maria does have a rough idea about her menus a few weeks in advance, what eventually ends up on the plates depends on which top quality ingredients she can actually get her hands on at the time.
Maria Groß has come a long way since she received a Michelin star as head chef at the Clara restaurant in Erfurt's prestigious Kaisersaal venue. For her, the turning point came when she took over the Bachstelze, a traditional inn south-west of Erfurt, in 2015. The old villa simply oozes character, and she has gradually made it her own.
Smoked and roasted flavours feature regularly on the Bachstelze's menus. Pictured here is ribeye cab, served on Thuringian creamed cabbage as an amuse-bouche. ©Florian Held, TTG
To start with, Maria and Matthias continued to serve bratwurst and beer in the beer garden in addition to their more ambitious menu, but although the Bachstelze is the perfect destination for a day out, it wasn't worth the effort. Eventually, Maria and Matthias decided to close the beer garden and dedicate themselves to new projects. These included a fine dining series, the exclusive Sunday club, cooking lessons and an authentic Swiss fondue experience, held in a yurt in the garden during winter. A new addition in the summer of 2020 were events in the restaurant's apple orchard.
The Bachstelze is a idyllic place where two people who are bursting with creative energy are turning their dream into reality. Visitors soon become aware that this is not just a workplace, but rather the centre of someone's life, crammed full of recipe books, wine bottles, knowledge, artisan skills, the aroma of herbs, and lately also vegetable patches.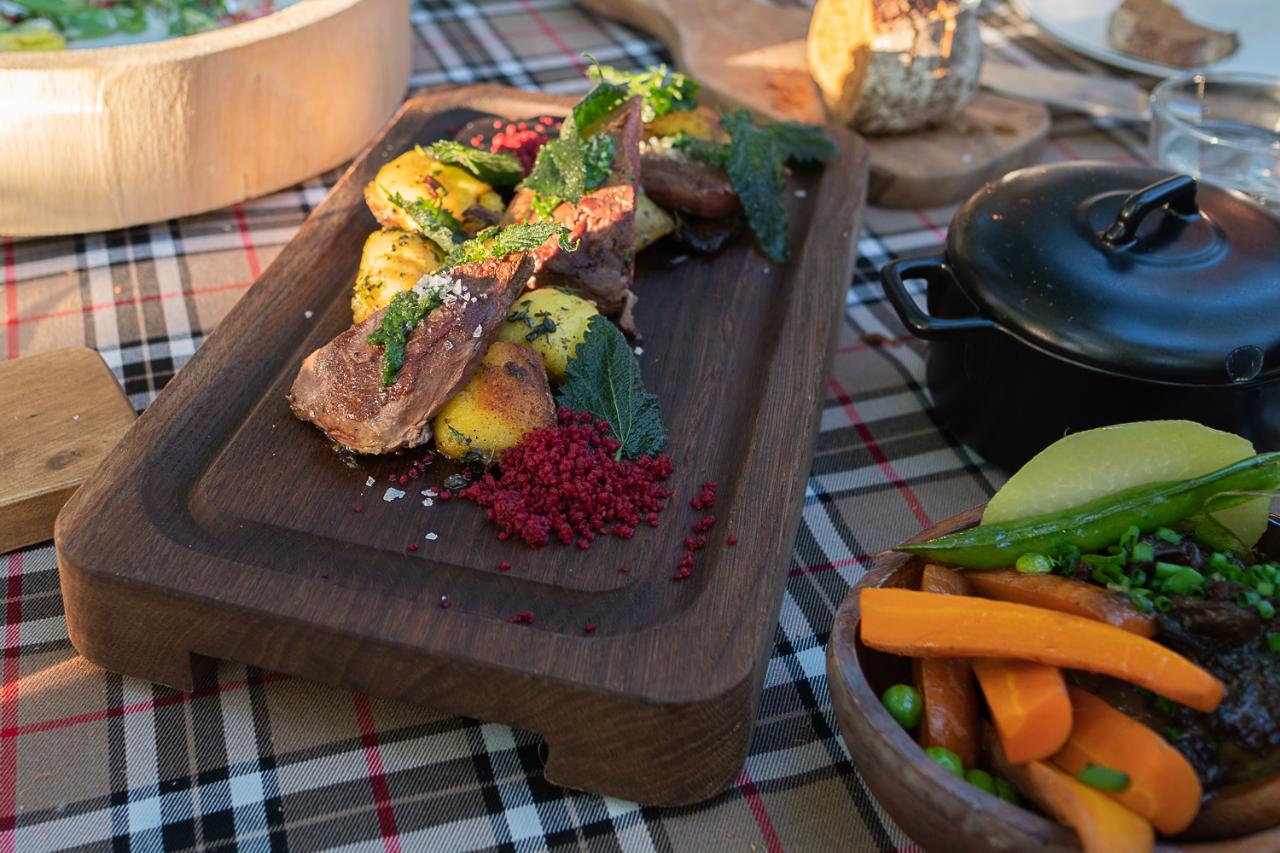 You can expect the warmest of welcomes at the Bachstelze. Maria herself describes it as a cross between an Italian trattoria and a Swiss mountain inn. ©Mira Held, TTG
Maria Groß relies on regional ingredients and short distances to the producers.
Maria arranges the saddle of venison from Willrode next to home-made gnocchi with a truffle filling. Then she adds some couscous dyed with beetroot, and finally places the nettles on top. Her dishes are a sight to behold but they seem a long way from traditional Michelin-starred cuisine. At the Bachstelze there are no miniscule portions, no white cloth napkins, no foams or jellies. The food is very down to earth, in an extremely sophisticated and ingenious way.
The motto here is "Gerne ohne Sterne" (happy without stars), which is also the title of Maria's own cookbook. She and Matthias have become quite resolute when it comes to dealing with other people's expectations. They do their own thing, they know what they want to and can achieve, and they don't make changes to please anyone else. Some people are put off by this approach, but to me it is particularly authentic. I don't need a Michelin star to tell me how amazing the food at the Bachstelze is, I just have to spend an evening there and give them a chance to prove themselves.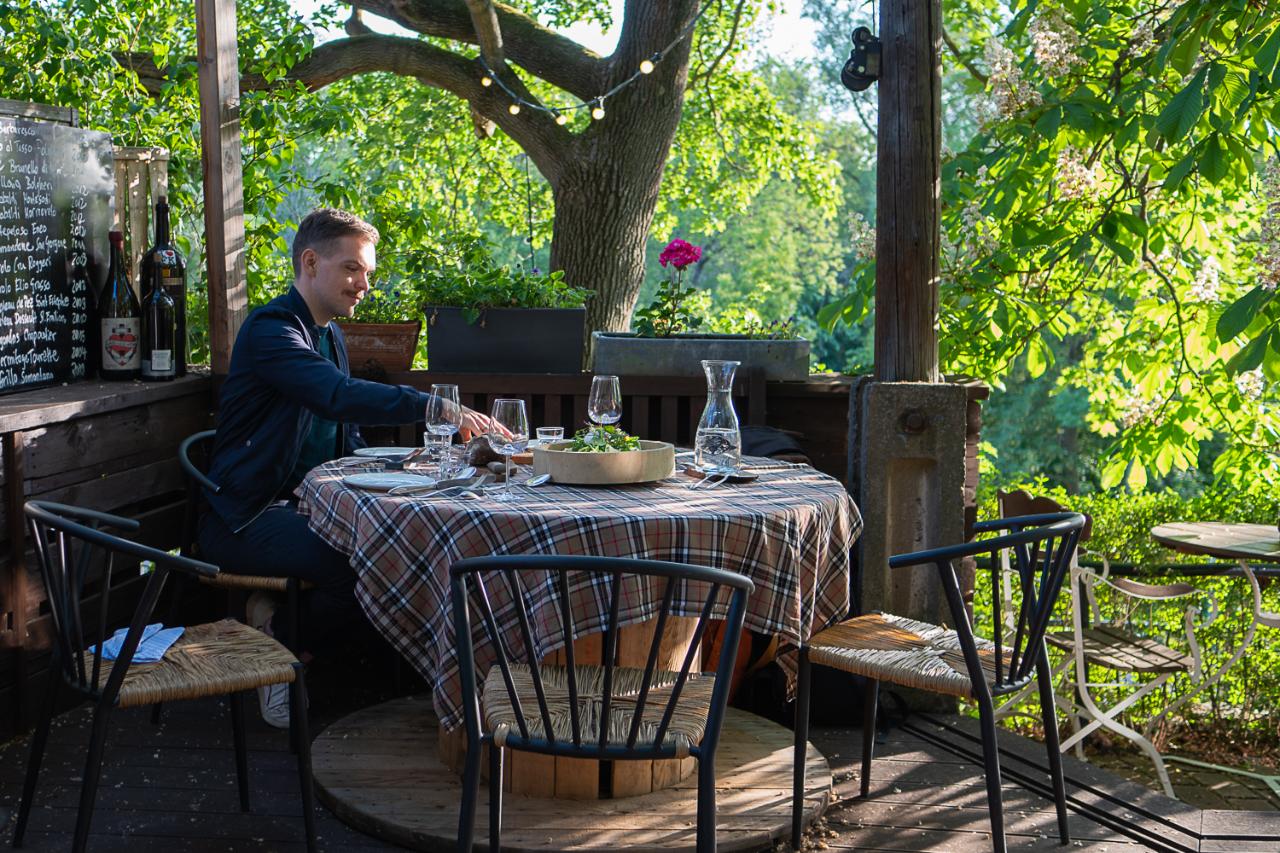 I completely understand why Maria and Matthias bought the Bachstelze. ©Mira Held, TTG
And I'm more than happy to do that. As I return from the kitchen to the courtyard the sun is just setting behind the hills that surround Erfurt. I can see a lot of happy faces at the tables beneath the chestnut tree. Flo is sipping a pétillant naturel, a naturally fermented sparkling wine that is bottled exclusively for the Bachstelze. It has no residual sugar, making it the ideal accompaniment for the sweet cream with raspberries and rhubarb that concludes the evening's dining. The dessert is garnished with small elderflowers, also from Maria's garden.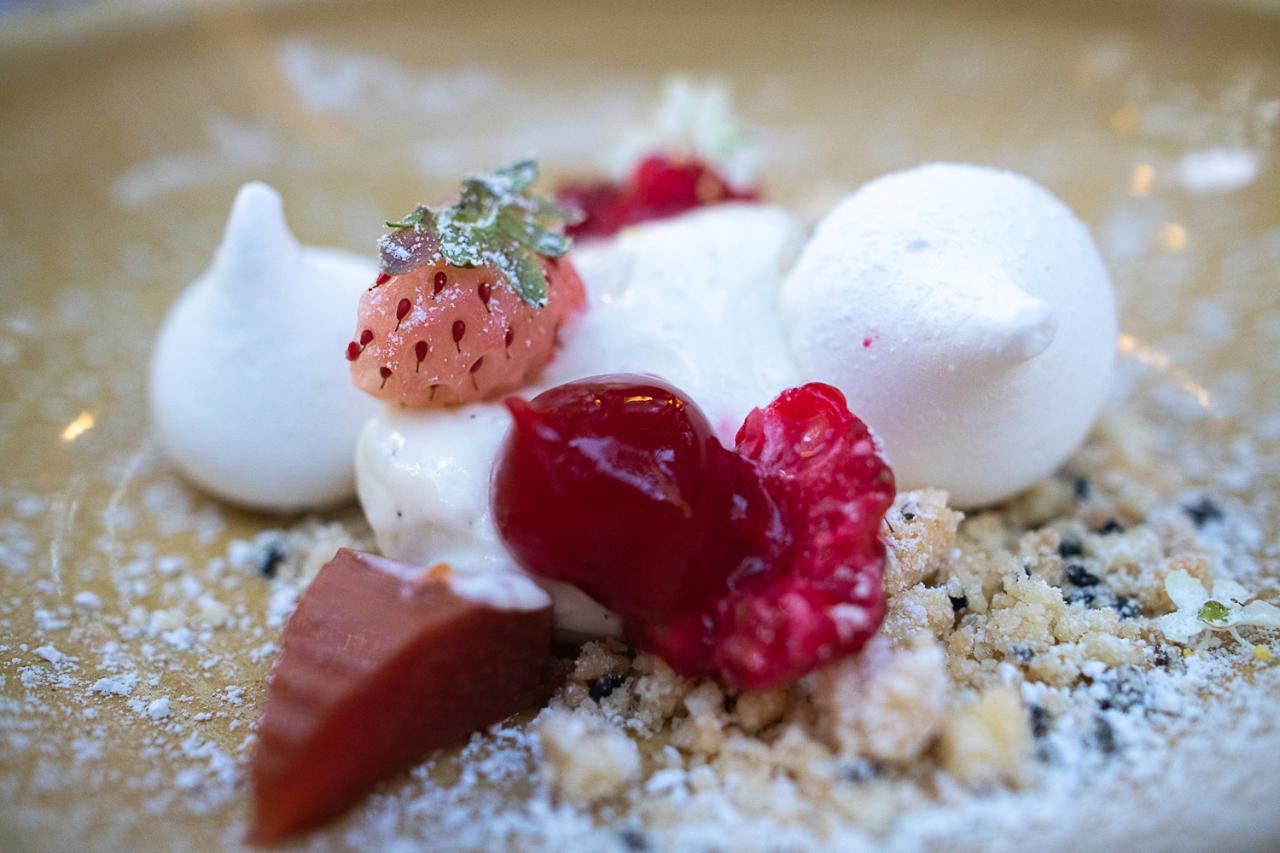 A delicious way to round off a pretty perfect evening. ©Florian Held, Thueringer Tourismus GmbH
A delicious way to round off a pretty perfect evening.
The Bachstelze menu is available every Wednesday to Saturday at 6.30pm. On Wednesdays and Thursdays you can expect to pay between €65 and €75 per head, depending on the ingredients used, on Fridays and Saturdays between €75 and €90. An optional extra course, Maria's 'Chef's Choice', can be booked for €20. Accompanying wines or non-alcoholic beverages are €23 for three glasses. For information about the Sunday club or special events, please see the restaurant website.
TOP-Gastgeber in der Nähe
zielgruppe_neugierde, landingpage_geheimtipp, nebenan, kulinarik
You might also be interested in ...