Wartburg Castle – a UNESCO World Heritage Site - five reasons - Urlaub - Reisen - Thüringen entdecken
Wartburg Castle – a UNESCO World Heritage Site
The majestic "Grande Dame" of Thuringia
Wartburg Castle, which has been a UNESCO World Heritage Site since 1999, is not only the most important castle in Germany but also a location with its own distinctive charm and dignity. Here are five reasons why everyone needs to visit Wartburg Castle at least once in their life...
... because it is a unique architectural treasure
The residential quarters covering three floors, which were built for Louis II from around 1157, are considered to be the best preserved example of late Romanesque profane architecture north of the Alps. Louis was married to the sister of Frederick Barbarossa and had let his connection to the Holy Roman Emperor go to his head. He demanded the construction of a castle of a truly impressive size, his Wartburg Castle. A total of 40,000 tons of light-coloured and far too fragile sandstone were used to meet this demand, all of which has since been sealed. Many of the building's capitals are decorated with an eagle, the Emperor's symbolic animal, the use of which was designed to be provocative. Wartburg Castle also contains romantic features typical of 19th-century castles given that it was restored during this period to give it a more historic look.

Remaining impressions: Sunset at Wartburg Castle ©Moritz Kertzschner, Thüringer Tourismus GmbH
... because it is located right in the middle of Germany
This fact admittedly depends on which calculation method is used but it can generally be assumed to be true. Whatever the case may be, the castle was chosen to represent the Landstreit Estate located ten kilometres away as the geographical centre of Germany. Wartburg Castle is situated in a stunning location close to the former border between East and West Germany at the north-western end of the Thuringian Forest, where it towers up high above the town of Eisenach, visible from afar. Given its proximity to the border, the castle became a symbol of unity in 1989. It's well worth making your way up to the building on foot, following the Luther Trail to view the famous castle from a number of completely new perspectives.

Far-sightedness: The beautiful Wartburg Castle is visible from afar, located on a hill above the town of Eisenach ©D. Ketz, Regionalverbund Thüringer Wald e.V.

... because virtually no other castle is so strongly connected to German history
Some locations have their own sublime aura and there is much more to them than meets the eye. Wartburg Castle is a prime example of such a location. It was not only the hiding place for Martin Luther but 300 years prior to this also home to the Hungarian Princess Elizabeth. After being brought to Thuringia to marry Louis IV she spent several years living in the castle with him until he died on a crusade. She then went on to become Saint Elizabeth after caring for the poor. She married Louis IV when she was 14 years old and died in the German town of Marburg at the age of 24. Johann Wolfgang von Goethe was also interested in the castle and wanted to use it to house an art museum. On top of all this, the German student fraternities also met at Wartburg Castle for their Wartburg Festival in October 1817.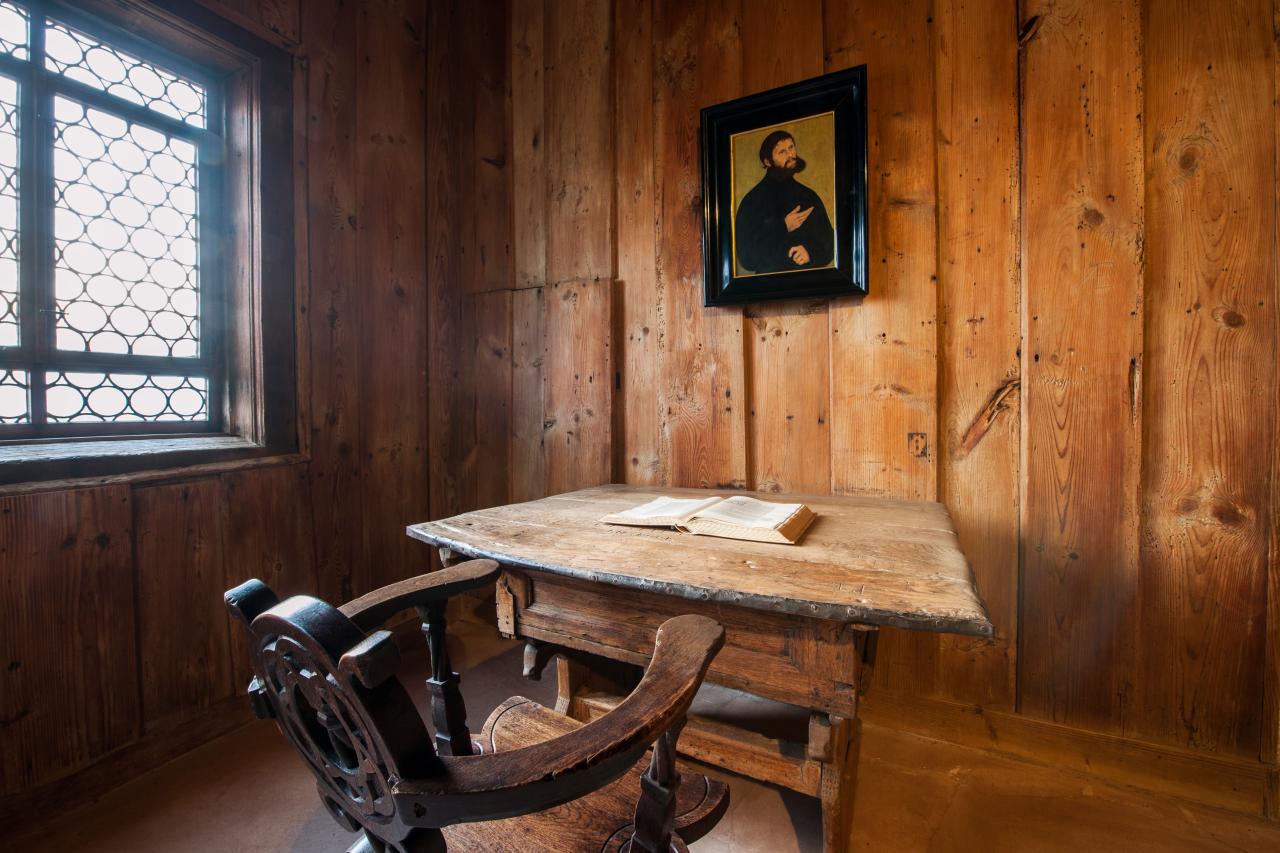 The Luther Cell (Lutherstube) - birthplace of the German written language ©Florian Trykowski, Wartburg-Stiftung Eisenach, Thüringer Tourismus GmbH
... because Martin Luther translated part of the Bible here
When Martin Luther went into protective custody on 5th May 1521, Wartburg Castle was a lonely and barren place to be. In the "Lutherstube" chamber in the bailiff's lodge in the castle, he disguised himself as Squire George (Junker Jörg) and spent eleven weeks translating the New Testament from Greek and Latin into a new variety of German. This simple room can therefore be referred to as the birthplace of written German language as we know it today. Research has revealed that the oak door currently leading into the castle is the same door through which Luther once entered his hiding place. It's therefore well worth taking a deep breath and considering this impressive past as you trace his footsteps..

The Festival Hall in the Palas: music still plays here today ©Florian Trykowski, Thüringer Tourismus GmbH
... because it is home to one of the most stunning concert halls around
In the 19th century, the "Festsaal" ceremonial hall on the second floor of the castle's Romanesque residential quarters was transformed into one of the most beautiful concert halls in Thuringia, featuring wonderful acoustics. The lavishly decorated hall, a copy of which was incidentally requested by the Bavarian King Louis II for his Neuschwanstein Castle, was given a panelled ceiling, the design of which was partly based on advice provided by Franz Liszt. Nowadays, Wartburg Castle is again frequently used as a venue for live music, for example Richard Wagner's opera "Tannhäuser", which is performed several times a year in its original setting, offering spectators a truly impressive experience.
zielgruppe_faszination,kampagne_unesco
You might also be interested in ...