The treetop trail in Hainich National Park
Primeval forest on the doorstep
Ever wondered what a primeval forest looks like from above? Find out on the treetop trail in Hainich National Park. But hang on a minute, a primeval forest in the heart of Thuringia? Don't worry, you won't need to channel your inner Indiana Jones and battle your way through a jungle. Comfortable shoes and a sense of adventure are all you need for this memorable trip.
At 13,000 hectares, Hainich is the largest single area of deciduous forest in Germany. Around half of it is a national park, and since 2011 even a UNESCO World Heritage site. Large swathes of the national park used to be restricted military zones, remaining completely untouched for decades. Here, the woodland was left to grow freely according to nature's ancient rhythms, and the 'primeval forest' returned. The result is an ocean of beech trees, the predominant species here. It looks a bit like an enchanted wood from a fairytale, and you can see it all from above on the treetop trail.
A thrilling experience in the great outdoors
The starting point is the Thiemsburg forester's lodge. From here, a short walk along a wide hiking trail featuring interactive information boards leads to the treetop trail. This gradually rises to a height of 24 metres, where you find yourself among the treetops of the forest canopy. Up here, you can feel the wind in your hair and explore the many interactive stops where the inhabitants of this ancient woodland tell their stories. Rest areas along the way provide a place to relax before the action-packed part begins. At dizzying heights, daredevils can venture out onto rope bridges to experience the swaying of the trees – perfect for wannabe Tarzans. You certainly need a head for heights here, and on the viewing tower at the end of the trail. There are 231 steps to the top, but you will be rewarded with magnificent panoramic views at 44 metres above the ground.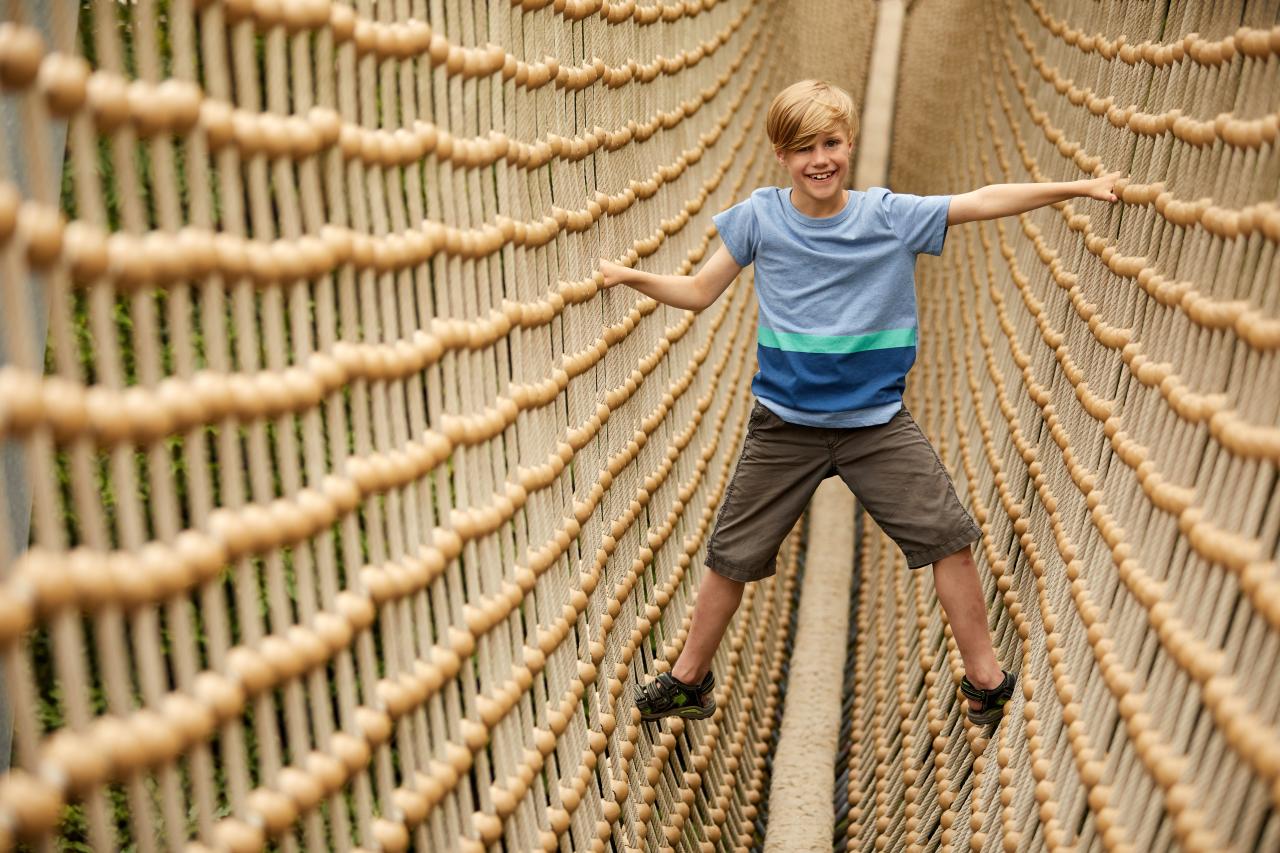 ©Tino Sieland, KTL – Kur und Tourismus Bad Langensalza
Back to the forest's roots
If you fancy something more sedate after all that adrenaline, head to the national park's two exhibitions. In the interactive Root Cave, you will find yourself shrinking to the size of a microorganism as you learn what life is like beneath the tree roots. Over in the Discover Hainich's Secrets exhibition, there are even more fascinating facts to delve into.
Then it's off outdoors again, where the Kingdom of Fagati awaits. This cheeky little mythical creature is the secret inhabitant of Hainich National Park. Visitors of all ages can keep an eye out for it in the adventure playground while learning in a playful way how the environment can be better protected.
An experience for all to enjoy
As you can see, there's plenty to discover in Hainich National Park. And the best thing is that the entire treetop trail is accessible for people with disabilities. A lift provides access to the trail, so wheelchair users and families with prams can see the primeval forest from above too. The exhibitions are also fully accessible. A media guide is available that leads visitors around in simple language or international sign language for people with visual or hearing impairments.
Cover pictures: ©Marco Fischer, Thüringer Tourismus GmbH; ©Jens Fischer; ©Joachim Köhler, Thüringer Tourismus GmbH
TOP-Gastgeber in der Nähe
zielgruppe_sehnsucht, landingpage_natur, landingpage_geheimtipp, barrierefrei, mobilitaet, nebenan
You might also be interested in ...