Interview KSW Dr. Laube - Urlaub - Reisen - Thüringen entdecken
A sensitive heart
An interview with Dr Reinhard Laube, Director of the Duchess Anna Amalia Library in Weimar
The Anna Amalia Library is part of the Classical Weimar World Heritage site. We spoke to library director Reinhard Laube about Goethe's love of garden design.
Goethe, who was a patron of the Anna Amalia Library for 35 years, was very interested in garden design. In which of his works is this particularly apparent?
Above all, 'The Sorrows of Young Werther' and 'Elective Affinities' shed light on Goethe's relationship to garden design. In 'Werther', Goethe is interested in the "beauty of nature" and in escaping from societal constraints. In his first letter, Werther describes a garden "the plan [of which] was not designed by a scientific gardener, but by a man who wished to give himself up here to the enjoyment of his own sensitive heart." In 'Elective Affinities', Goethe describes a new appreciation of what makes a garden beautiful, according to which even a graveyard can become a beautiful park "that … appeared as a pleasant place where the eye and the imagination could gladly dwell." This novel view of gravestones also marks a departure from the idea that the dead are ever-present. After the revolutionary turmoil at the end of the 18th century, new forms of remembrance and social interaction were sought.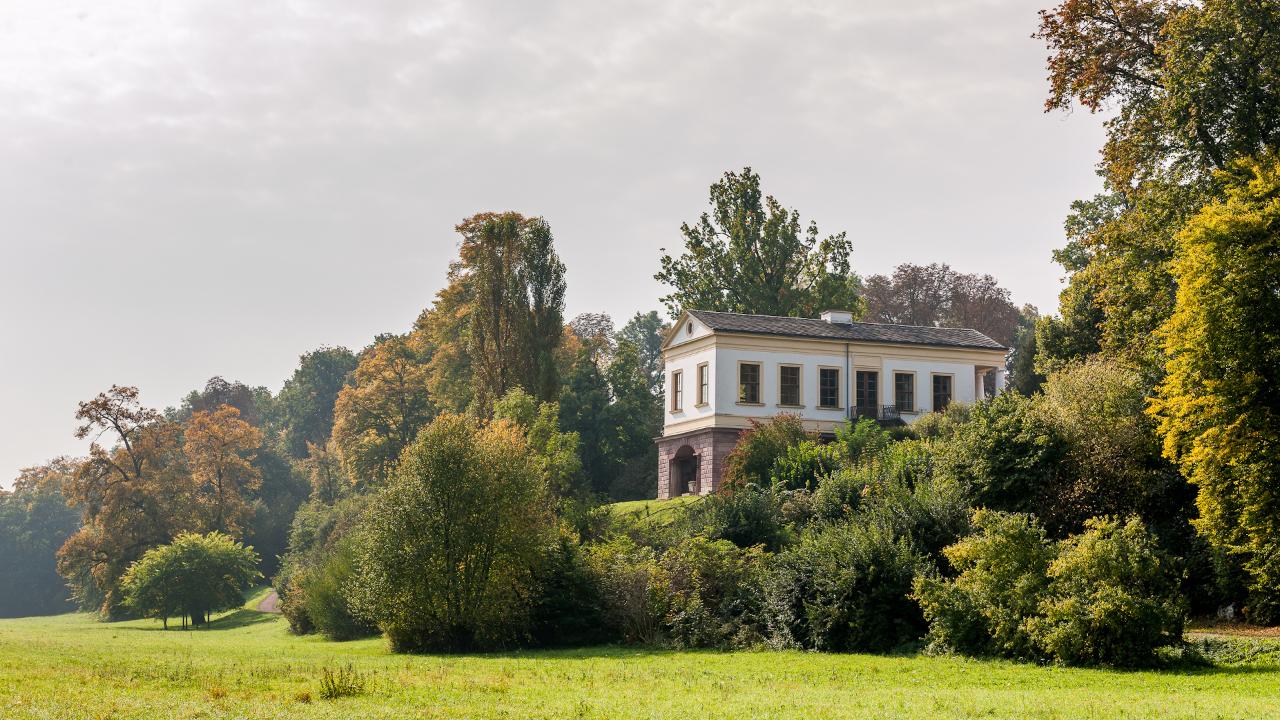 Roman House, Park on the Ilm in Weimar ©Gregor Lengler, Thüringer Tourismus GmbH
So the French Revolution brought about a garden revolution?
The garden revolution is usually associated with the influence of English landscape gardens and their liberal design of nature. But Weimar's gardens also reveal new forms of social interaction. After the fire at Weimar Palace in 1774, a new outdoor space was created for the court to socialise in. In 'Elective Affinities', Eduard and Charlotte design their park as an English landscape garden, incorporating places of remembrance and a path layout that engages the senses and the imagination.
Goethe's legacy as a garden designer is still visible today in his 'Garten am Stern', in the garden of his house on Frauenplan and in Ilm Park. Did his relationship to nature change over time?
Yes, it evolved from emotional attachment and its literary expression to a more objective approach. When Goethe lived in the Garden House in Ilm Park, he sought to be close to nature by occasionally spending the night outside. Many of his works were written here in Garten am Stern, for example the poem 'To the Moon'. Later in life, he was interested in nature as a field of knowledge and as a space for a new way of thinking.
A German classic?
Culture is at home in Weimar, the city lives and breathes literary history, and you can encounter a literary giant on every corner: Goethe, Schiller, Wieland and Herder were the most prominent figures of the classical era, but women such as Duchess Anna Amalia and Grand Duchess Maria Pavlovna also had influential roles. We have brought some aspects of classical Weimar to life – featuring the people and stories associated with the individual locations.

Goethe Garden House, Park on the Ilm in Weimar ©Carlo Bansini, Thüringer Tourismus GmbH
Duchess Anna Amalia had a significant influence on the legacy of Classical Weimar...
Her commitment to English landscape gardens set the tone. The new paths in Ettersburg Palace, the former jardin anglo-chinoise in Wittums Palace and the gardens at Tiefurt House are particularly worthy of mention. Goethe notes her influence on Weimar in the obituary he wrote for her, for example her support for the library, which is now a World Heritage site. A unique feature of the Anna Amalia Library is that the building is part of the park. This is particularly noticeable in a portrait in the rococo hall showing Duke Carl August with the Roman House in Ilm Park in the background. This was a favourite place of the duke, and Goethe was involved in its design.
This interview was conducted by Susen Reuter for the 2021 MERIAN Special on Thuringia.
Rose hedges, white asparagus and an outdoor testing ground
Johann Wolfgang von Goethe's love of nature has provided us with a wealth of poems and notes today. What he describes was literally on his doorstep, as he often found inspiration in his gardens and the Park an der Ilm.
Goethe bust in the Goethe National Museum in Weimar ©Gregor Lenger, Thüringer Tourismus GmbH
Hat euch der Artikel gefallen?
querbeet_parks_und_gaerten
Das könnte euch auch interessieren: