Bees in a sea of blossoms
Cycling in the Ilm valley
Rambling roses and old fruit trees are a common sight in the middle valley of the Ilm river, which flows at a leisurely pace past rolling hills, idyllic villages and meadows buzzing with bees – perfect for a laid-back cycling trip.
The bee tamer of Tonndorf
A horse-drawn cart trundles out of the courtyard of Schloss Tonndorf. Milk pails clatter around in the back. Where is it headed? "Down into the village, to deliver the milk," shouts back the young woman at the reins, who's wearing a red headscarf. "I'm taking glass for recycling, too!" she adds with a laugh. She sets off with a wave, and we wave back at her.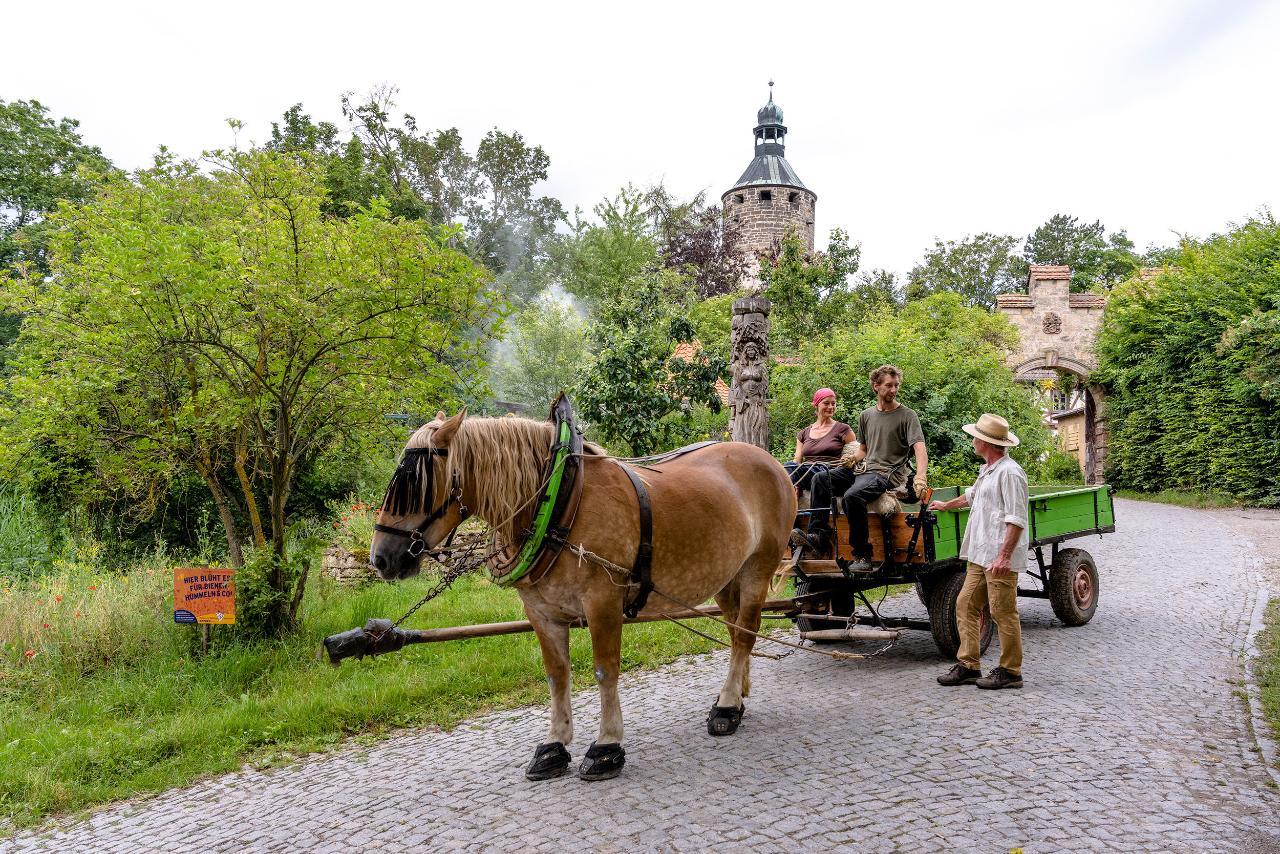 ©Gregor Lengler, Thüringer Tourismus GmbH
Then we turn back to Christian. He's standing in the middle of a flowering meadow orchard, sporting a straw hat and an open shirt, and waving an old iron pot, which emits a gentle stream of smoke. Christian is a beekeeper at Schloss Tonndorf, and he's about to check on his beehives. Smoke keeps the bees calm, and so keeps Christian safe and sound while he removes the frames from the hives.
Nearby, behind some trees, we catch sight of a couple of rust-coloured cows in the meadow. Children can be heard playing not far off. "I don't suppose I can move in here with you all?" I ask Christian. "I'd love to live the way you do!" Christian Stiefel laughs. As a beekeeper at Schloss Tonndorf, he's known many a visitor to fall for what seems like the idyllic lifestyle offered by this thousand-year-old hilltop residence in the Ilm valley. Situated between the cities of Weimar and Erfurt, around 60 people live here in an ecologically minded community that's free from any form of hierarchy. "You'd have to live with us for a trial period first," he replies, explaining how it all works. "Then we'd make a joint decision on whether or not we feel you'd fit in here." That sort of democracy is a little too 'grassroots' for my liking. But don't get me wrong: Schloss Tonndorf is still very much worth a visit, even if you're only planning a short stay.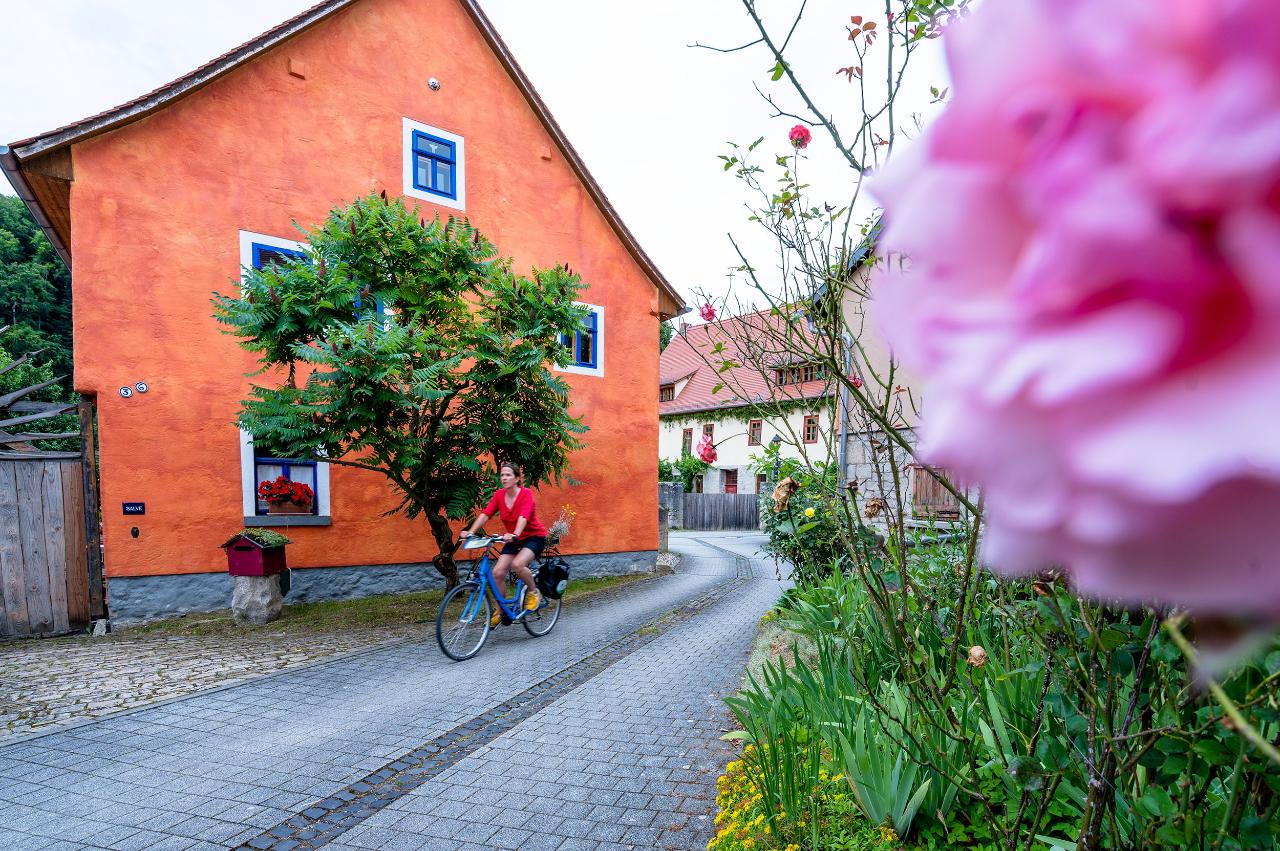 ©Gregor Lengler, Thüringer Tourismus GmbH
We are on Ilmtalradweg, the most popular cycle path in Thuringia. The route runs for almost 123 kilometres from Allzunah on the Rennsteig in a north-easterly direction to the mouth of the Saale in Großheringen. Today we have chosen the 30-kilometre stage between Kranichfeld and Weimar.
A riverside fairytale
The route winds its way through tranquil countryside dotted with lush, flowering gardens, half-timbered houses peeping out from the meadows, and bountiful fruit trees. It's like something out of a fairytale. In tiny Tiefengruben, for example, which is only a brisk downhill ride from Tonndorf, it's easy to feel as if you're riding through somewhere straight out of a tale of idyllic rural life. Tiefengruben looks like it hasn't changed for centuries. It forms an almost perfect circle, with a cobbled street that loops around the church and the village pond, and farmhouses just beyond.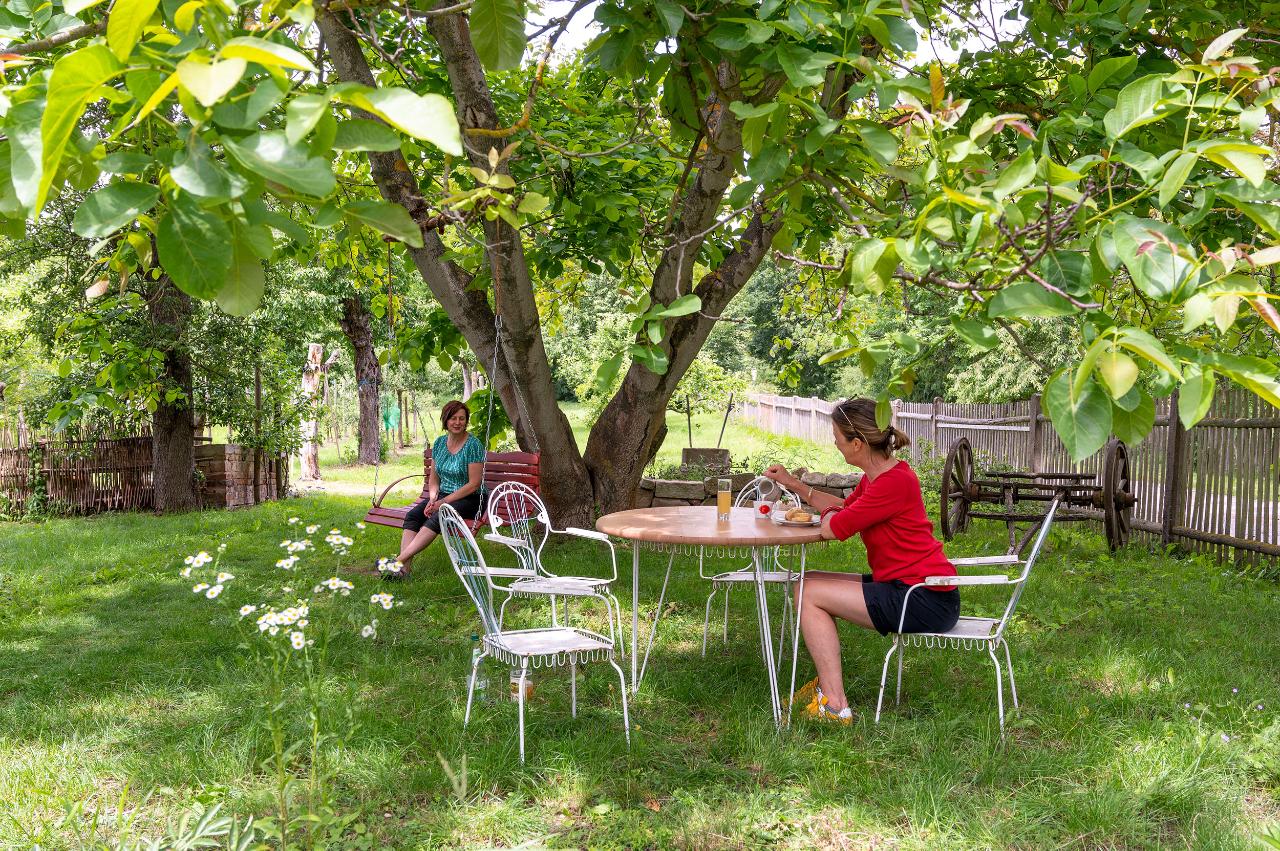 ©Gregor Lengler, Thüringer Tourismus GmbH
By now, we're a bit thirsty and in need of some food as well. As our luck would have it, Anja Pfotenhauer runs a fruit press with a farm shop at no. 41 Dorfstrasse. The Ilm valley is true orchard country. And Anja – who is young, friendly and full of energy – not only sells the finest apple and elderberry juices, but also offers a homemade 'cake in a glass', as well as sausages and cheese from local producers. We put together a small picnic. "Please feel free to have it out in our garden," Anja says. We decide to take her up on her offer: after all, no café terrace could compete with this! The beds are full of kohlrabi and carrots, with roses and chamomile winding their way up behind them towards the sun. While we're having our picnic, chickens and quails peck away underneath gnarled apple trees. A few sun loungers are set out across the grass, and after we've eaten, I spend some time gently drifting to and fro on the red swing chair, daydreaming underneath the leafy canopy of an old walnut tree. When the time comes to leave, it's hard to say goodbye.
Moving on to nearby Bad Berka, a charming little spa town, we take comfort in a mango and passionfruit creation from the Oha ice cream parlour. Then we ride on through the town's expansive spa gardens, listening to a piano concerto played through hidden speakers. And things stay just as idyllic for the remainder of our route, which never strays too far from the Ilm: benches shaded by ash trees, a hare hopping along near Buchfart, the clattering of mill wheels, wild roses and lovingly tended gardens wherever you look. Arriving at the church in Oettern, we are even welcomed by a bouquet of meadow flowers. Cyclists, take note: the Ilm valley is pretty much pedal-perfect!
Main picture ©Gregor Lengler, Thüringer Tourismus GmbH
zielgruppe_neugierde, zielgruppe_kennerschaft, zielgruppe_sehnsucht, zielgruppe_faszination, landingpage_natur, landingpage_geheimtipp
You might also be interested in ...