Walking around the 'Thuringian Sea'
The Hohenwarte Reservoir Trail
Europe's largest continuous reservoir region is located in the Thuringian Slate Mountains/Upper Saale nature park. With its large expanses of water surrounded by dense forests it is reminiscent of Scandinavian fjords. The locals fondly refer to this area as the 'Thuringian Sea'. And right at the heart of it is the Hohenwarte Reservoir Trail – a highly memorable 74.4 kilometre walking route.
No walk in the park
Let's get one thing straight: the Hohenwarte Reservoir Trail is not for inexperienced walkers. It is a proper hiking trail, with all that this entails. There are climbs and descents on challenging paths that take you through dense forest, along steep riverside slopes, and to rocky lookout points. It will test your skill at times, and most definitely your stamina. But it's well worth it. Walking clears the head and sharpens the senses. Once you set eyes on the verdant forests and the deep blue water, thoughts of the office soon fade away. That is guaranteed to reduce stress and lower your blood pressure. So if you feel ready to tackle this walk, we have five insider tips for you.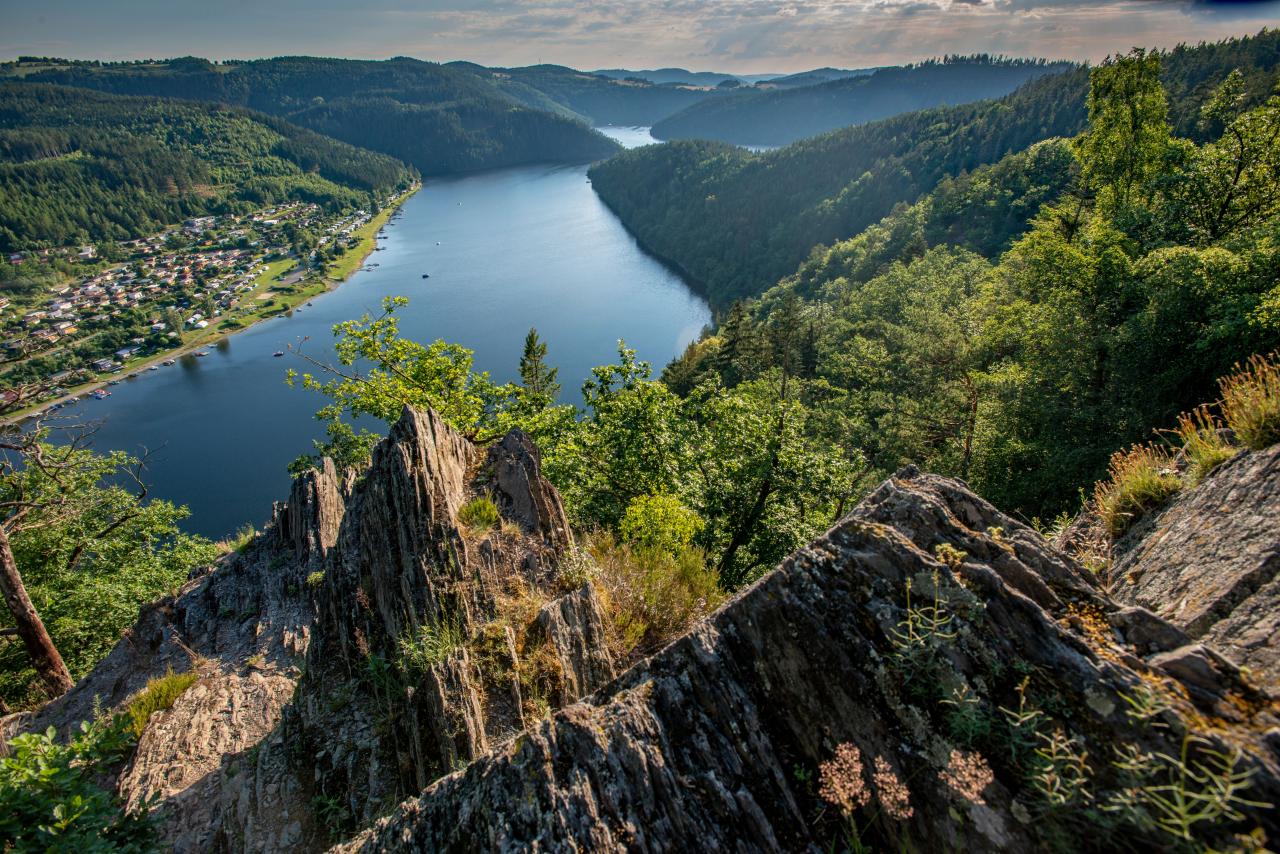 ©Peter Hirth, Thüringer Tourismus GmbH
Tip 1: Stunning panoramic views from the Bockfelsen
Great vistas are a regular feature on the Hohenwarte Reservoir Trail. One lookout point is the Bockfelsen near the village of Gössitz. This rocky outcrop of dark grey slate provides incredible views of the blue winding Saale river, Hopfenmühle campsite and Niedenburg House. If you're feeling brave and fit enough, you can climb all the way to the front of the rocks. It is not essential, of course, and the views from the safety of the plateau are no less spectacular .
Tip 2: Dormice in the moss hut
There is another scenic lookout point on Gnomsberg hill near Neidenberga. The 'Mooshäuschen' is a small wooden hut, the interior walls of which are completely covered in moss. A large, unglazed panoramic window frames a glorious view of the river and the wooded hillsides. You might like to sit on the bench inside the hut for a while and take in the scenery, perhaps while you're having a bite to eat, if you've brought provisions. Should you suddenly hear rustling on the walls of the hut or overhead, have a good look around. With a bit of luck, you may come across the inhabitants of the hut: a family of dormice, who will happily nibble on a piece of apple or banana.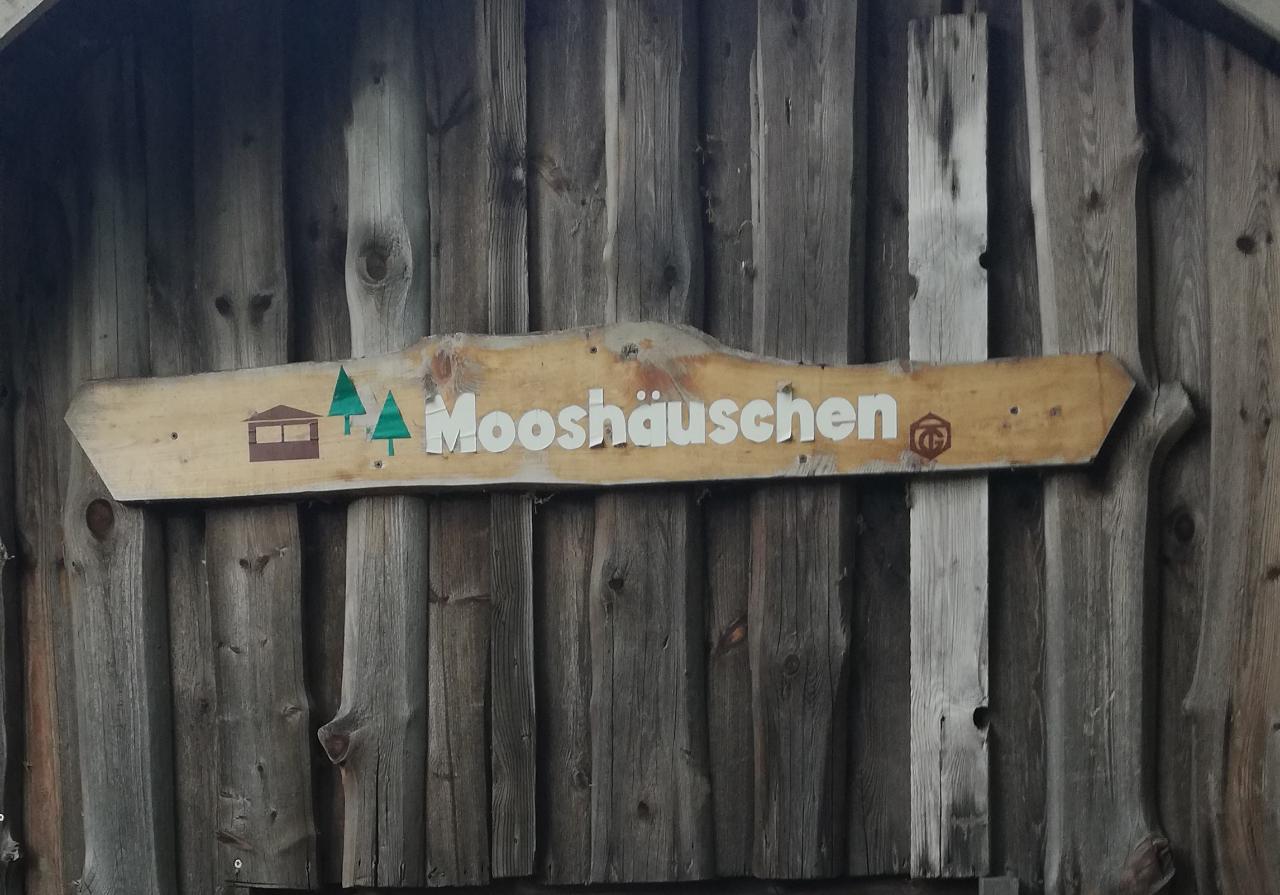 ©Annett Morche-Ruthmann
Tip 3: Foot baths and fire salamanders
If you happen to pass a stream on your walk (which is more than likely), take off your walking boots and dip your feet into the clear, ice-cold spring water. Once the initial shock has worn off, you will feel wonderfully refreshed and raring to go – woodland wellness at its best! While you're doing that, take a quick look around you and you might spot a little black fellow with bright yellow spots: the fire salamander. They love hiding near cold streams and usually come out at night, but on rainy days you have every chance of seeing one.
Tip 4: Fragrant flowers around the reservoir
Follow your nose to discover the beautiful scents of some of the plants and flowers that grow in this region. Such as the rare St Bernard's lily: these delicate white flowers can be found on the dry reservoir slopes and have an intensely sweet fragrance. They are also a rich source of nectar for butterflies, bees and hoverflies. The highly decorative Cheddar pink is another variety that you will frequently see here. It may have less of a scent, but its beautiful violet blooms rarely go unnoticed.
Saaleschleife ©Peter Hirth, Thüringer Tourismus GmbH
Tip 5: Walkers' bus with refreshment options
The Thuringian Sea walkers' bus runs daily from April to October. You can catch the bus to your starting point, or travel back at the end of your walk. It also links up with the regional rail network. What's more, you can pick up provisions for your walk on the bus. These are supplied by a local bakery and consist of a hearty snack and beverages. To enjoy delicious local food on your walk, simply order your selection in advance by phoning or visiting the website and it will be ready and waiting for you on the bus.
Titelfoto: ©Thüringer Tourismus GmbH
zielgruppe_sehnsucht, landingpage_natur, abkuehlung
You might also be interested in ...