Hohenfelden open-air museum - Urlaub - Reisen - Thüringen entdecken
History through the lens of the home
A visit to a village in the Weimarer Land region
Imagine a small village where no one lives. The houses have all the fixtures and fittings, but the inhabitants have gone. Vanished into thin air.
But don't worry, there's nothing spooky going on. We're at the Thuringian open-air museum Hohenfelden, located on a small hill outside the actual village of Hohenfelden.
The buildings on show have been transported here from all corners of Thuringia, and they all have a story to tell. And we are happy to tell it. In particular, how they came to be here.
All doors are open to you
If you think you'll just be walking around looking at the outside of houses, think again. All the doors are open: to every house and every room, to every attic, stable and garden. Feel free to go inside and explore. Open the doors, climb wooden ladders to the attics and investigate the kitchens and other rooms. There's clay crockery on the table, washing hanging to dry near the stove, and beside this an old cradle and a spinning wheel. Occasionally, you might come across a reminder of the occupants' modest wealth, such as a red sofa, fine porcelain, a clock on the wall or an elaborate crocheted blanket.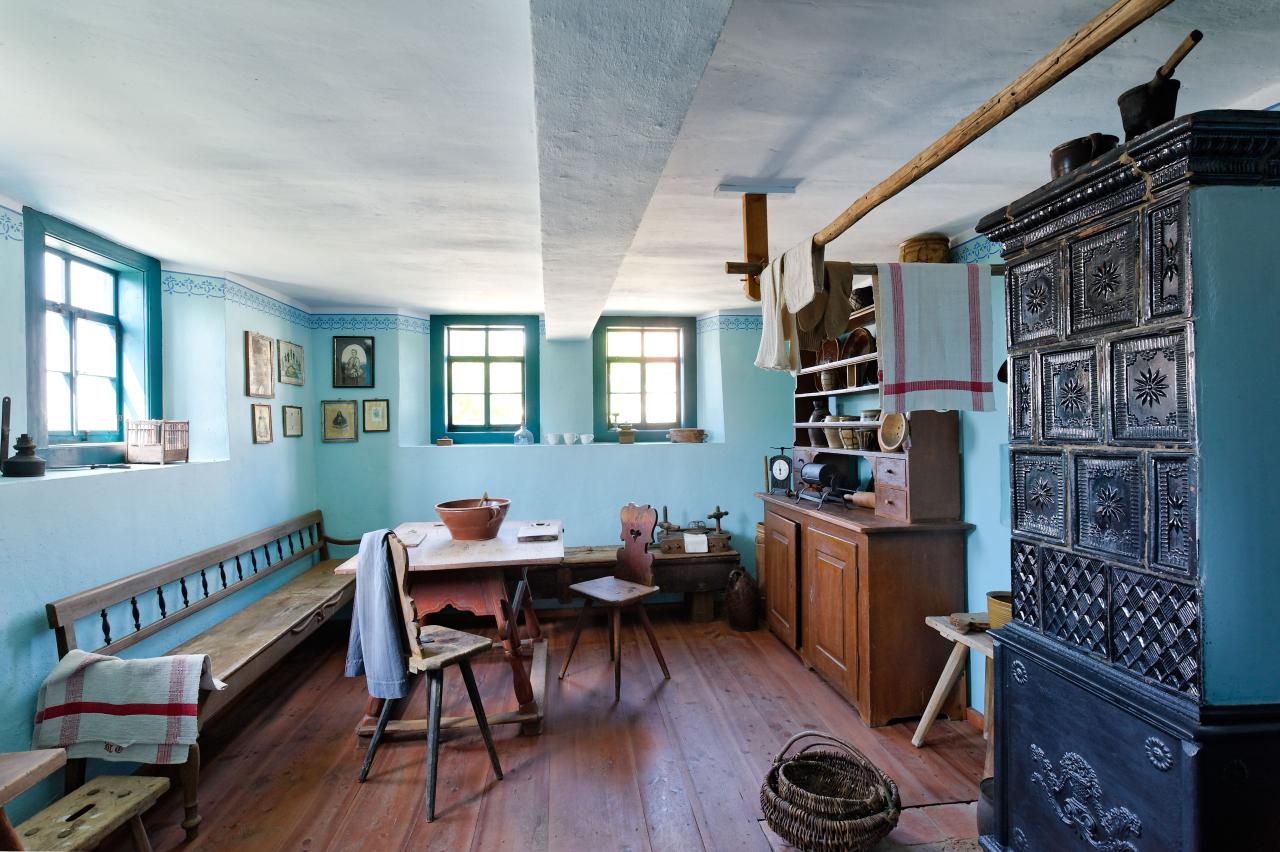 Kitchen at the Eichelborner Hof, ©Mick Palarczyk, Thüringer Tourismus GmbH
Eichelborner Hof is my favourite. This beautiful half-timbered building looks so idyllic in the sunshine. I particularly like its gallery on the first floor, from where you can look down onto the old garden plots and the orchard. It's wonderfully wild and the smell is divine. I wonder if the former owners had time to sit here with a mug of cider and watch the sunset at the end of a long day? I'd like to think so.
Take a look around the workshop
Maybe you prefer the old forge, or enjoy looking around an old workshop. Or a pottery. Have you ever climbed around inside an old trestle windmill? The space for the miller is tiny. How did he ever fit in there?
I'm less keen on the kitchens, which can be small and gloomy. Sometimes they don't even have a window, just a small chimney. It must have been really smoky in there, and you can still see that today. Not for nothing are they known as 'black kitchens'.
Maybe drop in at school?
If all this has whet your appetite for more, make sure to leave time to visit the village of Hohenfelden itself, which lies outside the museum grounds. There are more houses to see here. You should definitely go into the old village school, for example. Perhaps even take a selfie at one of the old school desks? Or at the slightly intimidating teacher's desk with a skeleton behind it. It's nice to show something to your friends back home!
zielgruppe_sehnsucht, landingpage_natur, nebenan
You might also be interested in ...