Auf Erkundungstour im Schlösserland Thüringen - Urlaub - Reisen - Thüringen entdecken
Exploring Thuringia's palaces
Out and about with the Thuringia.MyCulture. app
If someone mentions Thuringia, the first things that come to my mind are bratwurst sausages, the Thuringian Forest with the Rennsteig Trail, and tasty Thuringian dumplings – but palaces? Not so much.
Admittedly, I'm not exactly the world's most culturally minded person. But on my last visit to Thuringia I came across the Thuringia.MyCulture. smartphone app, which lets you discover Thuringia's cultural highlights in a digital, interactive way. A bit like a high-tech history lesson, if you like.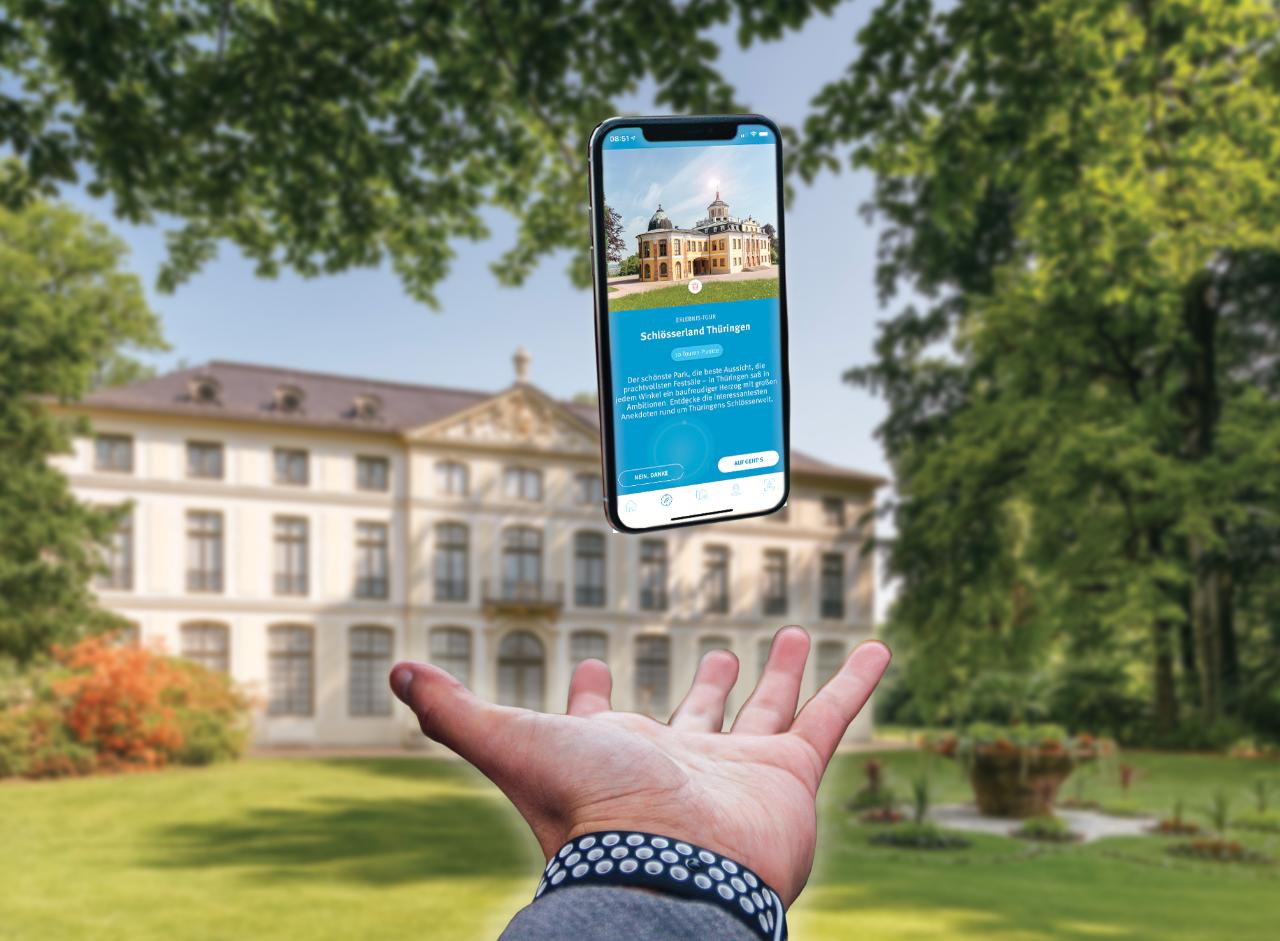 © Wallpaper: Marcus Glahn, Stiftung Schloss Friedenstein Gotha für die Schatzkammer Thüringen, Edit: Christoph Hampe, Thüringer Tourismus GmbH
Last time, I discovered Erfurt, the city of flowers and learned quite a few fascinating facts in the process. Ever since, I've been able to impress my friends and family with my new-found expertise. So now I'm ready to let the new tour – Palaces of Thuringia. Princes in the Country – inspire my enthusiasm for Thuringia's royal architectural heritage. It is said that Thuringia has more magnificent historical royal residences per square mile than anywhere else. As one newspaper headline put it: "Pomp and splendour – Thuringia is Germany's foremost home of palaces". High praise indeed. So off we go, I'm about to share my very favourite bits of the tour with you. But I won't be telling you absolutely everything, as I want you to go and explore Thuringia's palaces for yourself at some point!
Schatzkammer Thüringen
Royal palaces and parks
You can discover even more about Thuringia's palaces and parks at the Schatzkammer Thüringen (Thuringia's treasure trove) website. For hundreds of years, Thuringia consisted of a number of small dominions. There was a close relationship between the various dukes, princes and counts, defined by rivalry as well as cooperation. The primary avenue of competition for the different rulers was their patronage of the arts. Which means that today we have a rich legacy of courtly culture in Thuringia to explore.
But before we get started, we need to make one thing clear: a palace is always a fusion of many different ingredients. The magnificent architecture, of course, the glorious gardens and also the notable people who have worked on both, all contribute to the overall palace experience. And it's those three aspects that form the basis for each one of the ten stops on our tour. So let's take a look behind the venerable palace walls.
High above the Saale river, the Dornburg Palaces offer more than just fantastic views
I begin my tour in Dornburg. It has not one but three palaces, sitting in splendour on a limestone plateau high above the Saale, the longest river in Thuringia. This trio of palaces, also known as the 'balcony of Thuringia', was where the grand dukes of Saxe-Weimar-Eisenach spent their summers. Together, the ensemble represents more than 800 years of history. The Old Palace contains remnants of a medieval castle. The Rococo Palace (my personal favourite) is a magnificent 18th century summer residence, while the Renaissance Palace has close links with the German poet Goethe. He used to wax lyrical about the palace gardens, which are still lovingly maintained, and – like me – he was extremely fond of the wine produced at the Dornburg Palace vineyard.
Goethe discovered the palaces more or less by accident while out riding, and not long after that he and Grand Duke Karl August stayed overnight at the Rococo Palace.
Legend has it that they were sleeping on straw that night, but in any case, Goethe fell in love with the palaces. In 1828, he wrote: "I don't know if you've heard of Dornburg; it is a little town above the Saale valley, downstream of Jena; I am staying at the old, newly refurbished palace at the southernmost end. The views are glorious and fill me with joy, and below my window I can see a thriving vineyard." If it's good enough for Goethe, it must be pretty nice! At the Renaissance Palace, also known as Goethe's Palace, he even left a faint trace of himself, in pencil, on the window frame. Wow! It is pretty amazing to be in the very place were Goethe stood 200 years ago. Quite profound, really. I stand in wonder and soak up the special atmosphere.
Not long afterwards I'm flying high above the Saale river, with just a touch of my finger. Only virtually, of course, on my smartphone. And well, … what can I say?! It's awesome! To see the whole palace ensemble again from this perspective is quite a thrill.
Stunning views that take my breath away
It's going to take a bit of time for me to process all these impressions. So I get out my picnic blanket and settle down in the sunshine at the edge of the vineyard. I relax and my gaze wanders. After a while, I take a look at the app to see which other palace I might want to explore this weekend.
View of the Old Castle from the vineyard © Jens Hauspurg
My next excursion takes me to Gotha, to baroque Friedenstein Palace, built by Duke Ernst I of Saxe-Gotha. The monumental structure is said to have 365 rooms and more than 1,000 windows. Impressive! A different room for every day of the year …
For centuries, this was Thuringia's centre of royal power. Friedenstein Palace is a remarkable testament to the art of the then newly created duchy of Saxe-Gotha, and remains the largest early-baroque estate in Germany. In addition to some very grand ceremonial halls and living quarters, the art collection, the museum of natural history, the historical museum, the ducal museum, the research library and the Thuringian state archive, there are yet more things here to marvel at. (More about the museum complex.) Friedenstein could be considered Germany's answer to the Louvre in Paris, even though its outward appearance is nothing like that extravagant edifice. From a distance it certainly looks a lot less grandiose. But once you've climbed up the hill on the outskirts of Gotha and entered the palace, you're almost overwhelmed by all the splendour – in a good way.
All the world's a stage? Not quite!
Besides the guided tour of the palace, on which my amazement grows with every room I visit, I am also particularly interested in the Ekhof Theatre. This is a unique monument to theatrical history, the birthplace of modern theatre culture. And the best thing is that you can still enjoy performances here today. The Thuringia.MyCulture. app takes me behind the scenes of the grand old theatre.
They still change the sets by hand using thick ropes, just like back in the day. To the audience it must have seemed like magic. Sound effects are produced with sophisticated mechanisms, such as a wind and a thunder machine. Analogue audio, if you like. But they don't much care for whistling here … it reminds them of the distinctive noise of the gas lamps that were once used in the theatre – real fire hazards!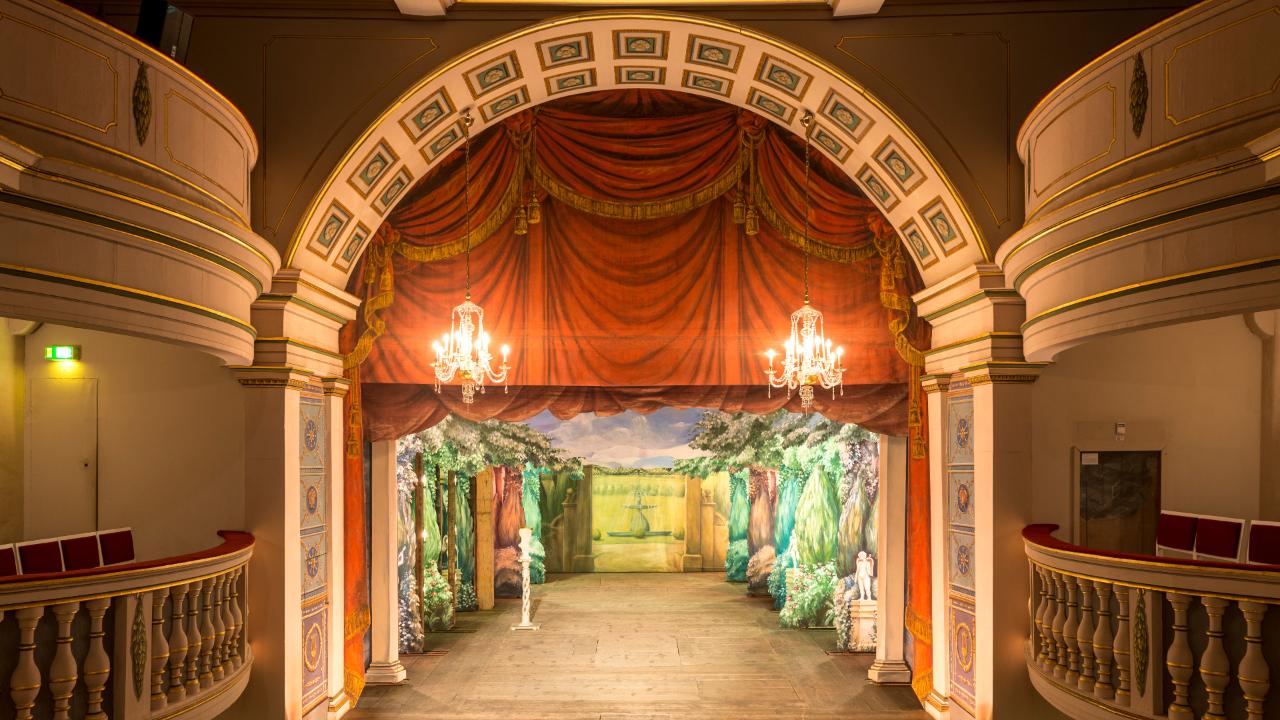 Ekhof Theatre © Gregor Lengler, Thüringer Tourismus GmbH
Friedenstein Palace also hosts a Baroque Festival every year. This is an ideal opportunity to embark on a journey back in time, as people in elaborately reconstructed baroque outfits, real cannon volleys, carriage rides and all sorts of musical performances transport visitors back to the baroque period. That's one spectacle I'm definitely going to have a look at.
To finish off my tour of Friedenstein Palace, I take a seat in the magnificent ceremonial hall, close my eyes and imagine myself in an elegant outfit, hand in hand with my lady wife, as we stride through the hall.
Unfortunately I can't tell you any more about the stops on the tour, because just reading about them gets a bit dull. Discovering them for yourself – that's the fun part! And believe me, your Thuringian palace tour is going to be anything but dull. So,
when will it be your turn to dream about turning into a prince or princess?

To the App
Download the app now for free at the AppStore or Google Play Store.
thuringia.myculture., landingpage_geheimtipp, querbeet_schloesser
Maybe, you'll like this too ...