Saalfelder Feengrotten - Urlaub - Reisen - Thüringen entdecken
Of miners and fairies
Saalfeld Fairy Grottoes
The sun is shining, the backpacks and sturdy shoes are ready to go. This weekend, we've got a leisurely family outing planned. We're off to Saalfeld, to the Fairy Grottoes World of Adventure, and we're getting quite excited about it.
As we enter the Fairy Grottoes Park, we soon realise that there will be plenty to see and do today. There's the Fairy Grottoes visitor mine, the Grottoneum interactive museum and the Feenweltchen Adventure Forest. They also have an adventure playground and a woodland discovery trail, as well as places to eat and souvenir shops, of course.
Hidden marvels deep inside the mountain
It's hard to decide what to do first, but then we find ourselves at the entrance to the visitor mine. The guide welcomes us with a cheerful "Glück auf", the traditional miners' greeting. We pick up some protective capes and then we're off below ground. Deep inside the mountain we find narrow passages and any number of colourful dripstone formations. Some of these reminded the first people who discovered them of delicate fairy hair – and that's how the grottoes got their name. Our guide tells us about the life and work of the miners who used to dig for ore and other valuable types of rock down here. Then our tour takes us to the most beautiful part of the Fairy Grottoes, known as the Fairytale Cathedral, which contains the largest and oldest dripstones. There is so much to see that we don't know where to look first. Then suddenly the lights go off and there's music playing as the grotto is bathed in different colours. We enjoy the spectacular light show and emerge from the mountain utterly enchanted.
Hands-on exploration
We soon get used to the sunlight again and are ready for more action. The grotto guide has piqued our interest, so we head to the Grottoneum to find out more about the caves and about mining. This interactive museum has living, talking stones, a grotto cinema and much more besides. In the summer, you can also go on a treasure hunt outside, and try your hand at operating a water wheel.
Enchanted otherworld
There are plenty of amazing places to play and have fun in the Feenweltchen Adventure Forest, both for kids and for adults. We enter into the realm of the mythical forest folk through the magical fairy gate, and we're in luck: we actually meet a fairy who accompanies us for a while along the winding paths. Amid the leafy surroundings, we keep discovering exciting stops: bizarre climbing frames, lovely tales of fairies and nature spirits, touch and smell boxes, a fairy xylophone and even a giant marble run. While the little ones are in their element, the adults get a chance to relax for once and enjoy the nature. We put down our backpacks and have a bit of a rest before we come to the end of our trip to this fairytale world.
Looking forward to our return
For our grand departure, we exit via the magic slide from the tree-top fairy castle. It's the end of a thoroughly enjoyable day, and we are quite certain that we'll be back! We have been hugely impressed with the many delightful attractions and we set off home with a lingering feeling of enchantment, and armed with suitable souvenirs, of course!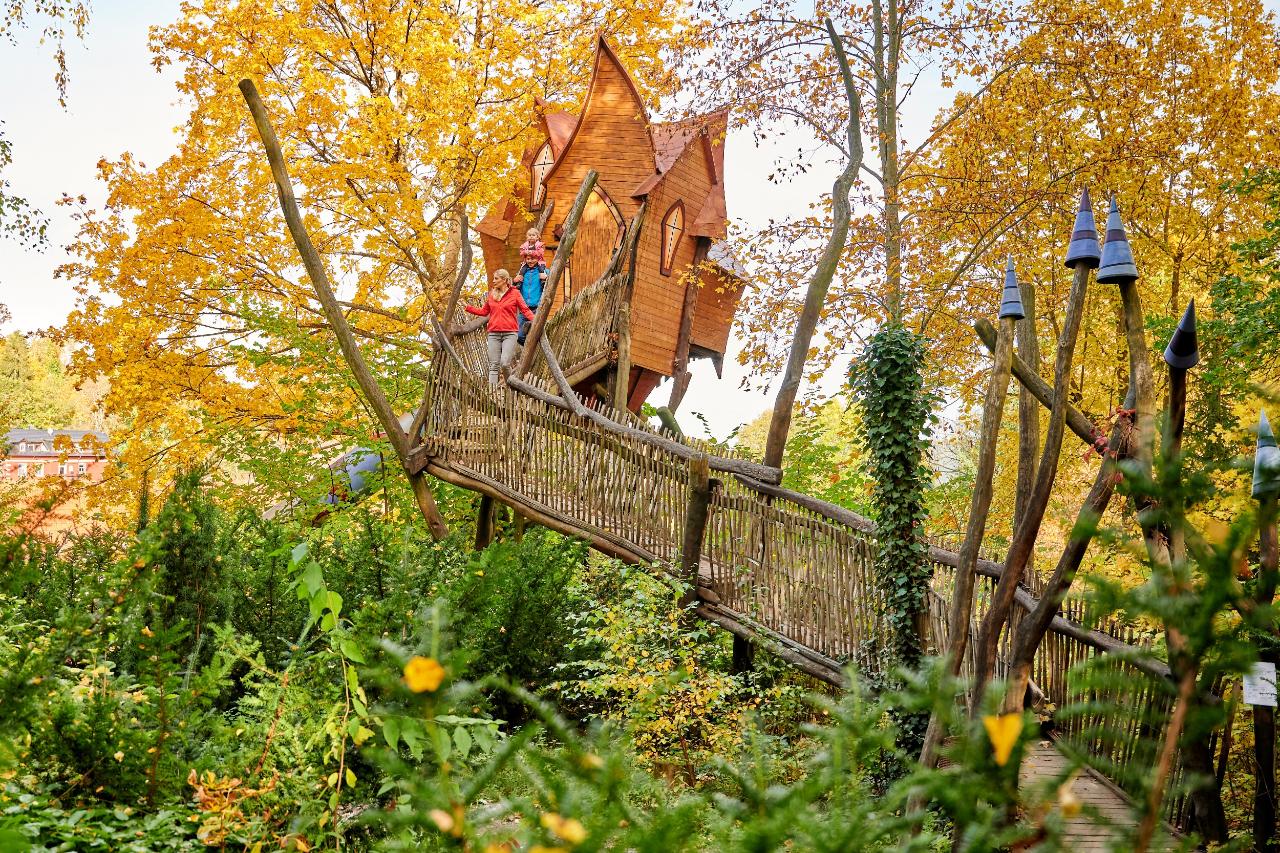 ©Florian Trykowski, Regionalverbund Thüringer Wald e.V.
Maybe you're going ot like those as well ...