Bratwurststory - Urlaub - Reisen - Thüringen entdecken
Have a break – have a bratwurst
An ode to a culinary must-have in Thuringia
From Altenburg to Eisenach and Nordhausen to Meiningen, wherever you go the tempting smell of bratwurst is never far away. But you might also come across it in Australia, Canada or Vietnam. That's right, the bratwurst is a popular choice for grilling here too. In Thuringia, we often call it 'Roster', as a genuine Thuringian rostbratwurst is cooked on a 'Rost', or grill, over charcoal.
A short history of the bratwurst
The Thuringian bratwurst has been a firm favourite in the region for centuries. Or more precisely since at least 1404. This is evidenced by an old copy of an accounting record from an abbey in Arnstadt, which is kept at the Thuringian state archive in Rudolstadt. The document records the sale of skins to be used for bratwurst for the sum of one groschen.
But the history of the bratwurst goes back much further. Did you know that grilled sausages are mentioned as far back as 700 BC in Homer's Odyssey? In the story, the famous poet describes how the ancient Greeks grilled goat and pig stomachs filled with fat and blood over hot coals. The first Roman recipe book also mentions grilled sausages, and there are many other mentions throughout history. Particularly interesting is a decree from 1432 in which Weimar butchers formulated what could be described as a purity law for bratwurst. The Thuringian bratwurst has enjoyed protected geographical indication status under EU law since 2003.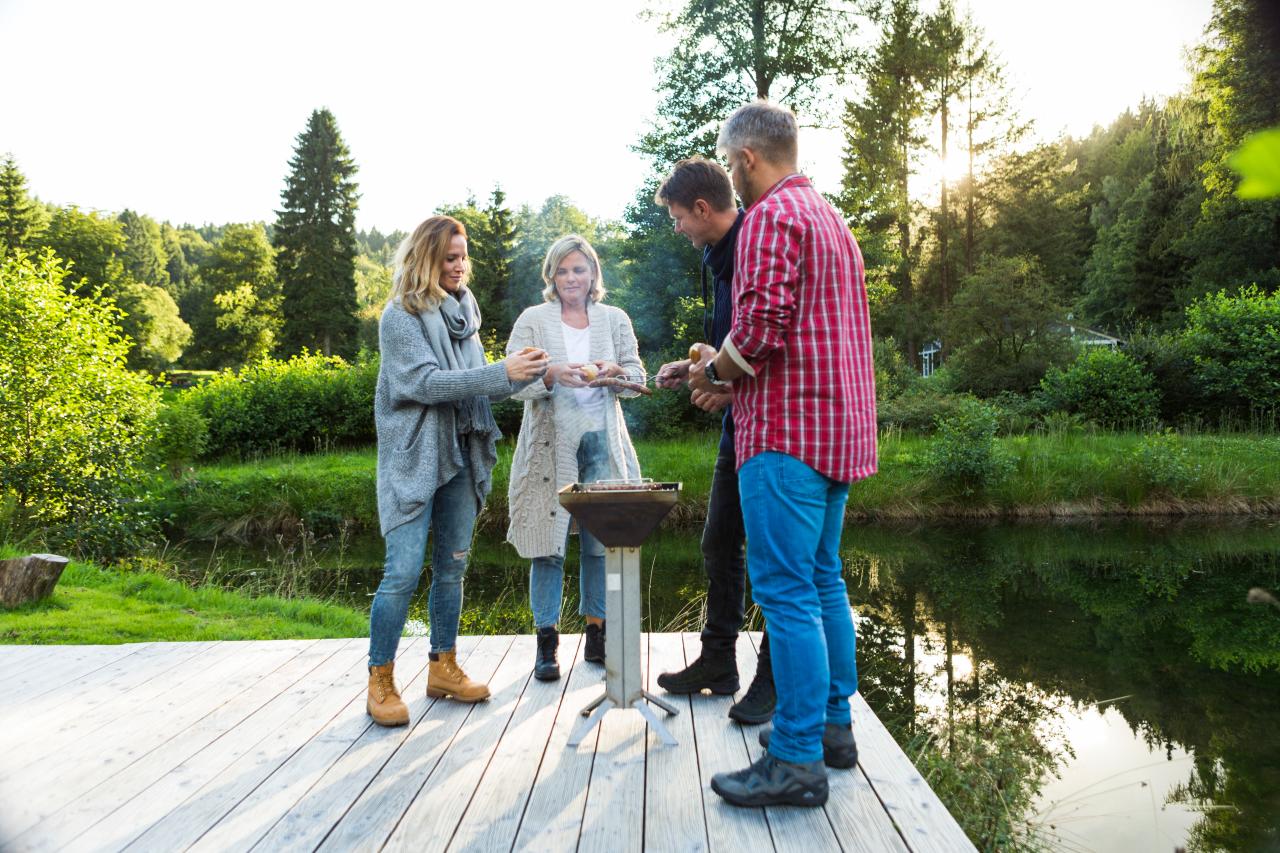 Barbecuing by the water in Ferienhaus Lichtung near Ruhla., ©Guido Werner, Thüringer Tourismus GmbH
The secret behind the taste
A bratwurst sausage will always contain salt, pepper, nutmeg, marjoram and caraway seeds. Whether and how much cardamom, garlic and allspice is used varies from manufacturer to manufacturer. To find out more about the recipes, I sought out some experts, including master butcher Dirk Lindig of Landfleischerei Lindig in Dobian, a small town between Saalfeld and Pössneck. The family-run butchers, a partner in the Culinary Thuringia network, uses only natural seasonings, with no additives of any kind. "We source our meat exclusively from farms in the region, including Matthias Weise's farm in Dreba and Simone Speck's certified organic farm in Landsendorf. The animals are free to graze and each one is known by name. I believe the fact that they have a good and stress-free life is ultimately reflected in our products," says Lindig.
I ask him what he enjoys most about Thuringian bratwurst. "Even though the basic recipe is the same, there is a great variety in taste across Thuringia. In my mind, producing sausages according to tried and tested family recipes, which are often closely guarded secrets, is what makes a good artisan manufacturer." He believes that the Rennsteig Trail demarcates part of what is popularly known as the 'bratwurst equator'. While whole caraway seeds are used in eastern Thuringian towns such as Saalfeld and Rudolstadt, in Neuhaus or Sonneberg in western Thuringia, for example, only ground caraway is used. And in the Eichsfeld region, more marjoram is added. Every Saturday, Landfleischerei Lindig has a stall outside the Höffner furniture store on the outskirts of Erfurt. "We now attract a lot of people who turn off the motorway just to eat our bratwurst," says Lindig.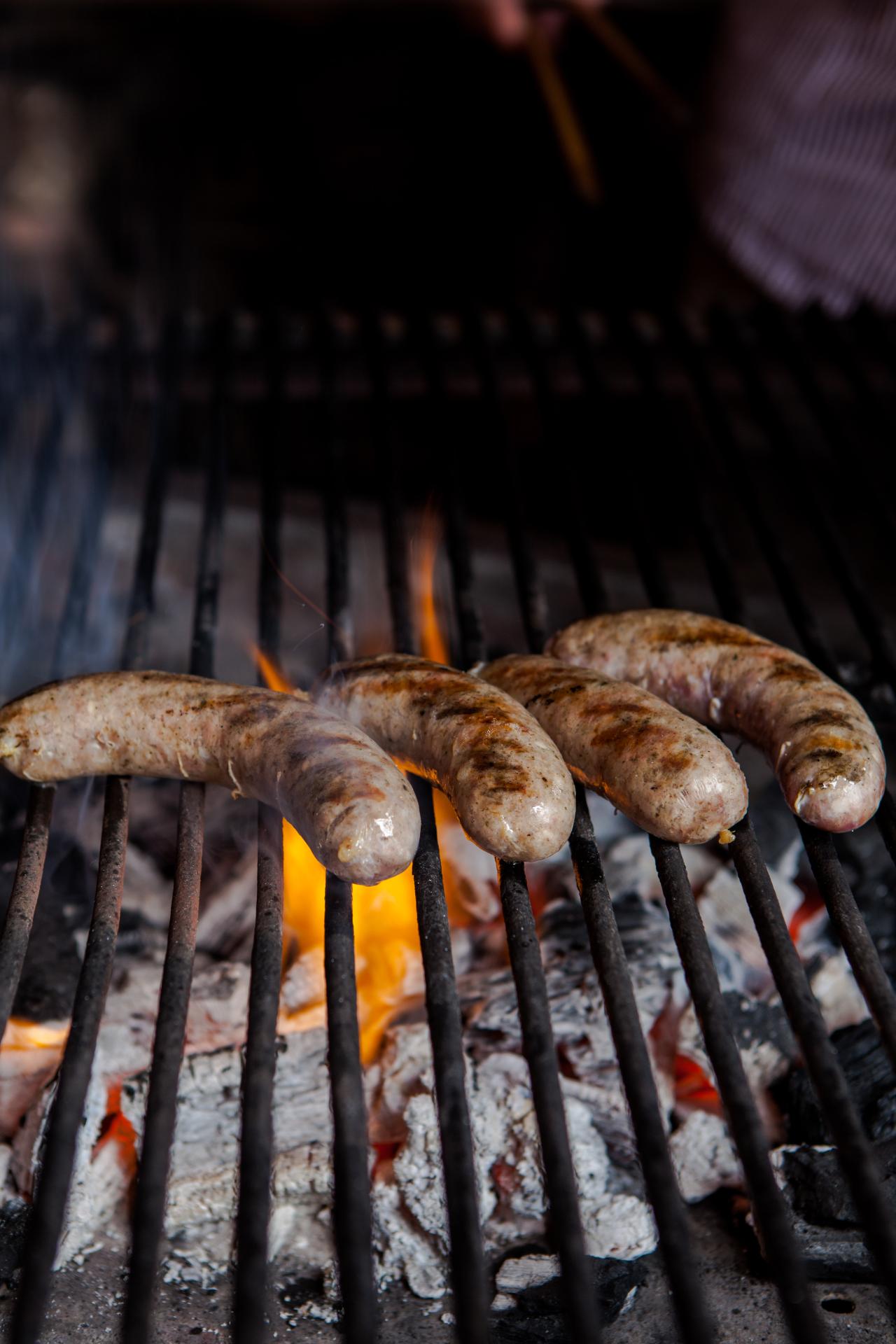 Thuringian bratwurst on the charcoal grill., ©Meeta K. Wolff, Thüringer Tourismus GmbH
Famous bratwurst fans
Whenever you stroll across the market square in Weimar, you can rest assured that you can get a genuine Thuringian bratwurst straight from the charcoal grill here. For more than 20 years, Frank Trommler and Elvira and Lutz Teufel have been selling them in the square from their distinctive food trucks, come rain or shine. Frank Trommler sources his raw bratwursts from Fleischerei Schnabel, one of only two family-run butchers in Weimar. A board by his truck lists some of the famous guests he has served. Former French President Francois Mitterrand, former German President Richard von Weizsäcker, singer Udo Lindenberg, TV personality Harald Schmidt and comedian Otto Waalkes are just some of big names who have enjoyed his sausages.
Chatting to Lutz Teufel, I hear of more famous bratwurst lovers, such as former German national team coach Jogi Löw and former footballers Günter Netzer and Oliver Bierhoff. Comedian Ralf Schmitz has also visited a few times. But above all, his truck became famous thanks to an episode of German crime drama 'Tatort' in which an inspector and his colleague solve the mystery of the disappearance of Weimar's 'sausage queen'.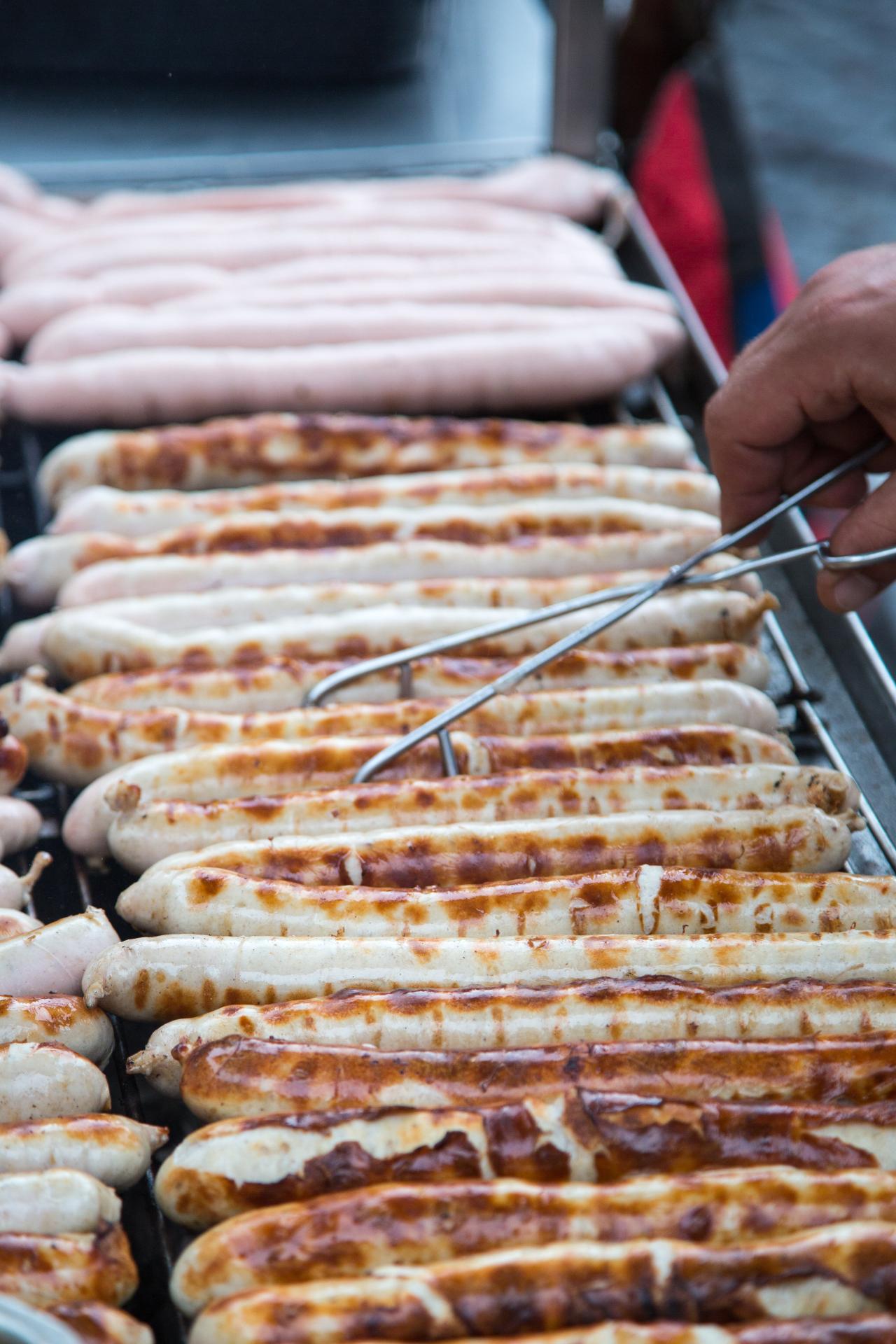 Bratwurst stall on market day in Weimar., ©Gaby Dalkin, Thüringer Tourismus GmbH
Records and leading exports
For many years, butchers have been trying to outdo each other by making it into the Guinness Book of Records with the world's longest bratwurst. In 1999, for example, Fleischerei Zollner from Laasdorf near Jena managed an incredible 5,000 meters! This was later surpassed by master butcher Bernhard Oßner, who produced the longest single bratwurst, reaching 5,888 metres in length, at a restaurant near Landshut.
If proof were needed that Thuringian bratwursts are enjoyed around the world, there are bratwurst vendors in Portugal's Cape St Vincent (known as the 'last bratwurst before America'), for example. The sausages can also be enjoyed in Vancouver thanks to Mike Sittig, who moved there from the area around Schleusingen. They are also available from Tom Wagner's sausage stalls in Hanoi and Melbourne, and you will also find them at large events in Melbourne, Adelaide and Sydney.

Guten Appetit, as we like to say!
Maybe, you'll like this too ...