Born-Senf aus Erfurt - Urlaub - Reisen - Thüringen entdecken
The Born® mustard shop in Erfurt
An Erfurt original and the best bratwurst in town
When driving across the country in August or September and the fields are bright yellow, many might wonder why the rapeseed is in bloom again. What many people don't know is that the yellow blossoms are not rapeseed at all but from the mustard plant. The main ingredient for the popular Born mustard from Erfurt is grown here in the Thuringian Basin and the Unstrut-Hainich district. For more than ten years, only the yellow mustard seeds from Thuringia have been used to make this mustard.
The history of Born mustard
The brothers Louis and Wilhelm Born founded their factory, where they produced vinegar and mustard, in Erfurt in 1820. The factory was nationalised during the GDR era, but was returned to private ownership in 1990. It was originally located in Ilversgehofen, a suburb of Erfurt, but production was moved to Bad Langensalza when the factory started to fall into disrepair. Since the end of 2018, the mustard has once again been produced in Erfurt, not far from the original site. Throughout all these changes, the Semper Clara fountain, which stood in the yard of the first factory in Ilversgehofen, has remained a firm fixture on the company logo.

The Semper Clara fountain is the hallmark of Born mustard., ©Anja Krause (www.anjiko.com), Thüringer Tourismus GmbH
But who was it that invented mustard as we know it today?
The first surviving recipe is said to have been written by the Roman writer Columella in the 1st century AD, and mustard became popular across Europe from the 8th century onwards. Besides being used to refine dishes, it was also valued for its medicinal properties. Indeed, to this day, mustard is said to have a number of health benefits, including relieving colds and stimulating digestion. "Our production employees are never ill over winter," says Stefanie Kube, a salesperson at the Born shop in Erfurt, with a chuckle. "Mustard flour compresses can alleviate bronchitis, and a foot bath with mustard flour works wonders for cold feet," she adds.
A mustard for all tastes
As I walk through the small shop near the Merchants' Bridge, I'm tempted to try everything that's on display. The shop sells over 30 varieties of mustard, as well as mustard schnapps, chocolates with a mild mustard filling and even a mustard gin. "The fresh mustard on tap is very popular," says Kube. The mustard is only about two weeks old and nothing like the pre-packaged varieties. I sniff the glass and tears come to my eyes as the ground mustard seeds are very pungent. The mustard has to rest for at least two weeks before it is ready to use.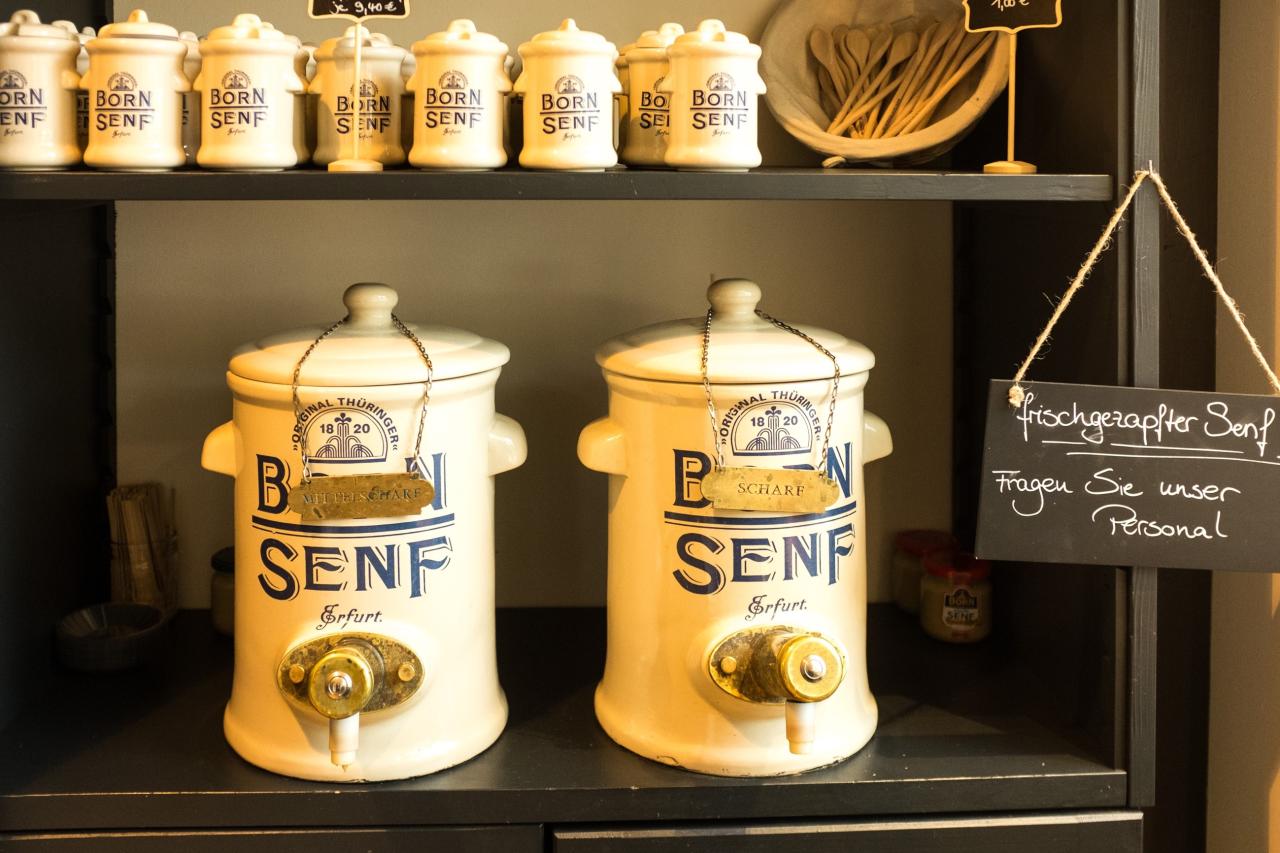 The Born shop in Erfurt also sells mustard on tap., ©Anja Krause (www.anjiko.com), Thüringer Tourismus GmbH
When I ask which mustard variety is the most popular, Kube says: "Our top seller is mango and white balsamic vinegar," pointing to the gap on the shelf. During the barbecue season, beer mustard is also very popular. You can make a fruity salad dressing in no time using exotic varieties such as cassis mustard, and wild garlic mustard can be used as a spread on bread. The medium-hot variety is the best choice for traditional dishes like eggs in mustard sauce. I can hardly stop myself from tasting all these delicious flavours. And while I'm working my way through them with my wooden tasting stick (never use a metal spoon with mustard as it oxidises and leaves a metallic taste in your mouth), I watch other people make their way around the small shop totally captivated by what's on offer.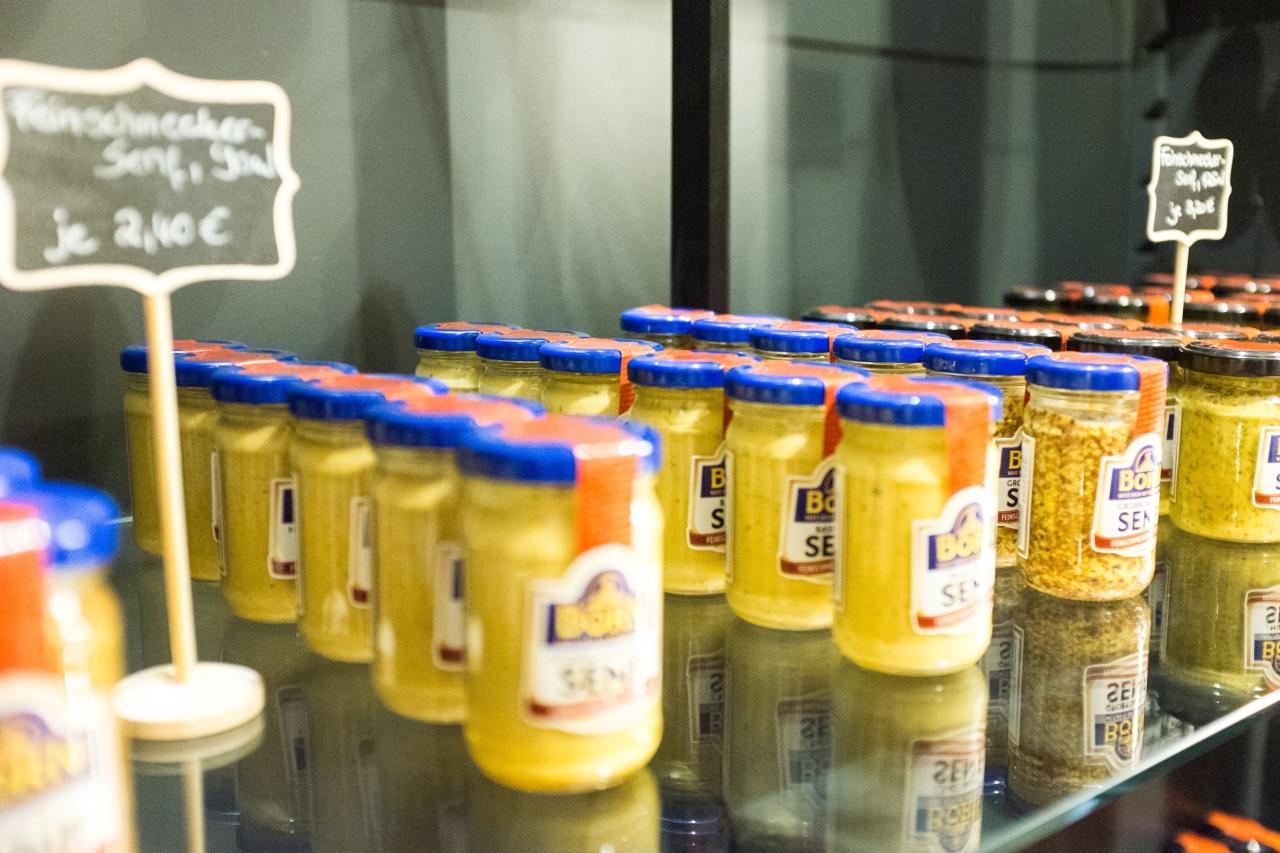 There are many varieties besides the traditional medium-hot mustard., ©Anja Krause (www.anjiko.com), Thüringer Tourismus GmbH
A lot of thought has gone into the shop's design. The different varieties are displayed on elegant, black shelves, and the small lights above the till are made from old mustard pots.
Mr Schulte, wearing braces on his trousers and a bright bow tie, moved away from the area to Mecklenburg in his youth, but he makes regular return visits to his birthplace. Quoting the manufacturer's rhyming slogan, he tells me that he never returns home without paying Born a visit. And would you know it, the small glass of medium-hot mustard still bears that very slogan.
The Born Senf & Feinkost slogan., ©Anja Krause (www.anjiko.com), Thüringer Tourismus GmbH
A walk through Erfurt and a genuine Thuringian bratwurst
In Thuringia, mustard and bratwurst go together like hand in glove, and asking for ketchup instead will likely draw a frown. According to the locals, if you want to eat the best bratwurst in Erfurt, you should combine your trip to the Born shop with a short stroll through the city and a stop at Faustfood in Waagegasse. Its bratwurst, served with Born mustard, of course, has been the runaway bestseller since the restaurant opened in November 2018, says manager Michael Lehmann. The name Faustfood, a play on fast food, literally means 'fist food'!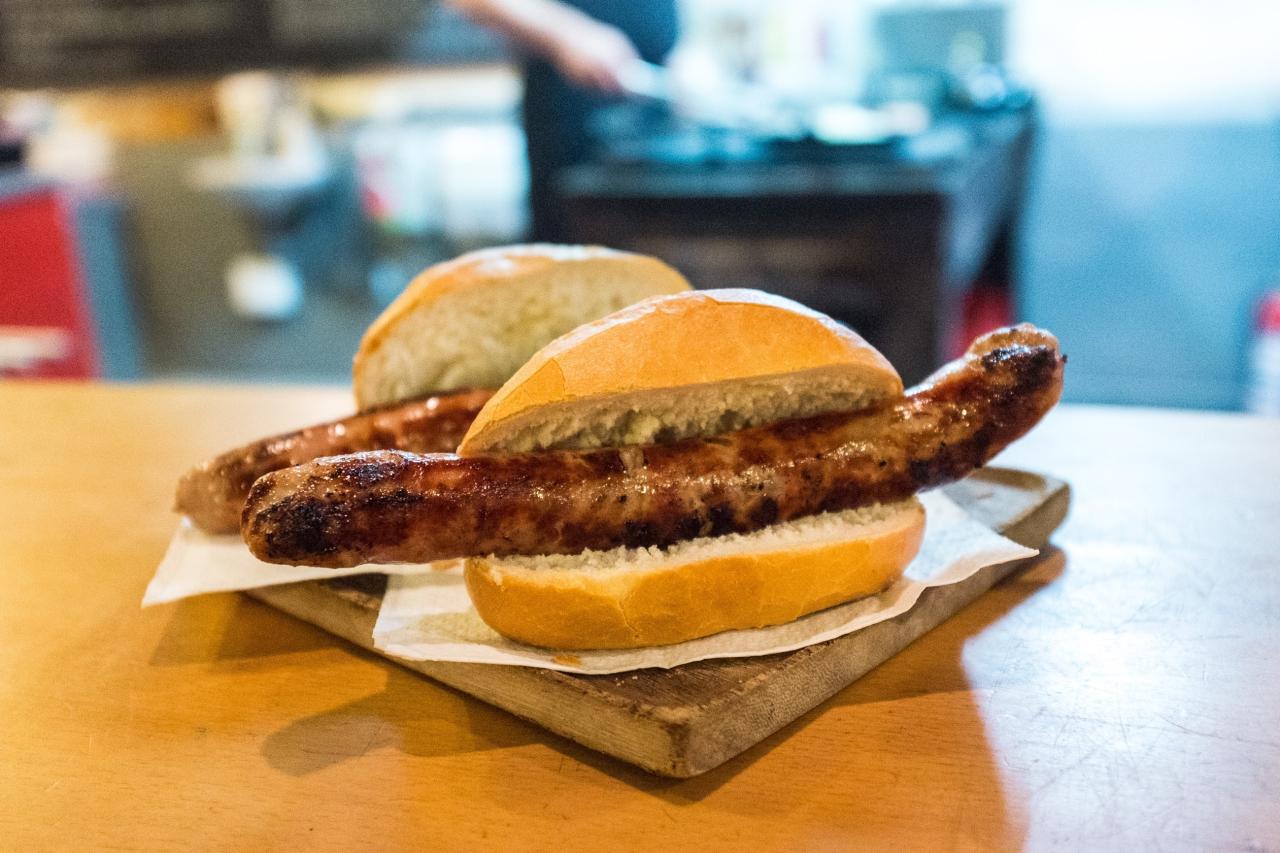 Faustfood in Erfurt, the go-to place for Thuringian bratwurst., ©Anja Krause (www.anjiko.com), Thüringer Tourismus GmbH
Energy levels replenished, you should definitely take some time to explore Erfurt. Starting with the shops on picturesque Merchants' Bridge, the longest bridge in Europe with houses built along its entire length, and continuing on to 'Little Venice'. A visit to the Old Synagogue, dating from the 11th century, and the museum with the Erfurt Treasure is also highly recommended, says Kristin Luther of the Erfurt Tourism Board. Or how about heading to Petersberg Citadel to take in the views across the city and its steeples? When the weather's good, you can even see as far as the Thuringian Forest.
I make my way home with a smile on my face and some wonderful experiences. And with a glass of freshly poured Born mustard, of course.
You might also be interested in ...